90% of road sweepings waste is diverted from landfill through state-of-the-art recycling facility.
Material
Road Sweepings & Gully Waste
Output
0-4mm Fine Aggregate & 5-40mm Aggregates
End Use
Trench Fill
Pipe Bedding
Non-Structural Concrete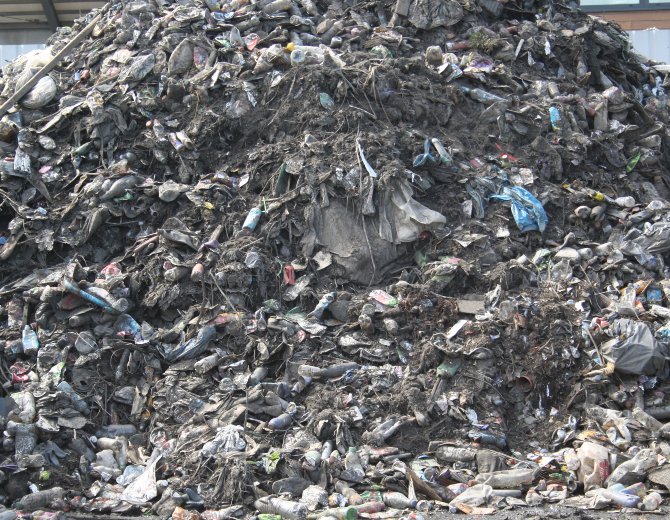 THE CHALLENGE
Belfast company, Irish Waste, have a forty year history in waste management in Northern Ireland. They provide industrial and commercial waste services as well as treatment and recycling of a range of waste streams including hazardous and non-hazardous materials. Their focus is on developing processes and facilities to direct wastes from environmentally irresponsible disposal outlets and concentrate on waste reduction, recycling, recovery and reuse.
In 2013, Irish Waste approached CDE about developing a recycling system to process and treat its road sweepings and gully waste material collected from around Northern Ireland. The company collects around 12,000 tonnes of this material per year which had been going to landfill. With the increasing cost of landfill, a solution was required that would significantly reduce the volume, and therefore, cost, of disposal.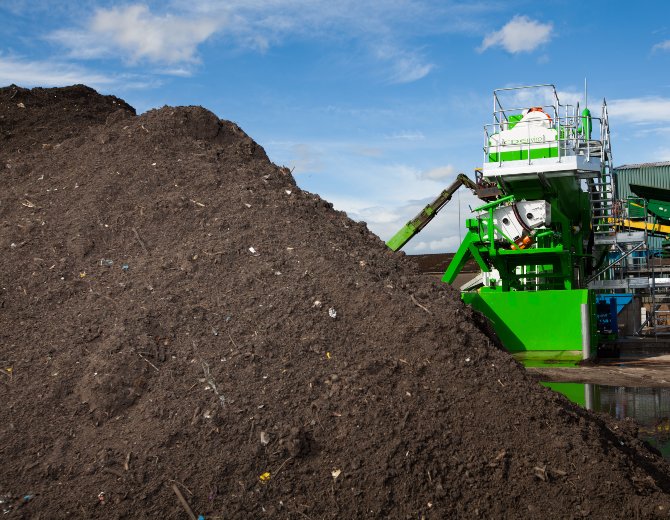 THE SOLUTION
A new recycling wash plant was delivered to Irish Waste in August 2014. It included an AggMax™ logwasher which encompasses a series of techniques including a 2-stage density separation process, attrition and high-pressure wet processing. The recycling system diverts up to 90% of waste material from landfill.
The AggMax™ offers superior separation of lightweight and fine constituents, through a series of density separation techniques, ensuring the highest quality end products.
The system ensures Irish Waste can offer a total road sweepings recovery service, including dewatering, screening out larger items and washing the remaining sweepings to produce a clean material for the construction industry, that is fully compliant with the quality protocol.
A second investment for continuing innovation
When Irish Waste visited CDE Headquarters in August 2014 for a factory acceptance test of their road sweepings system, they saw a PRO:DEC system in the production facility. Managing Director at Irish Waste, Jason McPolin, identified it as a possible solution to Irish Waste's sludge problems with lagoons on one of their projects in Lurgan, Northern Ireland.
The lagoons were 500,000m3 and were in in-situ for over 30 years. Irish Waste's requirement was a solution that would remove oversize and grit from the sludge to allow it to go through a decanter for final treatment. The result was the first ever PRO:DEC provided by CDE.
Once work was completed on the ponds, the PRO:DEC was placed on a trailer to begin mobile processing at various sites around Northern Ireland. As a result, Irish Waste provide a complete sewage treatment service, receiving sewage sludge, screening any large contaminants and processing the sludge through centrifugation to produce a filter cake which can be applied as a fertiliser, returned to the client or disposed of.
All sludge recovered can be removed and treated on-site using a mobile decanter unit that provides a dewatering and stabilising process that safely treats sludges and other organic wastes. The unit can process the sludge output of a plant serving a population up to 150,000, processing between 5-125 cubic metres per hour with 5% solids content.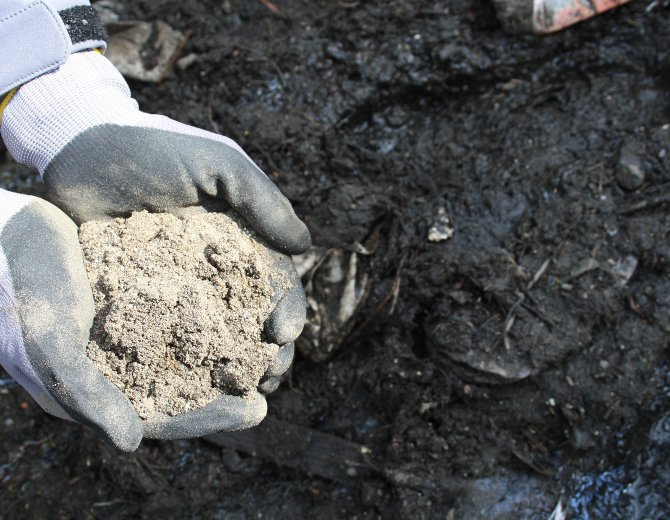 THE RESULTS
Products being produced for Irish Waste through CDE's AggMax are a 5-40mm aggregate, 0-4mm fine aggregate and an organic fraction. These end products are being used in a variety of construction applications including trench fill, pipe bedding and non-structural concrete mixes.
In 2015, after 18 months of operation, the PRO:DEC completed processing at the Lurgan site, having processed 500,000m3 of sludge from the ponds. The system dramatically reduced wear and tear to the decanter, saving in the region of £70-80k. After treatment through the PRO:DEC, the degritted sludge then went through the on-site decanter for dewatering. As part of their stabilisation process, the site added Bio Lime to the dewatered sludge, causing a temperature rise to 70 °C which pasteurises the sludge, reducing pathogens such as salmonella and e.coli and reducing unpleasant odours. The remaining product was used as an effective organic fertiliser or soil ameliorant. This product was then spread on the land previously used to accommodate the lagoons, to remediate the land and make it suitable for local wildlife.
You May Be Interested in These Projects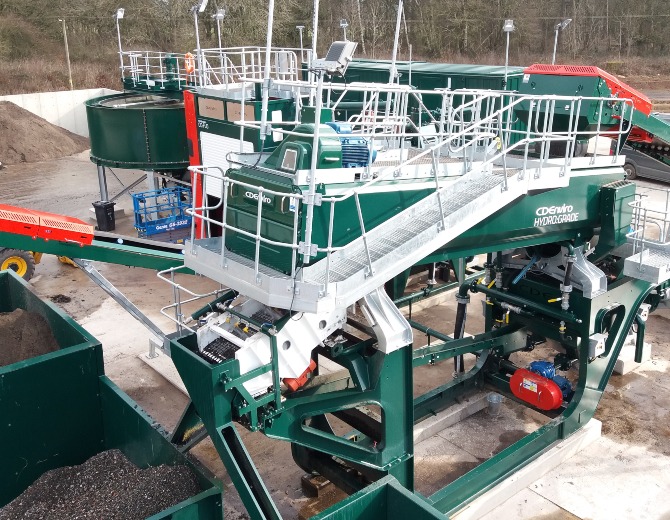 Biffa Meece
England
Material Road Sweepings & Gully Waste
Output 0-4mm & 5-40mm Aggregates
End Use
Trench Fill,
Pipe Bedding,
Non-Structural Concrete
State-of-the-art road sweepings recycling plant helping to divert almost 90% of material from landfill.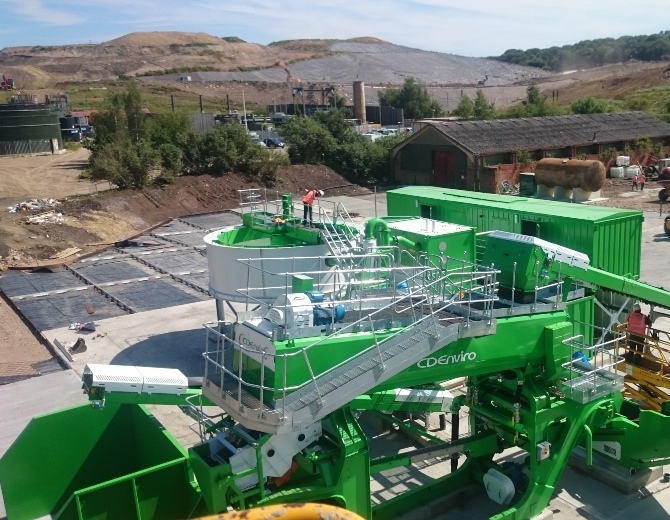 Biffa Horsham
England
Material Road Sweepings & Gully Waste
Output 1 Sand | 2 Aggregates | Filter Cake | Washed Organics
End Use
Drainage Stone,
Construction Sand,
Land Capping
State-of-the-art 25tph waste recycling solution diverting almost 100% of road sweepings materials from landfill.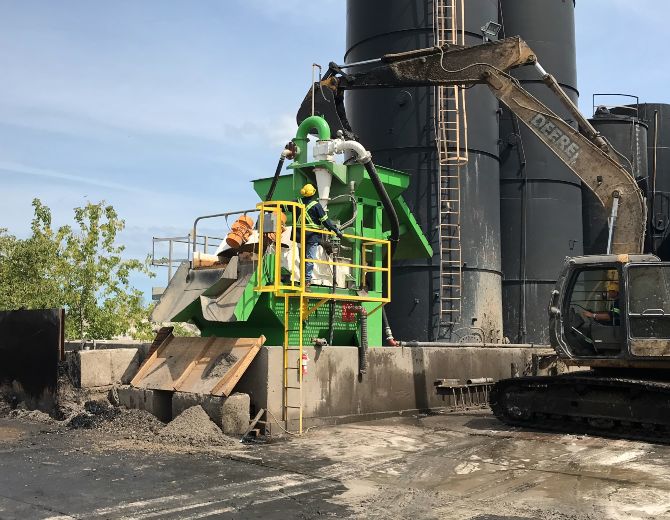 Da-Lee Environmental Services

Canada

Material Hydro Excavation Waste, Road Sweepings & Gully Waste

Output Recycled Sand & Aggregates

End Use

Pipe Bedding,

Road Fill,

Landscaping

Ontario-based Da-Lee Environmental Services invests in CDE equipment to reduce disposal and transport costs.

;