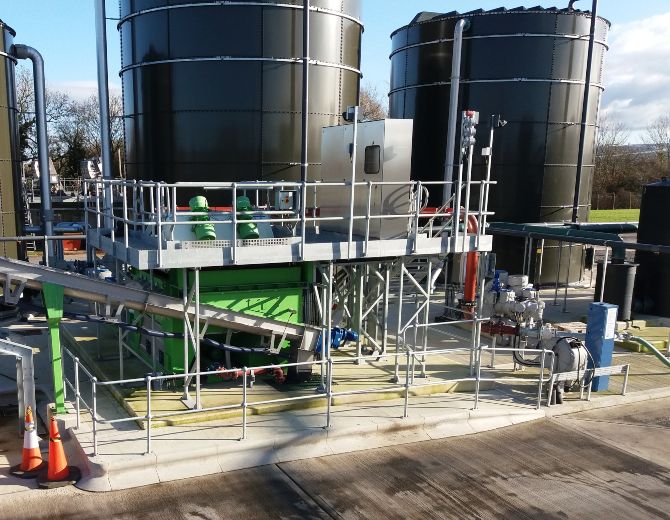 INDUSTRY-LEADING SYSTEM FOR RAG & GRIT RECOVERY
The S:MAX range is specifically designed for automated screening of all types of sewage sludge including:
Raw Sludge
Surplus Activated Sludge
Septic Tank Sludge
Digester Feed Sludge and digestate
Lagoon / Pond Emptying Solids
Storm Screenings
Tank Cleanout Residues.
It can easily accommodate both indigenous sludge and imported sludge with a design that enables the capture of rag and grit from even high solids sludges. S:MAX offers significant operational efficiencies as a result of increased screenings removal, elimination of blockages and reduced power and water requirements.
Eliminating blockages during sludge screening
Blockages within existing sludge screening plants are the single biggest cause of increased operational costs and long periods of plant downtime. A unique back wash system on the S:MAX ensures that the screens do not block with material offering utilities and contractors a significant reduction in the cost of operation and maintenance as well as an increase in plant uptime.
By processing at the fastest rate possible, with no requirement for a reception tank, tanker assets are optimised and transportation costs minimised.
Biomass power generation
Removing the majority of rag and grit before they reach valuable sludge processes, maintains capacity in tanks further down the treatment line for biomass power generation in the anaerobic digestion phase. Companies can maximise the potential for the generation of energy from biosolids by reducing the level of biosolids contamination within the digesters. The benefits of effective screenings removal also include reduced operation and maintenance costs at the anaerobic digestion phase.
THIS IS HOW WE DO IT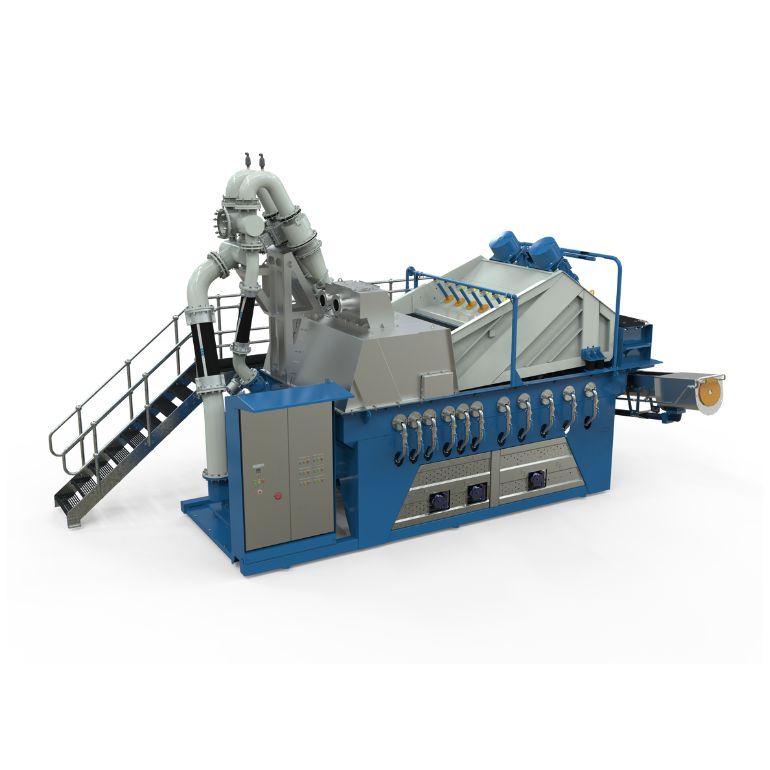 TECHNICAL SPECIFICATION FOR THE S:MAX
| | | | | |
| --- | --- | --- | --- | --- |
| S:MAX | SRU15 | SRU25 | SRU15G | SRU25G |
| Maximum Capacity* (l/s @ 6% DS) | 42 | 75 | 35 | 60 |
| Washwater Top-Up Requirement | 2.0 l/s | 4.0 l/s | 2.0 l/s | 4.0 l/s |
| Power Requirement | 19.5kW | 26kW | 49.5kW | 63kW |
| Weight (tonnes) | 9 | 11 | 11 | 13 |
| Length (m) | 5.5 | 8 | 5.5 | 8 |
| Width (m) | 4.8 | 4.8 | 4.2 | 4.8 |
| Height (m) | 3.3 | 3.8 | 4 | 4.2 |
* Higher solids loadings can be screened with addition of optional automatic feed control.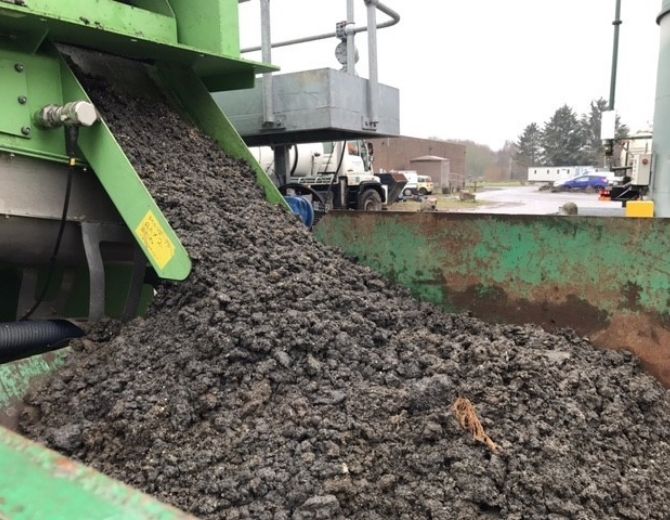 ENGINEERED FOR EFFECTIVE SLUDGE MANAGEMENT
The proven capability of the S:MAX to handle 10% dry solids within the raw sludge makes it the industry-leading choice for operators in the industry.
CDE's S:MAX is used in variety of industries including wastewater treatment works, sewage treatment works, demolition contractors and wastewater contractors.
The S:MAX operates at less than half the water pressure of other systems on the market, therefore requires less wash water. This allows for the system to be easily retrofitted to existing sites as the S:MAX does not require a high pressure water pump to feed the system. Further benefit is gained from the reduced power requirement of the plant which once again has the dual benefit of reducing costs of operation while ensuring a minimal carbon footprint.
The S:MAX range consists of 4 different products - SRU15, SRU25, SRU15G, SRU25G - each with different capacities to suit your business operations.
You May Be Interested in These Projects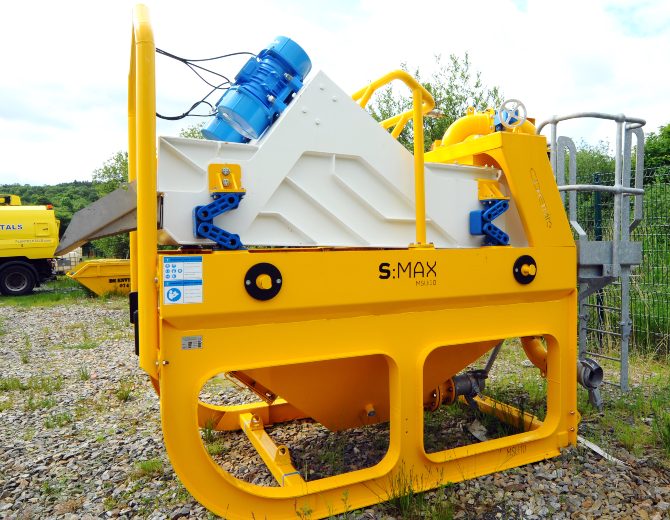 DS Environmental
Ireland
Material Sludge Dewatering
Output High Quality Sludge Products
MSU:10 portable sludge screen improves the environmental cleaning services division for DS Environmental.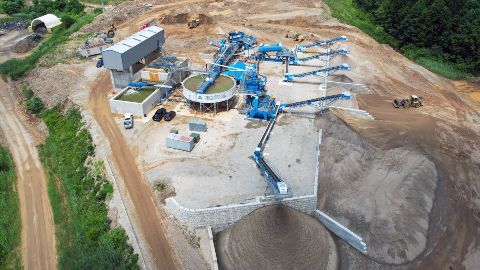 Repurpose Aggregates
Maryland, USA
Material C&D Waste, Claybound Aggregates, Dredged Sands, Excavation Waste, Road Sweepings & Gully Waste, Water Recycling
Output C33 Concrete Sand | #3, #8 & #57 Stone
End Use
Asphalt Production
Concrete Production
Construction Products
Repurpose Aggregates to transform Maryland construction industry with innovative CDE technology.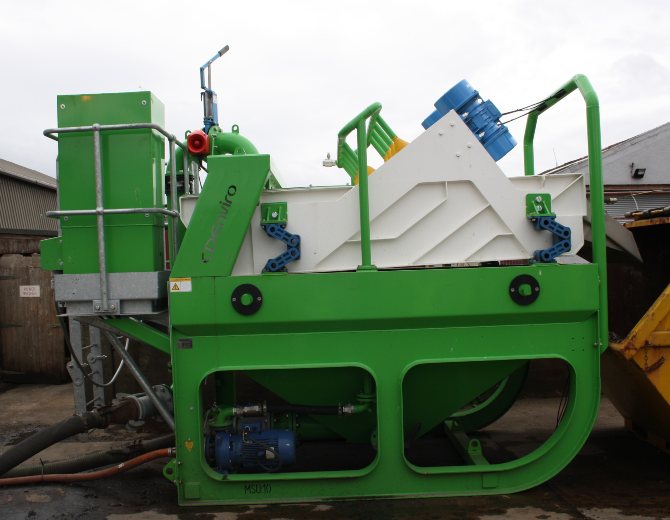 MSIS
Scotland
Material Sludge Dewatering
Output High Quality Sludge, Grit & Rag
End Use
Anaerobic Digestion
Soil Fertiliser
MSU:10 mobile solution for solid/liquid sewage waste helped MSIS, Scotland, reduce transport time and costs and protect downstream processes.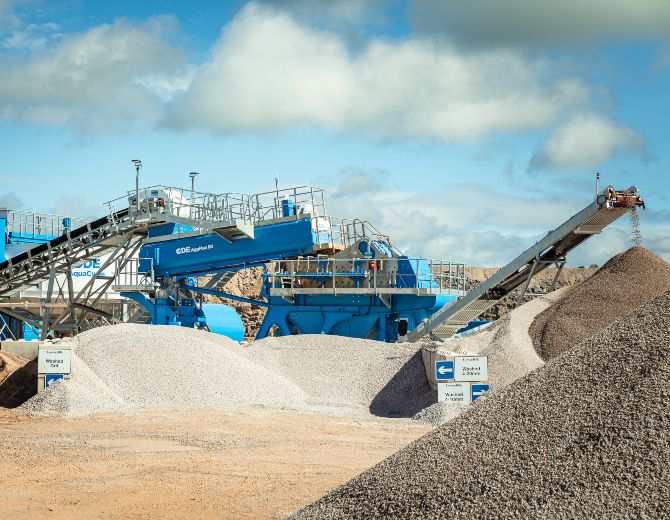 ;