State-of-the-art 200tph silica sand wash plant installed in Tunisia, producing five products ready for market straight off the belts.
Material
Sand & Gravel, Silica Sands, Sports Sands, Ultra Fines Recovery
Output
Ultrafine (30-150 microns) | Glass Sand (150-650 microns) | Coarse Sand | (650 microns-3mm) | Oversize (3mm)
End Use
Glass Production
Silica Flour
Ceramics
Sports Sands
Water Filtration Systems
Silica Sand Wash Plant Installed for SOMEVAM (Sebri Group) in Tunisia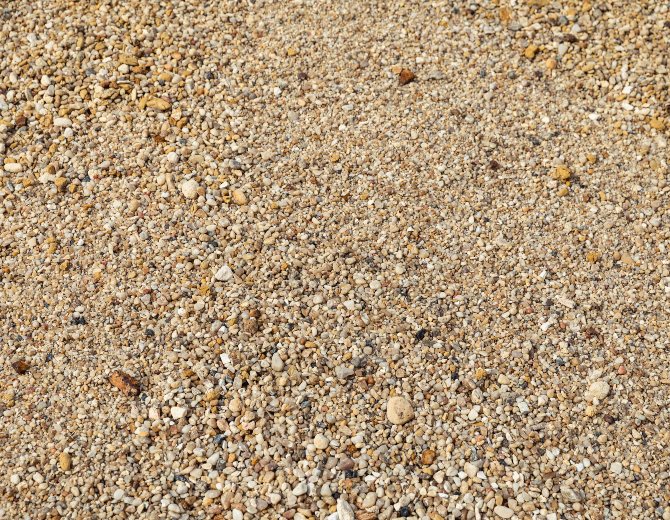 THE CHALLENGE
SOMEVAM, a subsidiary of the Sebri group, has operated sand quarries in Oueslatia, Tunisia serving the national construction market since 2001.
Following testing of material, SOMEVAM saw the opportunity to diversify into the glass industry in North Africa and Europe and produce a range of supplementary products, including industrial sand and silica flour. The company also wanted to produce a 30-150 micron fraction that would make its offer unique in the region.
SOMEVAM sought an effective wet processing solution that would eliminate contaminants and offer variable cut points to increase the quality and commercial value of the end products.
Each day, SOMEVAM extracts 3,000 tonnes of sand. In order to handle such quantities efficiently while also adhering to stringent quality standards requires the most advanced, durable and sustainable processing equipment.
Together, the Tunisian company and CDE have developed a tailor-made wet processing solution to support SOMEVAM to achieve its commercial growth aspirations.
The design process, underpinned by CDE's co-creation approach, allowed CDE engineers to work directly with the SOMEVAM team to develop a modular wet processing installation perfectly suited to the feed material (including a silica content of 99%) and the company's production targets.
Mr. Habib Sebri, CEO of SOMEVAM, explains: "Before we got into glass sand, we operated the Oueslatia site for the production of building materials. However, it was clear that the material on site presented an interesting commercial opportunity in the field of silica for flat glass applications such as windows, mirrors and flat glazing."
Sebri says it was important to invest in the right sand treatment equipment to guarantee the success of the project.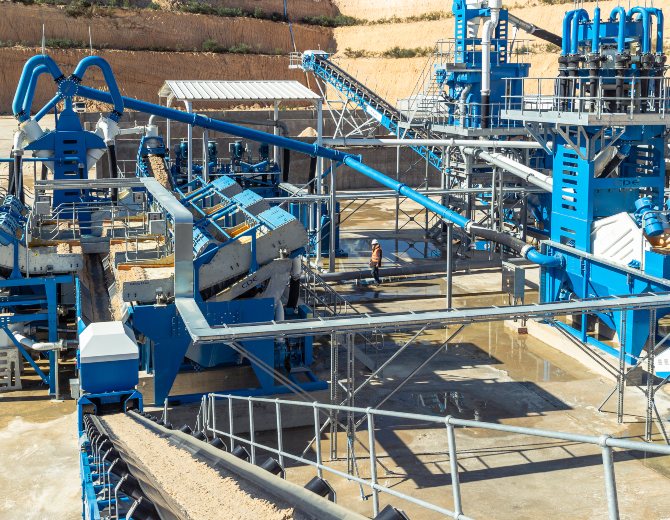 THE SOLUTION
To guarantee precise control of sand cut points, SOMEVAM opted for a complete turnkey CDE solution. The CDE plant has the capacity to treat up to 200 tonnes per hour (tph) of sand, producing 100tph of silica glass sand for the glass industry, as well as a range of secondary products including fine silica sand for silica flour production, foundry sand, concrete sand and road base.
The installation features a combination of CDE equipment operating in perfect synergy; an M4500 primary wash plant to classify materials, five high frequency Infinity Screens™, four attrition cells, spiral separators, CDE's Counter Flow Classification Unit (CFCU), a nano-cyclone, magnet, four EvoWash™ sand washing units and an AquaCycle™ water management solution. Combined, the system processes fine and coarse materials and eliminates contaminants to produce high-specification glass sand.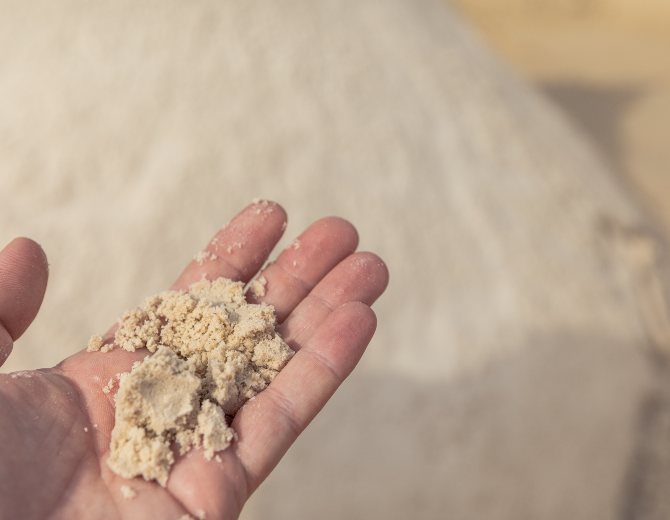 THE RESULTS
The CDE installation for SOMEVAM transforms the feed material into five high specification products with exceptional commercial value. It produces glass sand (150-650 microns) and related products, including oversized (3mm) ready to be used in water filtration systems, coarse sand (650 microns-3mm) ready to be ground to make flour silica, ultrafine (30-150 microns) for ceramics or other industries, and iron-rich sand that can be used in sports fields. With a typical moisture content of 12%, the materials are market-ready straight from the belts.
Sebri comments: "Our CDE solution has made a huge impact on the glass sand industry in Tunisia and in the North African market. It represents the most advanced technology available on the North African market and has enabled us to become ultra-competitive in an industry with extremely high-quality standards.
"Our glass sand is sold for the production of white glass, and the other fractions are sold for various industrial applications. Our quick return on investment was thanks to the power and efficiency of our CDE solution.
"We have succeeded in expanding our offer and positioning ourselves in new markets, which has strengthened SOMEVAM's reputation with its customers for quality and consistency of service."
You May Be Interested in These Projects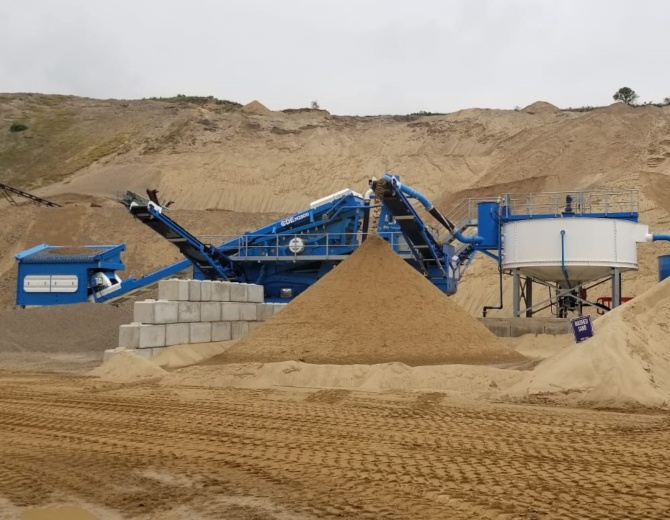 D'Arcy Sands
Ireland
Material Sports Sands, Sand & Gravel
Output Sports Sand & Washed Gravel
End Use
Sports Sands,
Golf Sands,
Equestrian
CDE plant delivers 100% increased production for D'Arcy Sands in Co. Wexford, Ireland.
Resolve Aggregates - Plant Upgrade
Texas, USA
Material Sports Sands, Sand & Gravel
Output #30 cut - #140 golf sand
Resolve Aggregates upgrade to new CDE screen to enable golf sands production.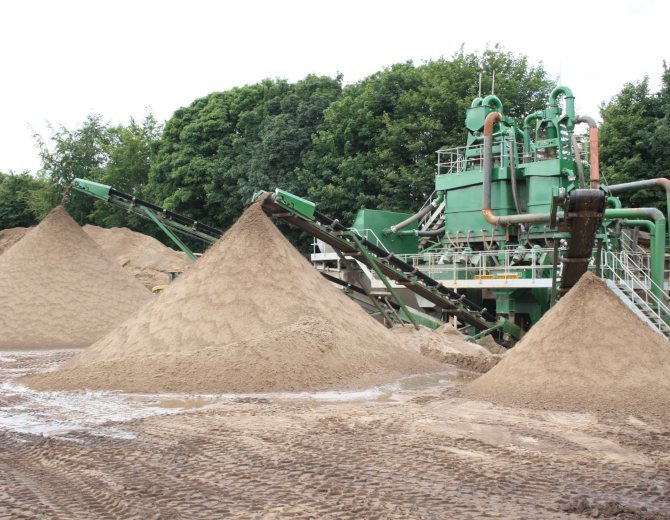 Independent Aggregates

Scotland

Material Sand & Gravel, Sports Sands

Output USPGA sand | Medium fine sand | Pond sand

End Use

Golf Sands,

Construction Products,

Asphalt

Processing natural sand and gravel to create quality sports sands as well as concrete sands and asphalt sands.

; ;