A CDE washing plant in France successfully produces high-quality commercial products at a rate of 100 tph while recycling 90% of the water used in the plant.
Material
Crushed Rock, Limestone, Manufactured Sands, Sand & Gravel
Output
0-4mm Sand | 0-4mm Man Sand | 4-8mm and 8-20mm Grit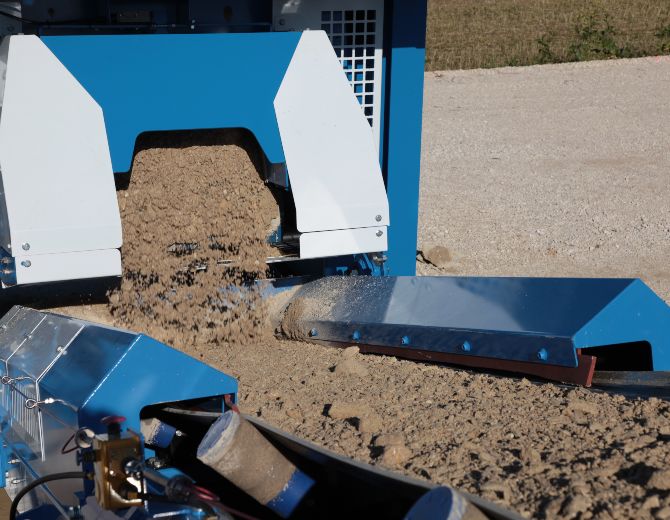 THE CHALLENGE
S.A. André Boureau is a family-owned quarry company located in the Haute-Marne region in the north-east of France. Operational since 1965, their quarries produce over 300,000 tonnes of sand, gravel and aggregates every year for use in a wide range of applications including the construction and maintenance of roads. The company's activities include earthworks, demolition, road works, creation of networks, equipment hire, and the sale of sand, aggregates and building materials.
In 2014 S.A. André Boureau opened a new sand and gravel pit at Lanty-sur-Aube, a short distance from their existing quarry which has come to the end of its deposits. The company wanted to introduce modern mobile washing technology in order to maximise productivity from the new pit, and to allow the flexibility to move the wash plant as and when necessary.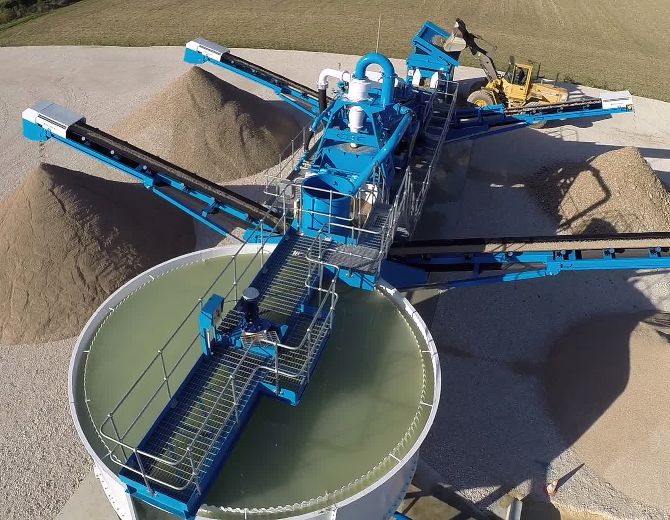 THE SOLUTION
In early 2014, CDE became directly involved with S.A. André Boureau on a technical and commercial level. This was the beginning of a close collaboration with the client which has resulted in the successful installation of the new plant specified to the exact needs of S.A. André Boureau.
CDE Business Development Manager for France, describes the co-creation process involved. "The process involved S.A. André Boureau working closely with our technical department to design a system suitable for processing their material. A detailed sieve analysis was carried out which enabled us to design a future proof system specifically for the quarry at Lanty-sur-Aube. The level of communication between Mrs Jean-Charles Gillet, Jean-Jacques Boureau and ourselves, ensured we capitalised on the extensive experience of both parties. The level of interaction and shared knowledge involved in this project will benefit both companies long into the future."
The new plant consists of a M2500 E4 mobile washing plant and an AquaCycleTM A200 thickener. This represents the first AquaCycleTM system in France for CDE. The plant has a capacity of 100 tonnes per hour and is processing 0-60mm alluvial limestone material to produce a 0-4mm washed manufactured sand as well as 4-8mm and 8-20 mm washed grit. The remaining 20-60mm gravel are crushed and reintroduced into the installation. The 0-4mm sand product has been produced with maximum retention of +75micron material and the efficient removal of -75micron material. The AquaCycle thickener significantly reduces the area required for ponds onsite at the pit and enables the recycling of more than 90% of the water used in the washing plant which leads to a substantial reduction in the volume of water that has to be provided for the system.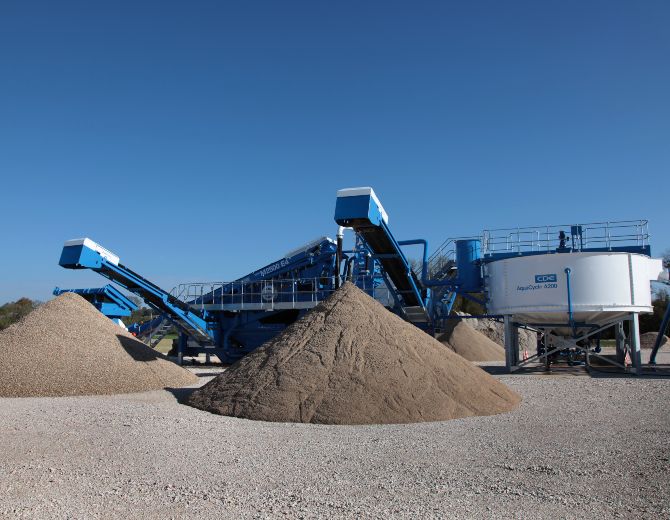 THE RESULTS
Mr Jean-Charles Gillet, Managing Director of S.A. André Boureau, commented, "We are concerned with reducing costs, increasing efficiency and reducing our environmental impact. The AquaCycleTM system guarantees that we can achieve all three of these goals while complying with environmental requirements."
Another important issue for S.A. André Boureau is the health and safety of its employees and the CDE solution has been designed to minimise spillage which ensures a clean and safe site. Mr Jean-Jacques Boureau, President of S.A. André Boureau, commented, "This is our first time using a mobile washing plant and the process with CDE has reassured us we have made the right decision. Their technical expertise, with our input, has guaranteed that we have a washing solution that fulfils our requirements. We were highly impressed with the level of detail explored by CDE to guarantee they delivered a system that was suitable for our needs."
You May Be Interested in These Projects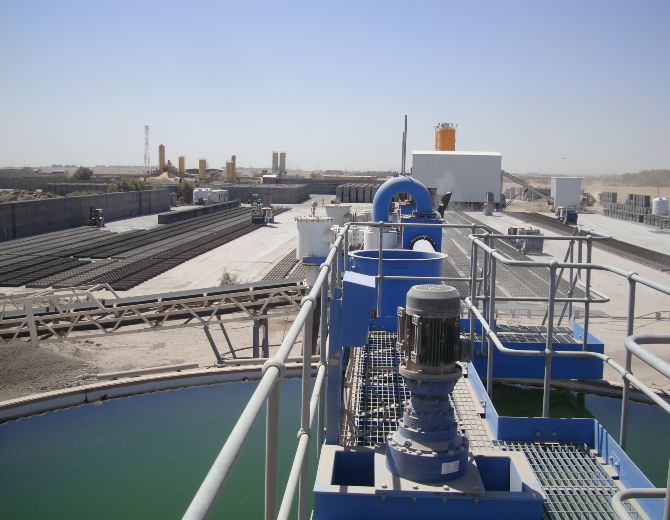 Abdullah Abdein
Kingdom of Saudi Arabia
Material Sand & Gravel, Limestone, Crushed Rock
Output High quality concrete sand
End Use
Readymix Concrete,
Concrete Blocks
150 tph EvoWash sand washing plant and AquaCycle thickener accepts blended dune sand, crushed limestone & gabbro for use in block making and ready mix concrete.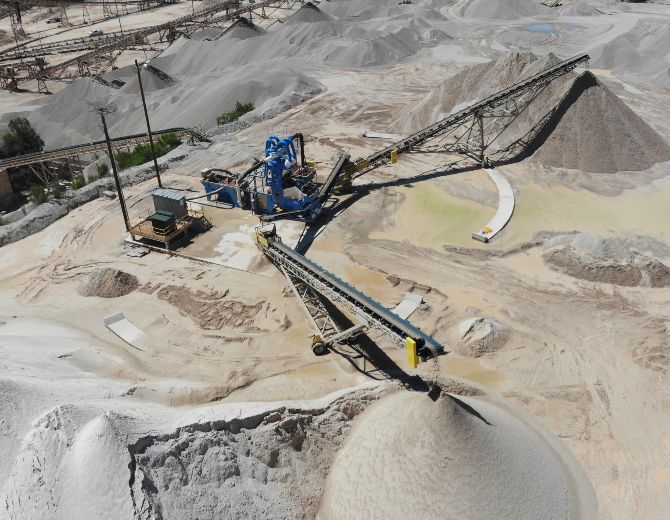 Oldcastle Materials
Texas, USA
Material Sand & Gravel, Limestone, Crushed Rock
Output C-33 Concrete Sand & Mason Sand
Texan construction materials company Oldcastle Materials upgrade to CDE technology for optimal sand washing efficiency.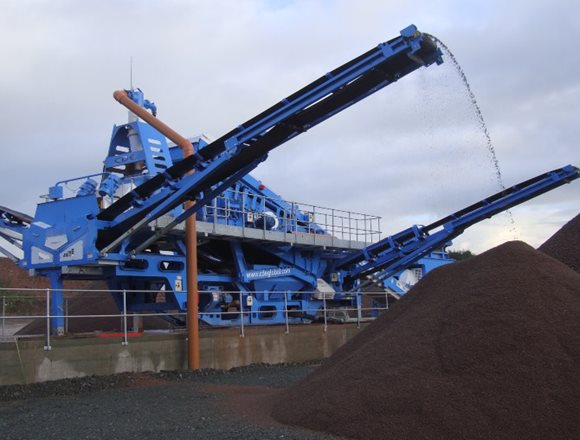 Grange Quarries

Scotland

Material Quarry Waste, Limestone, Crushed Rock, Sand & Gravel, Manufactured Sands

Output 2 Sands | 3 Aggregates

End Use

Construction Products,

Concrete Production

200tph wash plant processes limestone to produce manufactured sand and three washed aggregates.

; ;