New CDE 250tph dredge and dry-fed wash plant for sand and gravel supplier Burdett's
Material
Dredged Sands, Lignite Removal, Sand & Gravel
End Use
Garden Turf
Construction Products
Burdett's 250tph dredge and dry-fed wash plant in Melbourne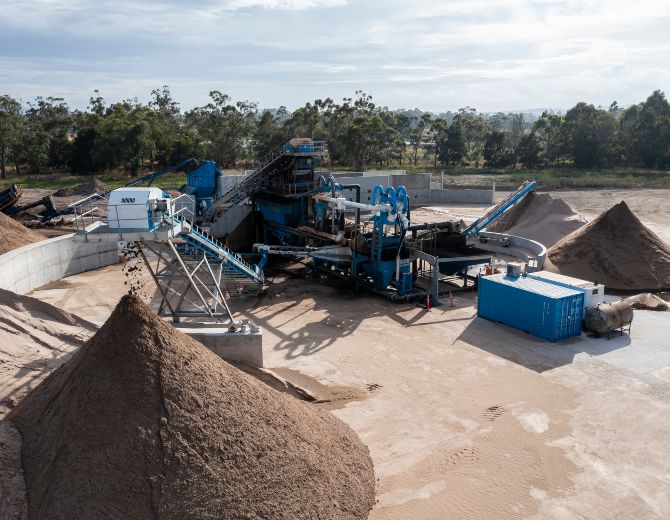 THE OPPORTUNITY
Based in Victoria, Burdett's has invested in a new, dredge and dry-fed wash plant from industry experts CDE after acquiring a new greenfield site in Lang Lang, about 75km south-east of Melbourne.
With more than 40 years' experience in the industry, Burdett's supplies a range of high-quality products including landscaping gear and ready-mixed concrete, with over 70% of product output from its quarrying operations going to the garden and turf industry.
At its existing Langwarrin site, Burdett's operates a wash plant that accepts material from a range of sites to be blended; however, the 15-year-old plant is unable to meet current market demands.
Having acquired its new site in Lang Lang, which also has its own resource, Burdett's sought to commission a robust and reliable solution that could process material extracted on-site and from local quarries. The goal was to relieve pressures on its existing operations, maximise operational efficiency and add value to existing products.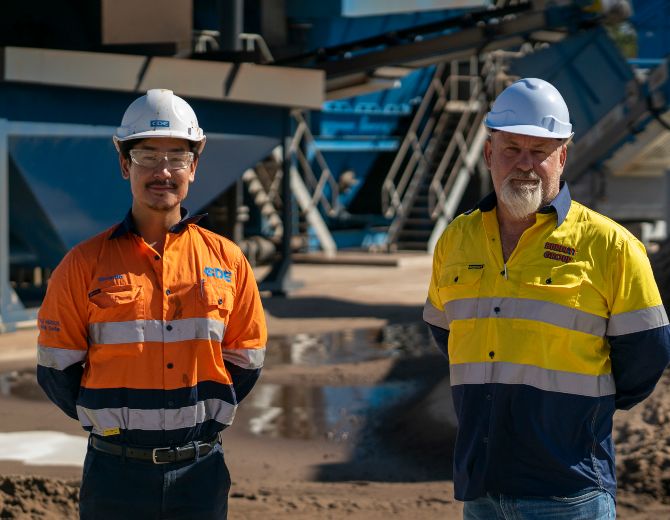 CO-CREATED SOLUTION
Using its unique co-creation approach, CDE worked closely with Burdett's to fully understand what the business wanted to achieve from the plant and developed a turnkey solution to meet the company's objectives.
Burdett's director Andrew Burdett said his company chose CDE because of its deep understanding of their requirements and proximity.
"While this is our first time partnering with CDE, we were familiar with its technology and recognised early on the potential for it to underscore the success of our new Lang Lang operation,' he said.
"We explored other suppliers in the market, but it was CDE's understanding of our needs and the direct relationship with its expert team that sealed the deal. We were confident the project would be treated as a partnership from the outset."
CDE business development manager for Australasia Riccardo Wong said the company was "able to demonstrate our professionalism and industry expertise throughout the process".
"From the beginning, we listened and identified what they were looking for and engineered a solution that responded directly to their immediate needs for improved operational efficiency and maximum product quality," he said.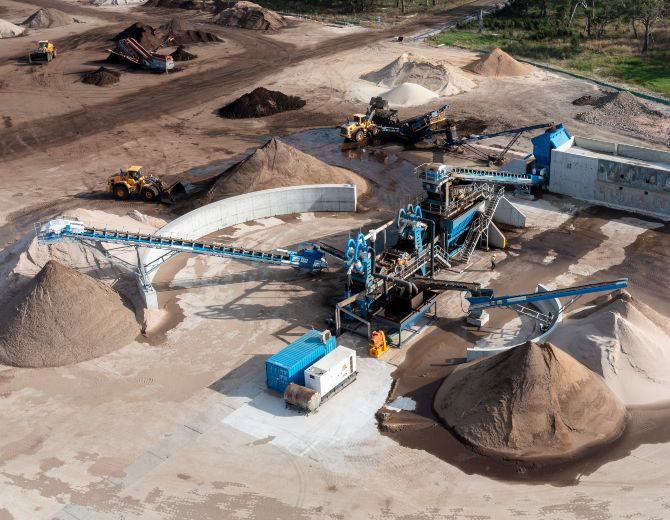 DEWATERED AND DYNAMICALLY HANDLED
Lang Lang is a site with a high-water table, so Burdett's required a plant that had the flexibility to take a dry excavated feed as well as a dredge feed. The conventional mining process of extracting material from water and leaving it to dry out and dewater is extremely labour-intensive and increases operational costs.
In response, CDE commissioned a dredge feed system, meaning that once Burdett's reaches the water table it can dredge wet slurry feed to the plant. This removed the intermediatory step of having to dewater material first, which in turn reduced operational and labour costs.
As Burdett's specialises in the supply of various products, the integration of CDE's dual sliding conveyors to create blended products removed the requirement for manually blending material with a loader, which also contributed to maximising operational efficiency.
"Our existing plant at Langwarrin can only process so much material," Burdett said. "With CDE's expertise and technology, we are now equipped to process higher volumes at a faster rate, rather than relying on a single site for washing."
ENGINEERING EXCELLENCE
CDE designed and installed an advanced 250tph wet processing solution to produce high-quality washed sands, incorporating a dual EvoWash sand wash plant, dredge sump, Infinity design ProGrade screen, feed hopper and dual sliding blending conveyors.
A compact, modular sand washing system, CDE's EvoWash screens and separates the smaller sand and gravel fractions through an integrated high-frequency dewatering screen. The hydrocyclone technology provides impressive control of silt cut points and eliminates the loss of quality fines.
CDE's ProGrade screen separates out the 15mm and +5mm fractions, delivering a high power-to-weight ratio and reducing overall power consumption. The screens are built to last, with an independent spray bar assembly protected from vibration, which ensures maximum durability and allows Burdett's to meet production targets.
CDE's advanced classification and dewatering technology increases the accuracy of separation and delivers high-quality product with less than 15% moisture content straight off the belt, eliminating the need for drying.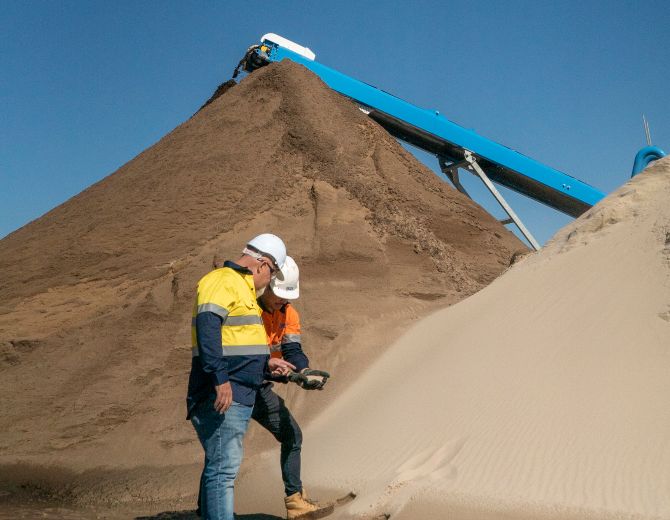 THE RESULTS
With the support of CDE wet processing technology, Burdett's is now producing fine sand for the turf industry and a blend of coarse sand to make concrete sand and filter grades for the drying plant. Its turf, brick and foundry sands are currently being supplied to the garden, turf and construction industries. Burdett said the plant was now exceeding expectations.
"We're able to produce the same products as on the old plant, but with CDE's technology our products are of superior quality and we've been able to improve overall efficiency, The plant was specified to meet 200tph; however, we've established that it's actually processing up to 250tph, which is beyond our expectations and allows us to increase the capacity of our operations even further."
"It's been a pleasure to work with CDE. The commissioning process went very smoothly and the local team in Victoria has been close at hand to support us through the journey."
Wong also couldn't be happier with the partnership and its strong results for Burdett's.
"We're pleased to be partnering with Burdett's on this venture and proud that our equipment is already producing beyond the immediate requirements," he said.
You May Be Interested in These Projects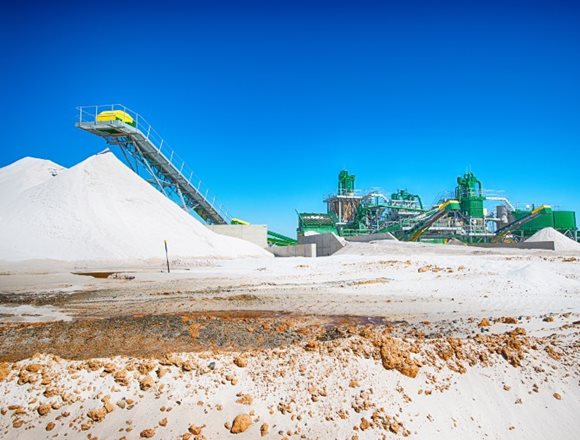 Sunstate Sands
Australia
Output 7 Specialist Sand Fractions
State-of-the-art 140tph silica sand washing plant in south Brisbane.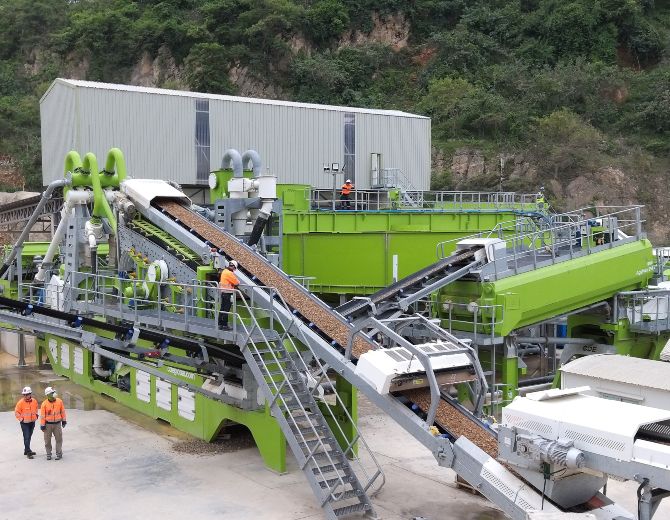 TPI
Thailand
Material Sand & Gravel, Quarry Waste, Crushed Rock, Manufactured Sands
Output 0-0.6mm and 0.6mm-2.5mm Sand & C33 Man Sands | 2.5mm-5mm Aggregate | Filter Cake
TPI achieves total utilisation of feed material with CDE wet classification technology. The 300tph solution is processing quarry by-product into valuable materials.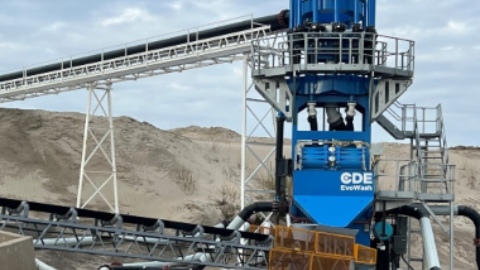 James Dick

Canada

Material Ultra Fines Recovery

Ontario construction materials firm, James Dick, maximizes material recovery with 45tph sand wash plant.

; ;