Bespoke turnkey solution for processing road sweepings and trommel fines at 25tph & diverting up to 90% of material from landfill.
Material
Road Sweepings & Gully Waste, Trommel Fines
Output
Recycled Sand & Aggregates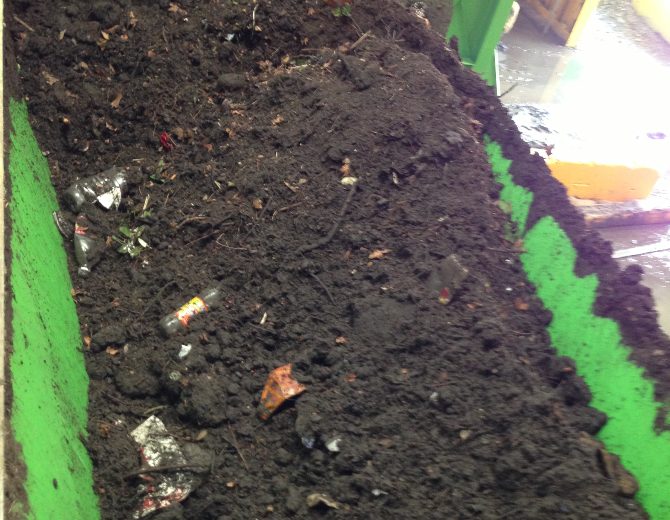 THE CHALLENGE
Eastern Waste Disposal is a family run business based in Brightlingsea, near Colchester and has built a reputation for providing a variety of waste disposal and recycling services in the East of England. Currently they offer skip hire, grab and tipping Lorries, waste tyre and wood management and collection and processing of waste.
Prior to the introduction of the CDE system, Eastern Waste Disposal collected waste such as road sweepings and gully waste for processing at their Brightlingsea waste transfer station.
"In recent years waste disposal has turned to waste recovery and recycling. Equipment, technology and plant require huge capital investment but we knew we had to keep ahead of the industry to remain competitive in the growing waste sector. To improve the quality of decontamination and to maximise the recovery of saleable aggregates we turned to CDE," commented Danny Carter, Director, Eastern Waste Disposal.
In May 2012, HMRC sent shockwaves around the waste industry stating that "any residue from treated transfer station waste, which is consigned to landfill, will be very variable and it will be impossible to determine the origin and exact nature of the source material." The result was that the fines product from dry processing through systems, like trommels, would now command the higher rate of landfill tax. While waste handlers had to move quickly to increase the prices of skips or find alternative disposal routes, Eastern Waste Disposal spotted an opportunity previously untapped in the market for trommel waste recycling – washing.
Generally trommel fines are produced as part of the recycling process and consist of materials such as wood, aggregate, glass and organics; they have traditionally been treated as an inert product and sent to landfill. The fibrous nature of these fines often makes them difficult to separate and recycle. CDEnviro undertook extensive testing in conjunction with EWD UK to ensure the new system would process trommel fines effectively and efficiently. The new recycling system scrubs contamination from sand, grit and stone, liberating unwanted lightweight matter and removing heavy metal contamination from waste water.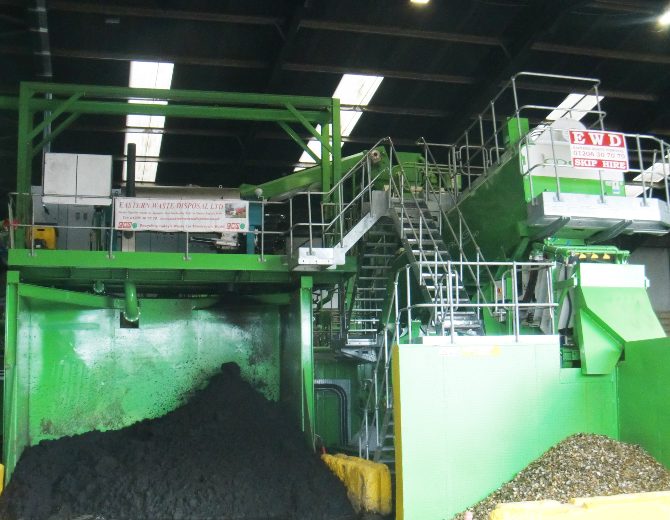 THE SOLUTION
Eastern Waste Disposal began to investigate recycling systems which would allow a wide range of materials to be processed and diverted from landfill. The CDEnviro system offered the following solution:
The CDE high attrition scrubbing system which ensures the surface of inert material is liberated from chemical contamination before being thoroughly washed and sized to produce customised sand, grit and stone specifications.
Washed organic material passed along a litter picking station to remove further contaminants and collect useful plastic and non-metal products.
Ferrous metal is removed and stockpiled separately.
Hydrocarbons heavy metal contamination is removed through CDE's patented multi-stage water treatment process.
Fine silt is dewatered so it can be easily handled and reused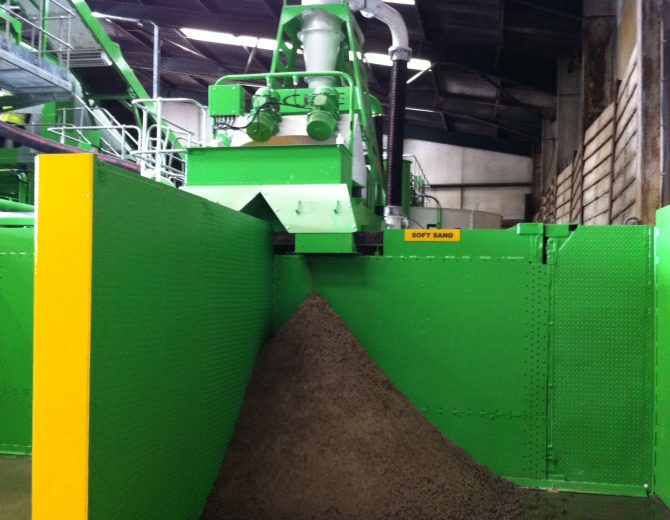 THE RESULTS
The success of the installation at Eastern Waste Disposal was made possible through the years of experience CDE has accumulated washing waste such as road sweepings and trommel fines. Our dedication to on-going research and development has led to an in-depth understanding of contamination within feed material and has enabled us to provide a proven solution for washing road sweepings and trommel fines.
Eastern Waste Disposal's dedication to promoting green issues was further illustrated by their insistence on harvesting rainwater on the site as a source of top up water supply for the washing system. This water, while not at potable water quality, is added to the water treatment system, cleaned and reused within the washing process. Eastern Waste Disposal has set a new standard in recycling large proportions of road sweepings and trommel fines using the dedicated, proven washing and water treatment processes from CDE.
Business Development Director, Matthew Bunting lays out the CDE approach, "We are listening to our clients and the market. There are a wide range of waste streams that would benefit from a dedicated washing process to recycle various useful constituent parts. The approach with Eastern Waste Disposal was very straight forward – identify the waste stream, prove the process and match our solution with the client's needs. Our customers recognise our proven and structured approach and our proven history provides the comfort that we can deliver."
You May Be Interested in These Projects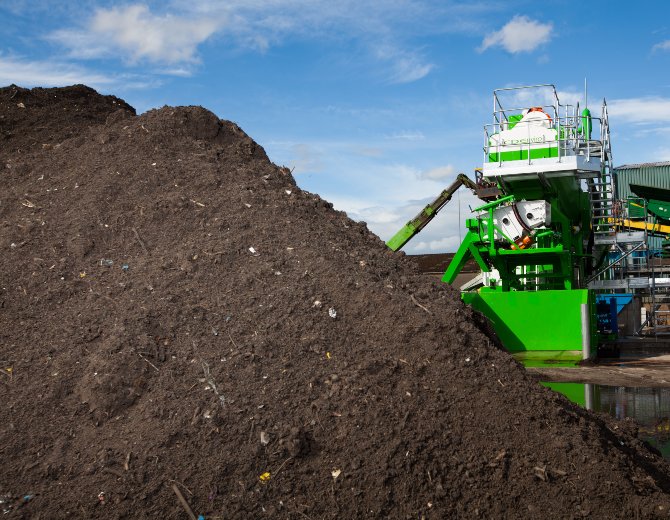 Irish Waste
Northern Ireland
Material Road Sweepings & Gully Waste
Output 0-4mm Fine Aggregate & 5-40mm Aggregates
End Use
Trench Fill,
Pipe Bedding,
Non-Structural Concrete
90% of road sweepings waste is diverted from landfill through state-of-the-art recycling facility.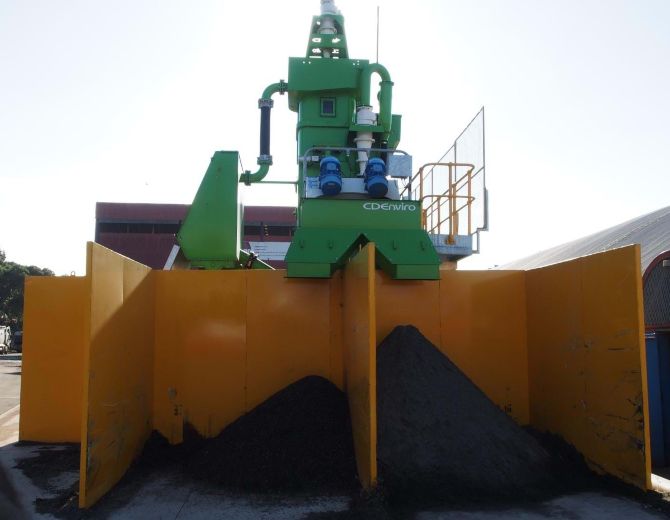 Citywide
Australia
Material Road Sweepings & Gully Waste
Output 1 Sand | 2 Aggregates | Filter Cake
Australia's first street sweeping recycling plant.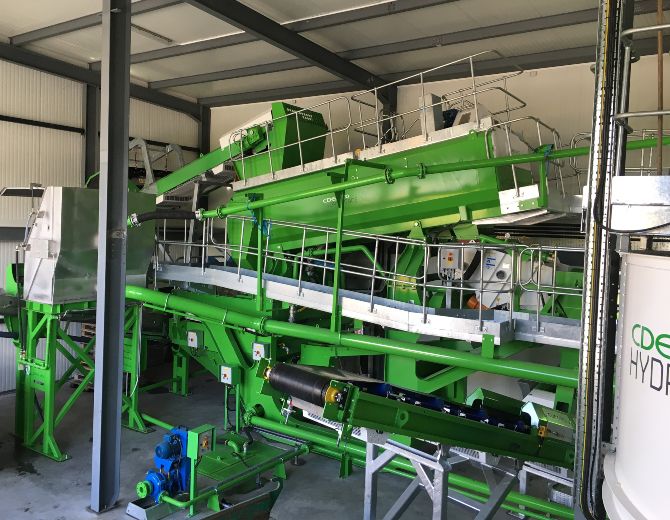 Videsa

Switzerland

Material Road Sweepings & Gully Waste

Output 1 Sand | 2 Aggregates | Filter Cake

End Use

Concrete Production,

Road Fill,

Pipe Bedding,

Landscaping Products

10tph turnkey recycling solution recovering sand and stone from road sweepings and gully waste, limiting waste quantities and reducing transport costs.

;