150tph CDE wet processing plant reduces fines by 88% for Norwegian aggregates producer Feiring Bruk.
Material
Crushed Rock, Limestone, Manufactured Sands, Quarry Waste, Sand & Gravel
Output
0-2mm Fine Sand | 2-4mm Sand | 4-16mm Aggregate
End Use
Asphalt Production
Concrete Production
Cable Sand
Paving Stones
Drainage Gravel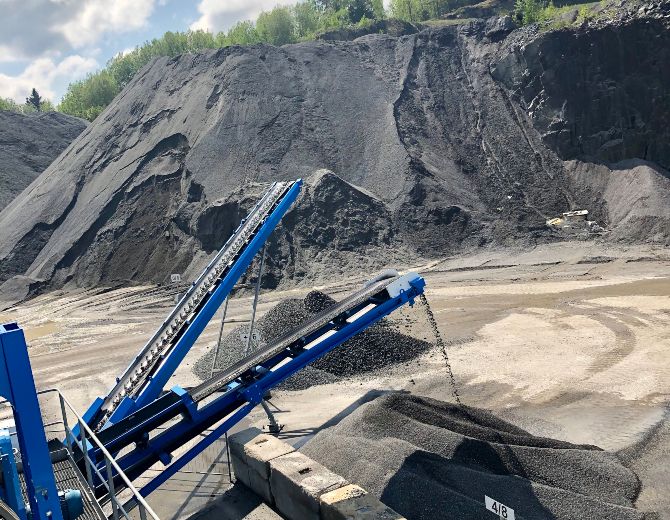 THE CHALLENGE
Feiring Bruk is a family owned business operating primarily in eastern Norway where it has 10 sites extracting and producing crushed stone, gravel, and asphalt. The company also works across Norway for clients using their mobile crushing and screening plants. The modular and mobile nature of the CDE equipment was, therefore, appealing to Feiring Bruk allowing flexibility should they wish to transport the plant to another site.
Using their previous system Feiring Bruk were unable to successfully process or sell the fines and had built up stockpiles of several hundreds of thousands of tonnes at Lørenskog alone. Trygve Ollendorff, CEO explains, "We had a massive warehouse filled with material we had been unable to exploit and which previously would have been deposited. With the new facility, we get washed out particles of zero size and can recover a range of new products."
THE SOLUTION
The washing plant was designed specifically to Feiring Bruk's requirements using the CDE co-creation approach which sees engineers work closely with the customer throughout the design and commissioning process. The plant comprises an M2500 E5X mobile washing plant with integrated hopper, feed conveyor and P3-75 Infinity screen and EvoWash sand washing plant. The M2500 E5X is the latest model in the M-Series which can produce up to five different products and includes CDE patented Infinity screening technology.
For water procressing, there is an AquaCycleTM thickener with automatic dosing station, AquaStore water storage tank and a secure control station, all designed to recirculate up to 90% of water used, helping to reduce the volume of fresh top-up water required.
The plant obtains water resources from its own borehole and water is recirculated so that water loss is minimal. Trygve Ollendorff describes the process, "Through several steps sifted different factions of the masses, until we are left with a mass similar to thin yogurt. This mass contains fines (<0,063mm) is filtered out and the water is recycled."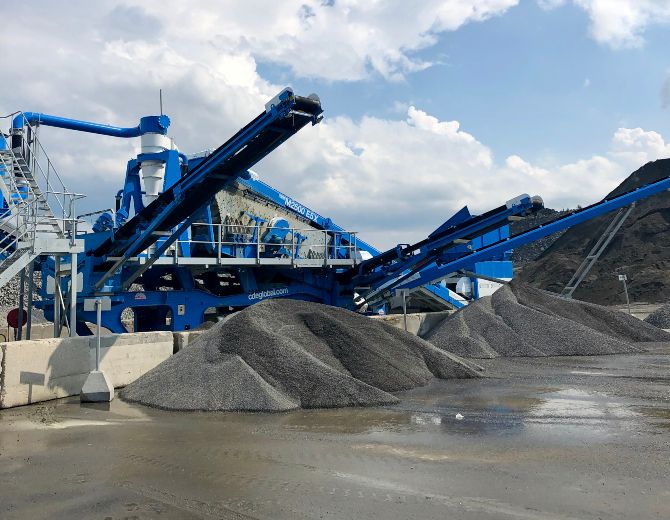 THE RESULTS
With the current material, the plant is processing 150 tonnes per hour and with optimum feed material this will be as high as 200 tonnes per hour. "After a series of analysis, we have determined that our system washes out 88% of the fines." reports Petter Hamborg, Laboratory Technician at Feiring Bruk.

There are several areas of application for the washed material. For example, washed fine sand can be used for asphalt and concrete production, cable sand or paving stones. Many contractors use fraction 2–4 under paving stones, but fraction 0–2, which is almost free of fines, can serve as a good and cheaper alternative. The products have attracted the attention of many new potential customers, one being a cable provider who needed a product which was accurately graded with the ability to transport away heat. "Most of our customers want drainage gravel in fraction 8–16 to avoid fines. Now we can supply excellent drainage gravel in fraction 4–16 that has been washed and is free of fines. We are thus making better use of the raw materials" says Co-Owner Knut Harald Ollendorff.

The washing plant has been operating since August 2016 allowing Feiring Bruk to operate more efficiently and enter new markets. "The plant is both innovative and productive while opening new revenue areas. We are clearly enthusiastic" concludes Trygve Ollendorff, General Manager.

; ;