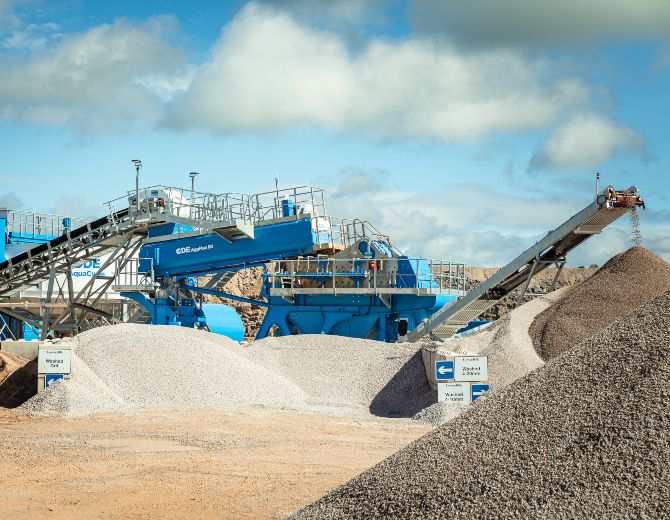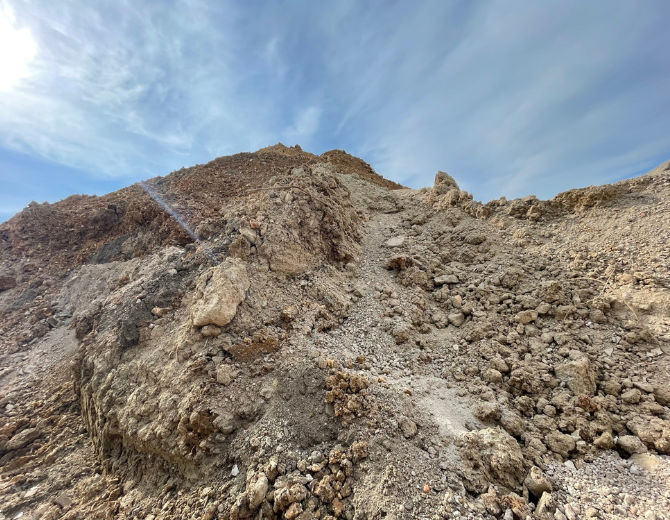 Founded in 1979, Poullard SA is an expert in demolition, excavation, roads and networks, based in Lèves, near the city of Chartres in Northern France. The company mainly operates in the demolition, excavation and roadworks sectors.
In 2015, Poullard embarked on an ambitious project to make concrete from recycled materials and established Granudem, the first washed recycled aggregates processing site in the country, to recycle concrete blocks and rubble from demolition sites into sand and gravel. Based in Poisvilliers, Granudem's patented process is unique in France, with resulting aggregates directly re-injected into the concrete manufacturing process at Poullard roadworks sites. It was during this venture into waste recycling that Poullard first partnered with CDE.
Challenge
Due to the success that followed, Poullard was ready to expand its operations and stride towards new business objectives, including the development of concrete from 100% recycled aggregates.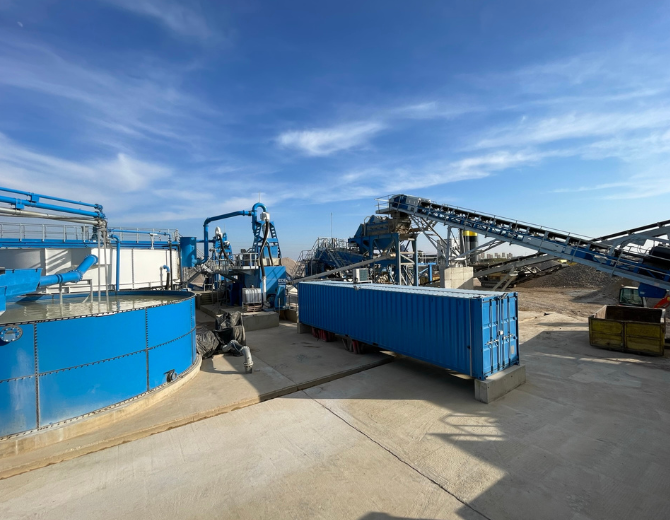 Solution
Poulard has made a significant investment and upgraded its CDE technology. Fed with both recycled concrete and inert soil material, the brand-new wash plant is 5 times larger than the original at Poisvilliers, increasing production capacity to meet the growing demand for recycled materials with ease, and producing a wider range of high-quality recycled materials.
Material is first crushed and pre-screened by the original R4500 primary feeding system and scalping unit to eliminate oversize. From here, it is fed into the new solution which features an AggMaxTM modular logwasher and classifier with patented Infinity screening technology and integrated RotoMax logwasher. Specifically developed and designed for maximum attrition and efficiency on claybound material, high in plastic and sticky contents, the RotoMax also removes contaminants such as wood or plastic by flotation, reinforced by an upward flow. The high-precision EvoWashTM dewatering and classification system ensures that sand is produced to specification, ready for use straight off the belt, while the ShearCleanTM sand attrition system removes all surface contaminants from the sand and a second EvoWashTM ensures more accurate grading. Finally, the water and sludge processing implemented by CDE allows the recycling of approximately 96% of the process water required by the system. Two phases lead to transforming the dirty process water into solid filter cake: the AquaCycleTM thickener with flocculation and the filtration of the densified sludge through a filter press.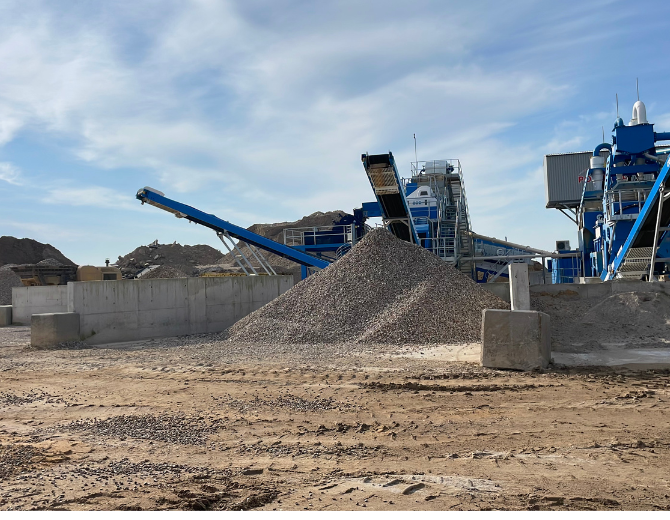 Result
Using CDE wet processing technology, Poullard is currently washing and transforming waste into high quality, sellable products that can be reused into concrete production for use on local construction sites at a rate of 80tph. The seven outputs, including 0-4mm clean and regular sand, are being used in public works such as local drainage systems and roads, for structural and finishing works, and in paths, pavings and masonry in green spaces.
The company is now selling ready-mix concrete that is made 100% from recycled aggregates, with CDE technology having helped toward that objective. In addition, Poullard now offers demolition contractors and waste management platforms the opportunity to become franchisees, furthering the reach of Granudem standard concrete.
Other Case Studies you might be interested in: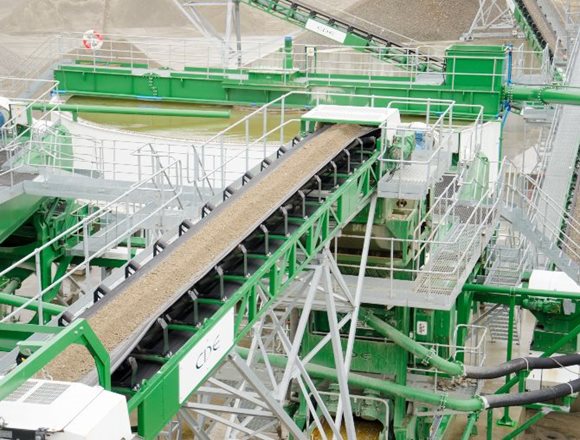 Velde Pukk
Norway
Material C&D Waste, Quarry Waste, Excavation Waste
Output 2 Sands | 4 Aggregates | Filter Cake
End Use
Readymix Concrete,
Asphalt,
Concrete Blocks,
Recycled Construction Materials
The world's largest wet processing plant for C&D waste can be found at Velde Pukk in Stavanger, Norway-situated alongside the company's natural sand & aggregates processing facilities.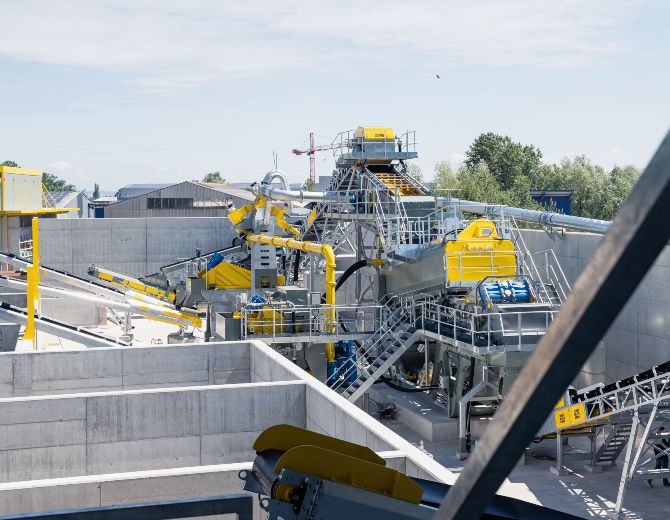 WALO AG
Switzerland
Material C&D Waste, Railway Ballast, Excavation Waste
Output 2 Sands | 5 Aggregates
End Use
Concrete Production,
Road Production
Passionate about driving towards a Circular Economy model, WALO AG installed a 200tph first of its kind excavation waste and railway ballastrecycling plant in Switzerland.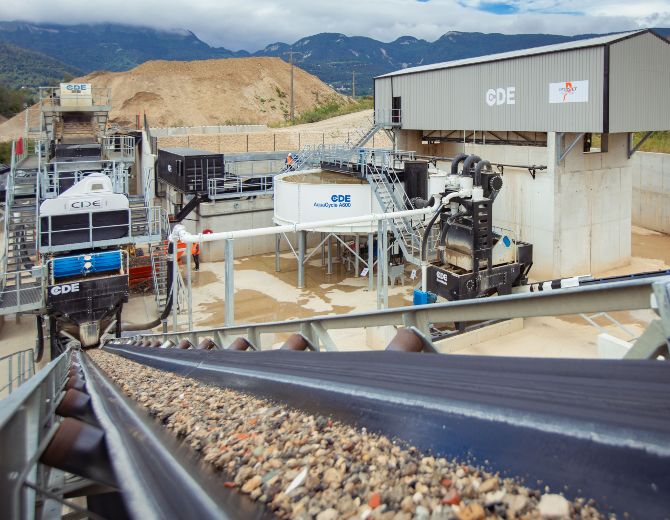 Pelichet Albert SA

France

Material C&D Waste, Excavation Waste, Non Hazardous Soils

Output 1 Sand | 3 Aggregates | Filter Cake

End Use

Readymix Concrete,

Drainage Products

New 160tph custom CDE plant will help Pélichet Albert SA to divert up to 200,000 tonnes of inert construction and demolition waste from landfill sites every year.

;