Sand and aggregate producer John Holt & Sons increase sand production by 125% by upgrading from a bucket wheel and tracked rinsing screen to a CDE washing plant.
Output
Washed Sand & Aggregates
End Use
Construction Products
Concrete Production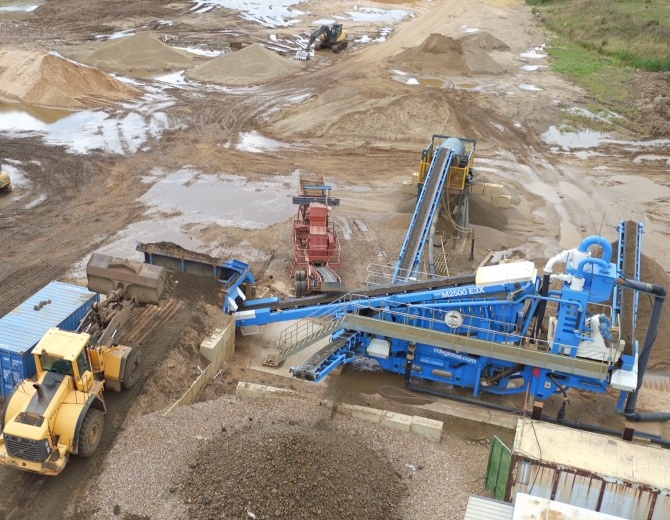 THE CHALLENGE
John Holt & Sons wash plant was not achieving maximum results due to an older inefficient tracked rinsing screen and bucket wheel. They sought a solution which would increase production capacity and ensure better material recovery.
Describing the benefits of the plant, company owner John Holt says, "When it came to finally purchasing a CDE plant we found that the M2500 offered the best value for money with excellent safety features and above all the best efficiencies in running and maintenance."
THE SOLUTION
The new plant was commissioned in late 2015 at the company site in Doncaster, as a replacement to the tracked rinsing screen and bucket wheel which was previously in place. Upgrading to the M2500 E3X mobile washing plant and EvoWash sand washing plant has resulted in a number of benefits to the company by increasing production capacity and ensuring maximum product recovery.
After commissioning the CDE CustomCare team were on hand to provide training and advice to ensure successful on-going plant maintenance, this was particularly important for John Holts & Sons as relative newcomers to the world of washing.
John Holt adds, "The M2500 is so simple to operate as I've only been in the washing of aggregates 3 years with the new machine being part of that by just shy of a year demonstrates how user friendly the M2500 really is."
Describing the steps he takes to ensure the long life and efficient operation of his plant, John Holt says,
"We have implemented a set schedule of simple routine tasks which happen at various intervals. Given the investment we have made in the plant it is very important to follow the maintenance advice from CDE to ensure we maximise plant availability."
Describing the weekly routine John continues,
"At the end of each day without fail we hose the plant from top to bottom. Any stray materials on the ground are cleared away to ensure safe use of access points. On Fridays the plant receives a deep clean with a hose washing brush."
Ryan Barker, CDE Global Services Manager comments, "John Holt is an example of the best practice procedures we advise to ensure that a CDE plant is kept in best working order, you can see the steps followed by John Holt are very easy to work into a daily routine and do not take significant amounts of time."
"My recommended maintenance schedule for the M-Series mobile washing plants is to grease the pump seals daily while the pump bearings, screen, hopper and conveyor bearings require weekly greasing." "I also advise that monthly checks are carried out as a preventative measure, this would include checking the cyclone for wear, checking the screen mats and checking the cyclone pressure if set correctly."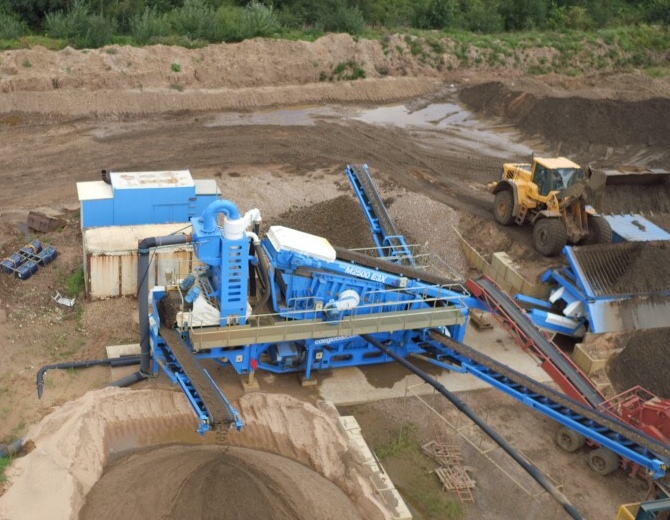 THE RESULTS
John Holt describes the benefit s achieved through the plant upgrages."The EvoWash sand plant has also been a step in the right direction for us as our old inefficient bucket wheel system use to mean saleable fines being discharged to our lagoon system, with the new plant nothing is lost only silt making an excellent 0-5 concrete sand which comes off dry enough for instant sale at 90tph whereas the old setup was 40tph at best."
You May Be Interested in These Projects
Resolve Aggregates - Plant Upgrade
Texas, USA
Material Sports Sands, Sand & Gravel
Output #30 cut - #140 golf sand
Resolve Aggregates upgrade to new CDE screen to enable golf sands production.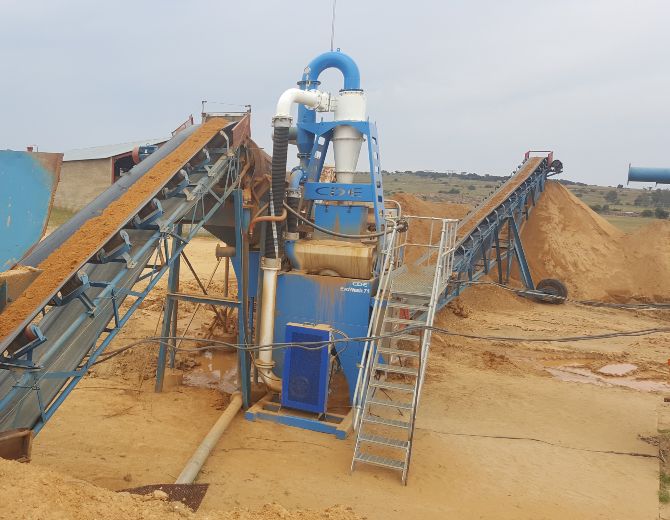 Cluster Holdings
South Africa
Material Other Sand & Aggregates, Sand & Gravel
Cluster Holdings recovers valuable plaster sand fines from ponds with CDE EvoWash™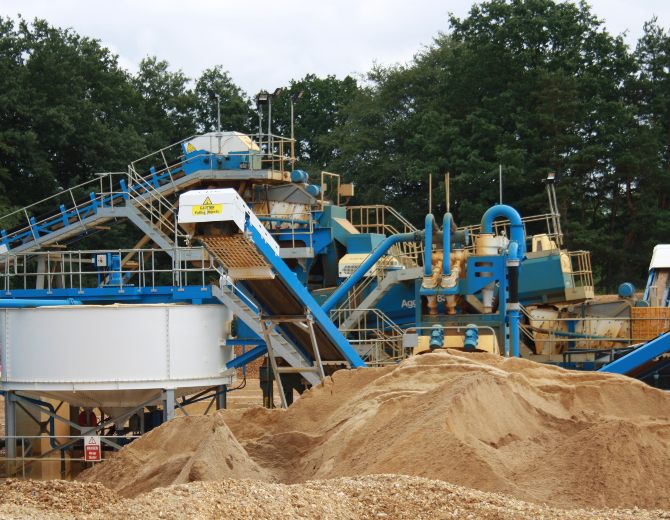 Raymond Brown

England

Output 0-2mm building sand | 0-4mm concrete sand | 4-10mm, 10-20mm and 20-40mm washed aggregates | +40mm oversize aggregate

End Use

Construction Products,

Concrete Production

This 80 tonnes/hour sand & gravel washing plant includes the AggMax modular logwasher, EvoWash sand washing plant, AquaCycle thickener and decanter centrifuge.

;