First-of-its-kind contaminated soils wash plant commissioned for Posillico Materials LLC in New York.
Material
Contaminated Soils, C&D Waste
Output
2 Sands | 3 Aggregates
Posillico Materials LLC's 250tph Contaminated Soils Wash Plant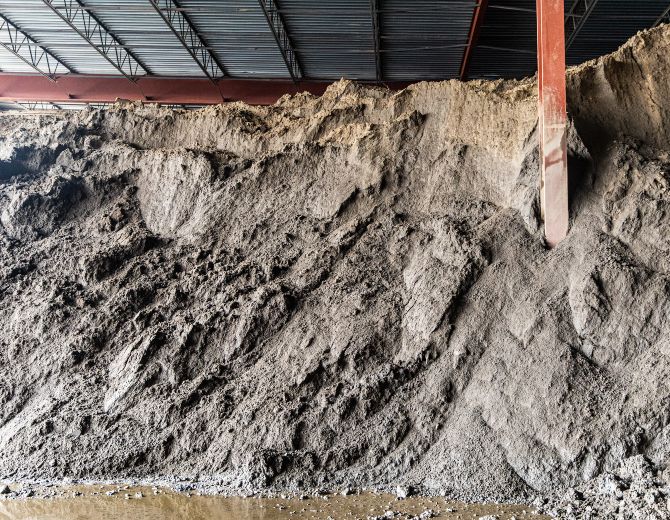 THE CHALLENGE
Established in 1946, Long Island, New York-based Posillico Inc., a fourth-generation family business, has steadily grown to become one of the premier engineering contracting firms in the tri-state area and a leader in public works projects in New York.
Founded by Joseph D. Posillico Sr., the business started out as a small trucking contractor.
Today, following a six-decade-long pattern of reinvestment in the business and underpinned by a commitment to quality and performance, the likes of which has led to the business securing contracts for major civil engineering and construction projects, Posillico provides a range of integrated services from heavy civil work for the public and private sectors, to environmental remediation, paving, drilling, and utilities contracting.
Now approaching its 50th year in business, Posillico Materials, the business unit which specializes in producing recycled sand, aggregates, and clay, has revolutionized the way environmental contractors, construction companies, utility businesses, and engineering firms manage waste on Long Island and in the Greater New York area with the support of state-of-the-art CDE wet processing technology.
Cleaning up the island
Committed to protecting the island, its community, and its resources, Posillico Materials recognized the need to address mounting concerns over ground pollution and landfill capacity.
"There's a big need to clean up the island," says Thomas Posillico, Material Division Manager.
For many years, Long Island has been troubled by pollution from toxic dumping and industrial pollution, in part due to its proximity to New York City. Ground pollution has the potential to adversely affect the island's groundwater and drinking water, so the Posillico team recognized the urgency of the matter given that the local water supply is managed via three major source aquifers close to the ground's surface.
Historically, contaminated soil would be transported off the island where it would be destined for landfill, however with the right technology this material can be processed to remove contaminants, extract value, and to return land to good use to meet the growing demands of urbanization.
Soil washing is not a new concept to Posillico, explains Robert Tassey, Facility Manager, but the company's mission to clean up the island was restricted by the available technology.
"Our history with soil washing goes back over 15 years. We had designed a plant; we called it the Frankenstein plant, because we took a piece of equipment from here, a piece of equipment from there, and we put it all together."
He says a chance encounter with CDE at CONEXPO-CON/AGG helped Posillico to see how its innovative wet processing technologies could enable the business to accelerate the pace of change and reinforce its commitment to establishing a more sustainable future for Long Island.
"Both Posillico and CDE share a very similar commitment to innovation," he says. "Neither company is afraid to take a leap, neither company is afraid to push the boundaries of what's possible."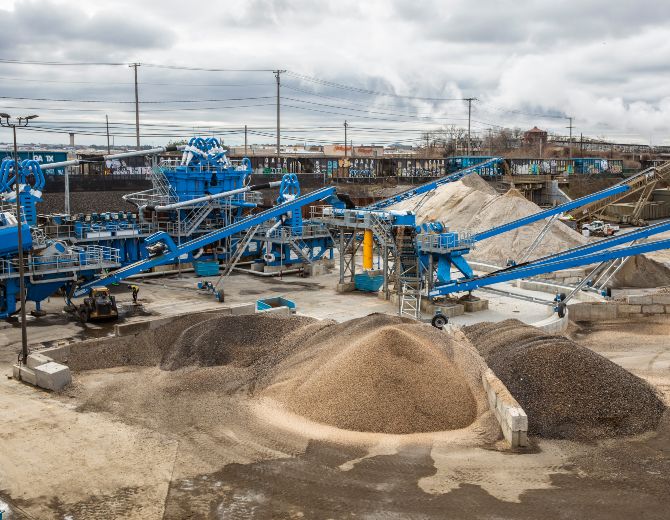 THE SOLUTION
Together, Posillico and CDE designed and installed a highly innovative wet processing recycling solution, the first of its kind in North America, which would effectively process the incoming contaminated material to produce high-quality washed construction sand and aggregates, while simultaneously removing contaminates.
The new recycling system incorporates the R2500 primary scalping screen feed system, AggMax portable logwasher, M4500 with integrated Attrition Cells, and CFCU for density separation, EvoWash, and full closed-circuit water recycling with the inclusion of an AquaCycle thickener and a Filter Press.
One of the largest and most advanced contaminated soil washing facilities in the world, the wash plant boasts a high material recovery rate. Posillico can now reduce the unsuitable content in the raw material to approximately 10% on average, with the remaining 90% being diverted from landfill.
The Farmingdale facility has the capacity to recycle up to 3,000 tons of soil per day while simultaneously recovering high value recyclable and saleable products, such as sand and aggregates, that meet NYSDEC remediation standards.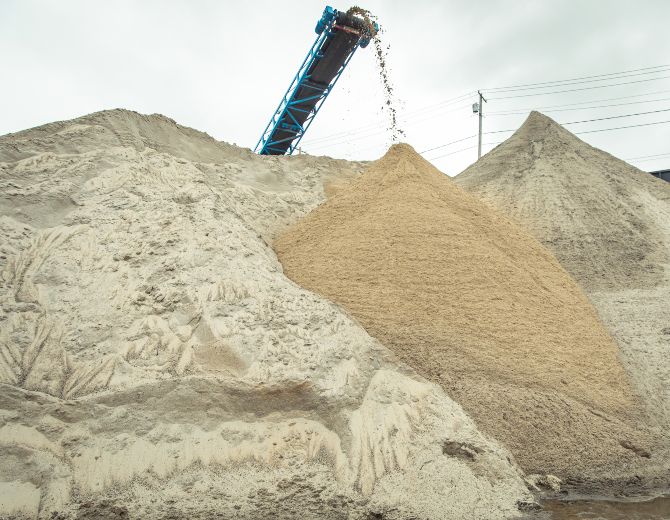 THE RESULTS
Posillico is now producing a range of materials, including concrete and mason sands, and three different aggregates: ¼" – 5/8", 5/8" – 1 ¼", and 1 ¼" – 4".
As a vertically integrated operation, over 60% of the certified sand and aggregates recycled are used by Posillico Materials in asphalt production with the remainder sold directly to the market.
Within its first few months of operation, the plant processed over 65,000 tons of contaminated soil from the 12-acre Harbor Isle brownfield site. Formerly a Cibro petroleum storage facility, the site had been contaminated for decades and was subject to a major remediation project. Fuel and oil had contaminated the soil and groundwater and Posillico set out on a 20-year journey to return the land to good use.
Now, the site will soon become a multi-million-dollar luxury apartment complex.
Due to the variable nature of contaminated soils, the Posillico wash plant can accept a wide variety of feed material.
Robert Tassey says, "We can now feed ourselves with not only contaminated material but our unsuitable fill from jobsites that's left over, our excavation waste, our drilling spoils."
As well as processing material from its own operations, the plant is available to process material from other local construction and engineering companies which lowers the cost of waste disposal, diverts valuable material from landfill, and lowers carbon footprint due to reducing the need for transporting material off the island.
Feed material the advanced contaminated soil washing plant can process includes, excavation waste, recognizable and uncontaminated materials (RUCARBs), contaminated fill, dredge waste, mixed loads, and more.
"You name it this CDE plant can process it," Tassey says.
He continues, "With population expanding our infrastructure is getting old. The emphasis has to be on rebuilding and investing in our infrastructure.
"With that there's going to be a ton of material that needs to be processed and it needs to be processed responsibly and efficiently, and the way to do that is to recycle it through a plant like ours."
Customer for life
Every CDE project benefits from its customer for life model, which ensures transparent and effective communication from the beginning of the project until commissioning and unrivalled after-sales support.
Sean O'Leary, CDE CustomCare Manager, North America, says, "Where the project ends, that's where CustomCare comes in. What we do is we maintain that relationship with the customer, through parts, through service, through technical advice, and just overall operation of the plant."
One of the challenges with Posillico, he says, is that the material coming in is constantly changing.
"It's never a steady feed material, so you're always making adjustments to the plant to make sure you get the requirements you need."
The beginning of something important
Commenting on the success of the plant, Michael J. Posillico says, "We believe in a sustainable future and with our partners at CDE we are uniquely positioned to ease the burden on virgin materials in the tri-state area through our wash plant.
"We are looking at every aspect of our operation to see where we can minimize our environmental impact and reaffirm our commitment to sustainability on Long Island. These are attributes that are reflected in the very design of the plant, too, which operates all-electric drives and recycles up to 90% of the process water we use. Not only that, but we collect and recycle 3.6 million gallons of stormwater annually to maintain our top-up water supply."
He concludes, "What we have here is the beginning of something really important," referencing Posillico's leadership in contaminated soil washing for North America.
You May Be Interested in These Projects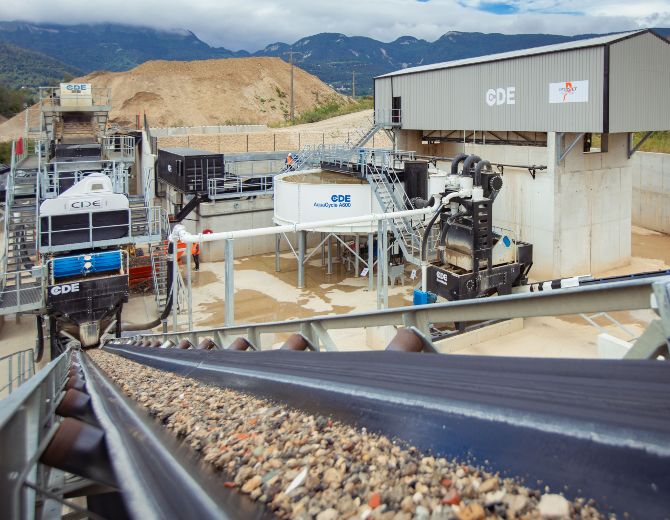 Pelichet Albert SA
France
Material C&D Waste, Excavation Waste, Non Hazardous Soils
Output 1 Sand | 3 Aggregates | Filter Cake
End Use
Readymix Concrete,
Drainage Products
New 160tph custom CDE plant will help Pélichet Albert SA to divert up to 200,000 tonnes of inert construction and demolition waste from landfill sites every year.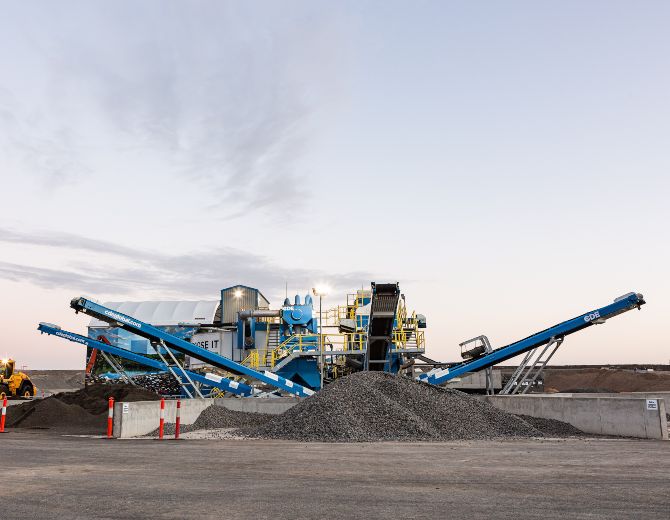 Repurpose It
Australia
Material C&D Waste, Excavation Waste, Non Hazardous Soils
Output 2 Sands | 4 Aggregates
CDE delivers first construction, demolition and excavation waste washing plant of its kind in Australia.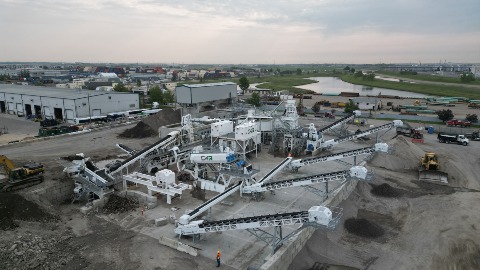 Calgary Aggregate Recycling

Canada

Material C&D Waste, Contaminated Soils

Output 0-1mm fine sands | 0-4mm coarse sands | 4-10mm undersize, 10-20mm midsize | 20-40mm oversize | 40-100mm oversize | >100mm oversize aggregates

We commissioned our largest C&D waste plant in Canada for Calgary Aggregate Recycling.

;