Posillico upgrade their contaminated soils wash plant with CDE's HYDRO:TIP™ technology for hydrovac waste.
Material
Contaminated Soils, Hydro Excavation Waste
Output
0-#4 Sand | +#4 Aggregates
CDE HYDRO:TIP Installed at Posillico Materials LLC Recycling Facility to Process HydroVac Waste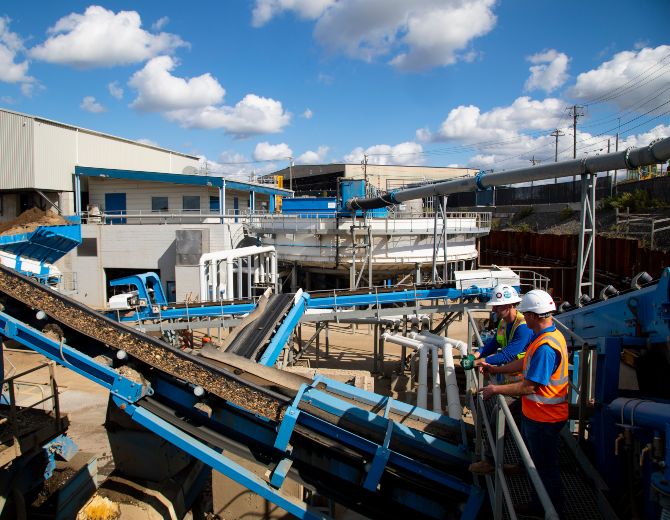 THE CHALLENGE
Established in 1946, Long Island, New York-based Posillico Inc., a fourth-generation family business, has steadily grown to become one of the premier engineering contracting firms in the tri-state area and a leader in public works projects in New York.
In 2019 Posillico installed a CDE Wash Plant and after operating a few years, discovered that there was a demand to repurpose hydro excavated waste on the island and in an effort to accelerate the pace of change in the waste recycling sector, Posillico Inc. has invested in a new 20tph hydrovac waste washing technology for its state-of-the-art waste recycling facility.
It commissioned a new CDE HYDRO:TIP™ solution to recover high value, in-spec recycled sand and aggregates from waste muds, fluids and clays – by-products generated from the hydro excavation process.
Hydro excavation has become a preferred method for the installation of services and pipework in civil engineering. However, it carries with it a costly waste burden. Its substantial weight and volume makes it logistically challenging and financially prohibitive to dispose of or reuse responsibly.
THE SOLUTION
CDE business development manager Joseph Teahl says Posillico's drive to transform the waste recycling sector in the local market is matched by its commitment to investing in the right technology, as demonstrated by its investment in the HYDRO:TIP™.
He adds: "It was identified that there was a need to recycle hydro excavation waste on Long Island. The team at Posillico recognized the problem at hand and, knowing CDE technology intimately, turned to us to explore workable solutions for handling this tricky to process waste."
Commenting on working alongside CDE to address hydrovac waste on the island, Posillico facility manager Robert Tassey says its technology has proved its durability and performance.
"We saw a need in the market to address the waste burden generated by hydro excavated material. Our existing CDE contaminated soils wash plant has demonstrated not only the capabilities of the technology, but the commitment of the CDE team to finding new and pioneering ways to close the loop. We knew CDE was the right partner for the job."
HYDRO:TIP™
CDE's HYDRO:TIP™ solution allows operators to process wet waste with ease and efficiency. It can handle waste mud, fluid and clay material in a cost-effective and responsible manner, facilitating the recovery of high quality sand and aggregates that can be re-sold to generate additional revenue streams.
Suitable for urban environments, the HYDRO:TIP™ enables hydro excavation fleets to set up closer to extraction sources to reduce transport time, cost and fuel emissions.
It achieves significant landfill diversion with most of the solids recovered from hydro excavation activities being reusable in the construction industry.
It also features an installed power base of 63kW, which is significantly less energy-intensive than a 20-ton excavator operating at 90kw. In addition, the HYDRO:TIP™ dewaters material twice faster than conventional systems resulting in a reduction of total energy consumption by two-thirds.
Utilizing high frequency screens to ensure maximum dewatering efficiency and separation of waste material, CDE's HYDRO:TIP™ also allows tankers to discharge directly into the hopper. This rapid 'direct tip' process accelerates return on investment by processing waste material at the fastest rate possible, minimizing downtime and ensuring tankers are fully utilized by getting them back on the road and on their way to the next location.
Most of the functions of CDE's HYDRO:TIP™ are automated therefore minimal operator input is required, saving on time and cost, and its modular arrangement is scalable depending on fleet size or requirement for surge capacity, equipping operators with a solution that can grow in line with their business.
Seamless integration
As demonstrated by the Farmingdale facility, the HYDRO:TIP™ can integrate seamlessly into downstream CDE systems such as the AggMax, EvoWash and AquaCycle to recover sand and aggregates and recycle process water.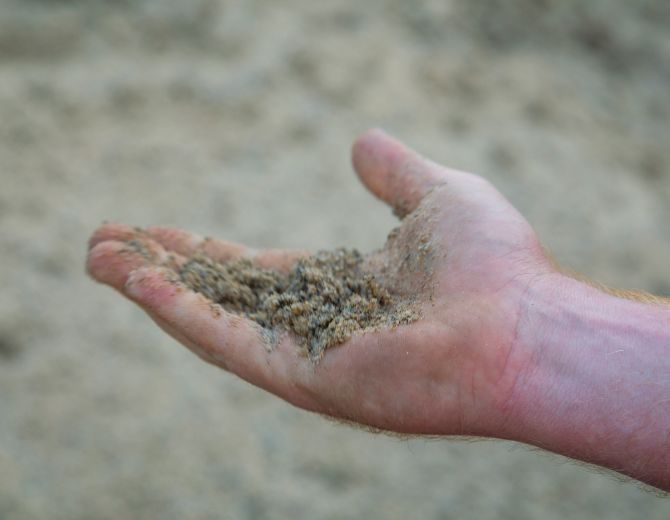 THE RESULTS
With a 20tph capacity, Posillico's HYDRO:TIP can accept up to four 11,000 liter tankers per hour with hydro excavation waste.
CDE's HYDRO:TIP is removing the costly burden associated with slurry disposal for Posillico, allowing for easy cleansing so that high value construction material is easily recovered for re-use or re-sale.
"With the addition of the HYDRO:TIP we're now able to dewater those slurries, separate the liquid from the solids, process the water directly into our wash plant, and then handle the solid material in the same way we would with our other incoming fill," says Tassey.
"It's the cleanest, safest, most effective and efficient way to manage hydro excavated waste on Long Island," he adds.
Up to 85% of hydrovac material coming into Posillico's Farmingdale facility is being reclaimed through its HYDRO:TIP solution, recovering products including +#4 aggregates and 0 - #4 sands.
In addition, the recovered water also cleaned and recycled for use in the washing process or as jetting water for the tanker.
Teahl says the introduction of the HYDRO:TIP and Posillico's commitment to create value from waste sets the company out as a leader in its field on the island
"Its integration with our existing C&D waste wash plant will ensure fast return on investment as it enables the recovery of both higher quality and higher volume recycled sand and aggregates for the construction industry in New York."
You May Be Interested in These Projects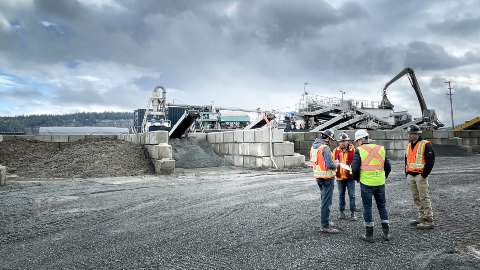 GRT Resource Regeneration Facility
Canada
Material Contaminated Soils, Dredged Sands, Hydro Excavation Waste, Non Hazardous Soils, Road Sweepings & Gully Waste
Output 4" minus rock | Oversize rock | Pea gravel | Sand | Clay for capping
GRT and CDE enhance resource regeneration in Vancouver Island.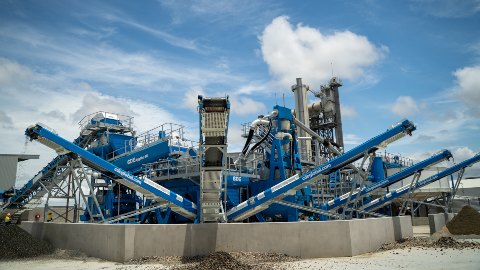 Downer Group, Brendale
Australia
Material C&D Waste, Contaminated Soils, Hydro Excavation Waste, Non Hazardous Soils, Road Sweepings & Gully Waste, Waste Glass Washing
Output 0-0.3mm & 0-4mm Recycled Sand | 5-20mm, 20-40mm & 40-80mm Recycled Aggregates
Downer Group and CDE - paving the way to sustainability. Downer Group aims for 95% landfill diversion with CDE technology.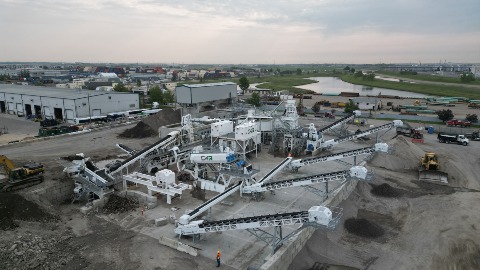 Calgary Aggregate Recycling

Canada

Material C&D Waste, Contaminated Soils

Output 0-1mm fine sands | 0-4mm coarse sands | 4-10mm undersize, 10-20mm midsize | 20-40mm oversize | 40-100mm oversize | >100mm oversize aggregates

We commissioned our largest C&D waste plant in Canada for Calgary Aggregate Recycling.

; ;