A 250 tonnes per hour turnkey sand & gravel washing plant in Oxford, England including the AggMax logwasher, EvoWash sand washing plant and Infinity screens.
Material
Sand & Gravel, C&D Waste
Output
2 Sands | 3 Aggregates
Smiths Bletchington
Smiths Bletchington, Oxfordshire, in the south of England, are certainly of the old school when it comes to maintaining their integrity and purpose in a world of commerce that is forever changing and evolving as the years pass. Indeed, it is these attributes that have allowed them to flourish as a family owned firm for over a century and maintain their position as a leading supplier of aggregates in the region.
Part of this tradition is the constant appraisal of opportunities with investment in new plant and technology occurring at the point it is considered most favourable to do so, and such a situation presented itself recently when approval was granted to extend their present operations at Gill Mill Quarry, just a few miles from Oxford from where they supply aggregates to customers within a 30 mile radius. This followed a three year campaign to gain planning permission for mineral extraction from a further 90 hectares of ground adjacent to their present site which will extend its life by an estimated 20 - 25 years.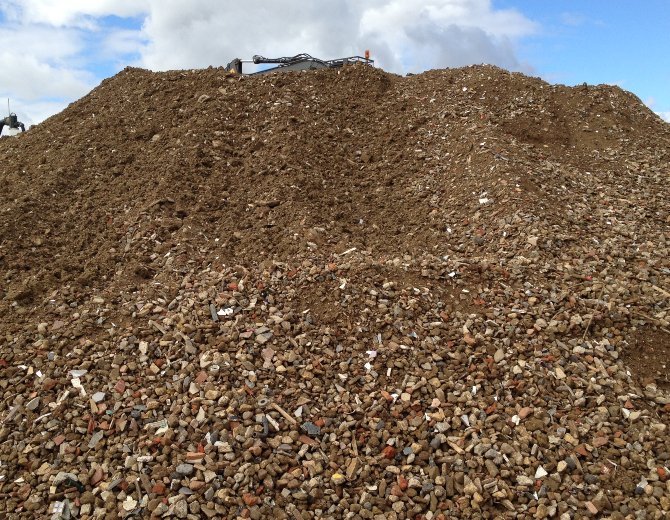 THE CHALLENGE
A quarter of a century is a long time and it was unlikely that their existing processing facilities would make it through, notes John Bell the Quarries Operations Manager, and the man in overall charge of the facility. The nominal 200 tonne per hour capacity was rarely being achieved by the existing set up for a variety of reasons, most of which could simply be put down to age and the greater demand for maintenance and servicing of an outdated design.
Several options were considered including total refurbishment but in the end it was decided to take down the old machinery and renew the plant completely. Both John and Smiths Bletchington had already worked with CDE, John in a previous position and Smiths on a demolition and building waste recycling installation, also situated at Gill Mill.
The virgin material extracted by Smiths is a reasonably consistent mixture of sand and larger aggregates found in the alluvial deposits typical of the Thames Valley.
Even though pre screening will extract the majority of the sand from the mix a large capacity log washer is still required to remove grains that may still adhere to the shingle. The AggMax 151R happily deals with this task and the sand yielded by the process joins that from the pre-screen section before both streams enter the hydrocyclone unit already mentioned.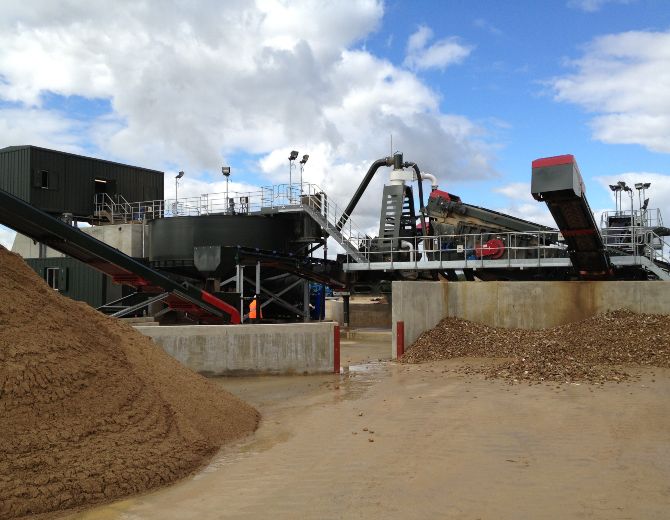 THE SOLUTION
Once the groundworks on the 3ha site had been completed it was not long before the plant was up and running and immediately achieved its designed maximum throughput of 250 tonnes per hour, in fact it would reach peaks of 270 tonnes if utilising virgin material rather than recycling the 10mm and 6mm through a vertical shaft impact crusher for increased sand yield.
A substantial boost in productivity was not the only benefit sought by Smiths during the design process, extra flexibility in producing aggregates to particular specifications, especially sand, was also required as was a greater consistency in operation and energy efficiency. All these aims have been met by CDE who used their considerable experience and knowledge to bring together the most suitable elements available to achieve these important goals.
The inclusion of the VSI has already been mentioned which works alongside a hydrocyclone unit to produce two grades of sand which may or may not be recombined after separation, depending upon market demand. This was not possible with the old plant and adds a further string to the company's bow when customers come looking for more refined grades of material.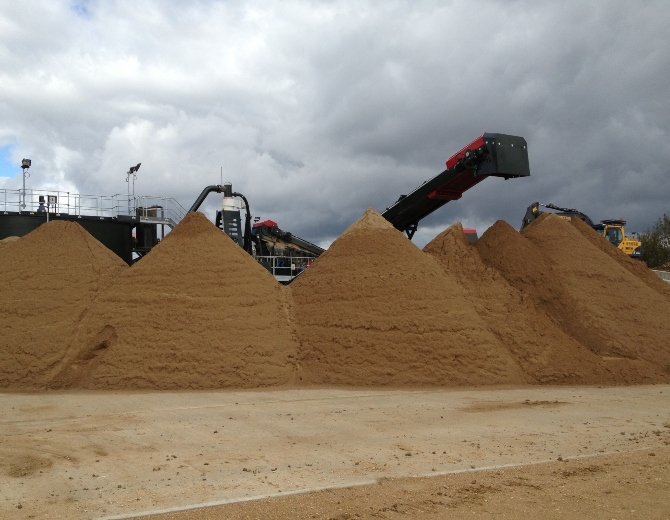 THE RESULTS
The cleaned aggregate ejected from the log wash is then free to be separated into three different grades or diverted to the crusher as required. Processed stone emerging from the crusher is reunited with the main flow of gravel before it enters the final screening box, thus avoiding the need for it to pass once more through the log wash, where it would cause additional wear and interfere with the cleaning action. The log wash itself is fitted with variable drive so that it can be started under load, obviating the need for it to be cleaned out each time it is closed down.
Starting and stopping the plant is a fully automated sequential procedure and is controlled from a cabin situated at the finished product end of the line, there is no clutter, vast banks of switches or controls, just a simple monitor which displays the current situation of the plant along with any problems that may develop, allowing them to be pinpointed and attended to immediately, maximising reliability of performance.
Smith and Sons have declared themselves extremely pleased with the installation and operation of the plant. They are not a company enslaved to idea of rapid or uneconomical growth for the sake of impressing shareholders or their competitors but, instead, develop the business in steady and measured steps, a philosophy which has proved to be of great value over the decades.
You May Be Interested in These Projects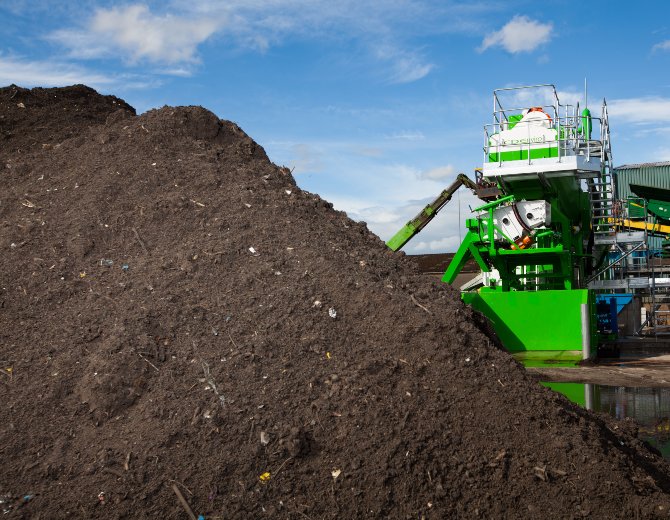 Irish Waste
Northern Ireland
Material Road Sweepings & Gully Waste
Output 0-4mm Fine Aggregate & 5-40mm Aggregates
End Use
Trench Fill,
Pipe Bedding,
Non-Structural Concrete
90% of road sweepings waste is diverted from landfill through state-of-the-art recycling facility.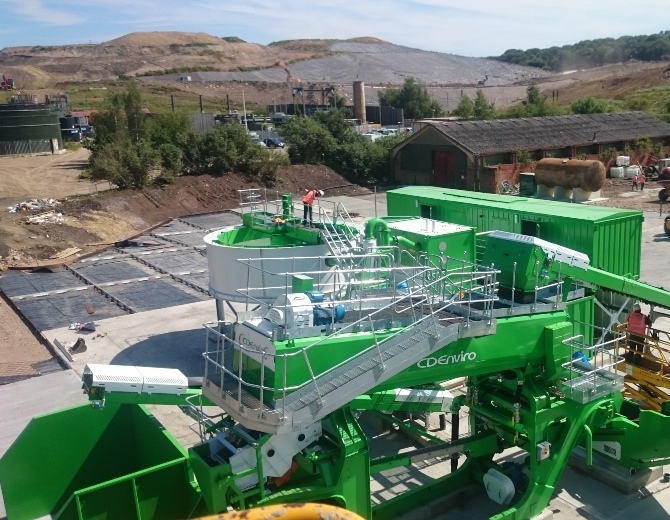 Biffa Horsham
England
Material Road Sweepings & Gully Waste
Output 1 Sand | 2 Aggregates | Filter Cake | Washed Organics
End Use
Drainage Stone,
Construction Sand,
Land Capping
State-of-the-art 25tph waste recycling solution diverting almost 100% of road sweepings materials from landfill.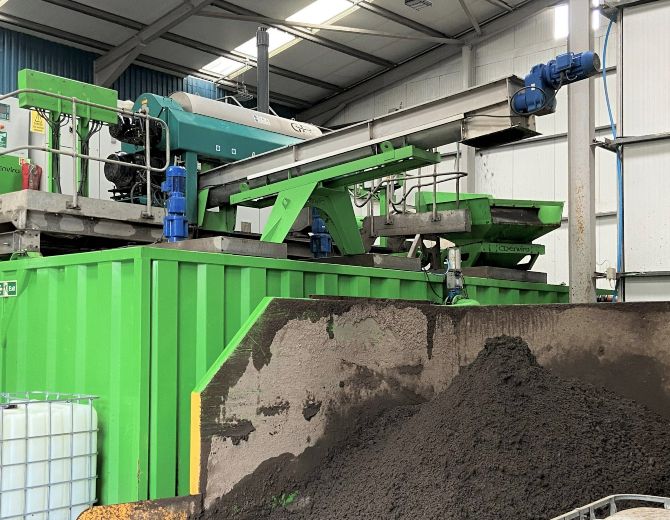 UBU Environmental Ltd

England

Material Road Sweepings & Gully Waste

Output 2 Sands | 4 Aggregates

End Use

Construction Products,

Soil Amendment

Bespoke road sweepings recycling facility diverting up to 85% of road sweepings and gully waste from landfill.

; ;