SRC invests for sustainable growth with CDE.
Material
C&D Waste, Excavation Waste
Output
2 Sands | 3 Sized & 1 Oversized Aggregates | Filter Cake
End Use
Concrete Blocks
Concrete Production
Paving Products
Drainage Stone
Permeable Sand
SRC Group Continue Investment in CDE C&D Waste Recycling Solutions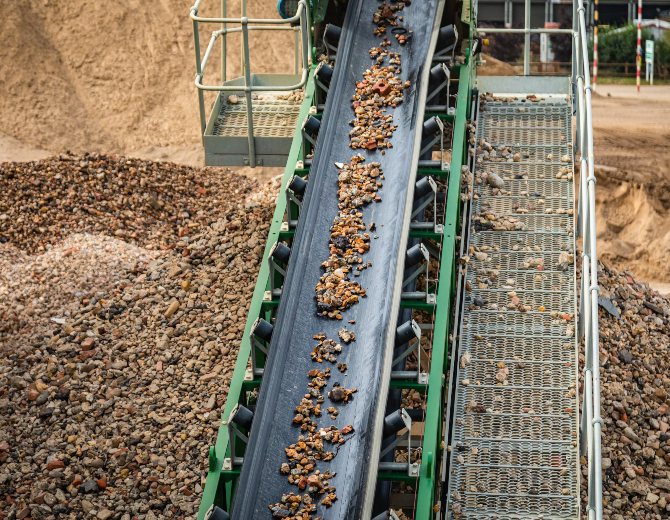 THE CHALLENGE
Over the past decade independent, family-owned business SRC Group (SRC) has grown to become one of the UK's leading aggregates suppliers. With demand for its quality aggregate products increasing rapidly and underscored by a commitment to strengthen the circular economy, SRC has invested in a new 135tph construction and demolition (C&D) waste recycling plant.
Headquartered in Essex, SRC provides a diverse range of materials and services for construction, building, and large-scale civil projects throughout the UK.
Originally dedicated to building agricultural reservoirs, the business as it is known today was established in 2009 when planning permission was granted for the development of the company's first quarry site, Crown Quarry, in Ardleigh, near Colchester.
Two years later, SRC further expanded its operations when planning permission was granted for the development of Highwood Quarry, in Great Dunmow, now the site of its company headquarters.
A TRUSTED PARTNERSHIP
Today, SRC operates from seven different sites, including four quarries and three recycling depots.
Powering its rapid growth over the past 10 years is a trusted partnership with CDE, the industry-leading manufacturer of wet processing technologies, whose engineered solutions have helped SRC to maximise profitability by producing higher quality washed and graded sand and aggregate products, maximising throughput and yield
SRC's latest 135tph C&D waste recycling plant at Martell's Quarry, just outside Colchester, is the eighth project CDE has delivered for the Essex-based materials processor.
It will enable SRC to process incoming inert and non-hazardous material from its various business activities to maximise the recovery of quality recycled sand and aggregates which can be returned to the local construction industry as a cost-effective and sustainable alternative to virgin quarried materials.
Sustainable Growth
Oliver Rees, SRC Group Managing Director, says recycling is a very important part of the business and will help it to achieve a more profitable and sustainable future.
"In the past 10 years, SRC Group as you see it today has grown from five employees and one quarry to operating four quarries, three recycling sites and employing over 250 people. We're on a high and fast growth trajectory and still see opportunity for future growth. We see recycling having a very important role to play in the future of our business."
As demand for SRC's product range continues to rise a sustainable alternative product that meets the specific requirements of its customers in the local construction industry is required.
"Every six months we're recording significant increases in the volumes of material we're moving. We anticipate that upward trend to continue. As we grow it's just not sustainable – both for us as a business and for the environment – to maintain the same levels of quarried sand and aggregate products."
Among the contracting services offered by SRC are demolition, earthworks, and site clearance for a huge range of large-scale civil projects, all of which provide a steady flow of incoming inert waste for the business.
"A lot of our material is coming in from Greater London and throughout East Anglia where void and landfill space is limited, so a restorative and circular approach is essential to fulfil the demand of the local construction industry.
"There is need for locally-sourced, quality sand and aggregate products, and there is also a significant waste stream that can be better utilised to respond to that need. We needed a solution that would recover materials from the waste coming in from our other business activities to the highest possible quality standards so that they could be returned to the market for use in new construction and infrastructure."
The Perfect Partner
Wet processing experts CDE and SRC have a partnership spanning over a decade. In 2010, SRC purchased its first CDE solution comprising an AggMax™ logwasher, EvoWash™ hydrocyclone wash plant and AquaCycle™ thickener set-up commissioned at Elmstead Quarry, Colchester.
Since then, the two companies have worked together closely on the delivery of eight projects across SRC's site network.
David Kinloch, CDE's Director of Business Development, UK & Ireland, says collaboration is the key to the longstanding relationship.
"SRC is one of our largest customers in the UK market. We've been working together for a long time and over those years both businesses have grown together and developed. It's CDE's approach to co-creation in conjunction with our customers that is the bedrock of our relationship and successful partnership with SRC.
"By working in partnership, we understand a customer's requirements from the outset and co-create a tailored solution that directly responds to their commercial and environmental aims and objectives. Once a project has been delivered and commissioned on site, we then continue that relationship through our unrivalled aftercare support."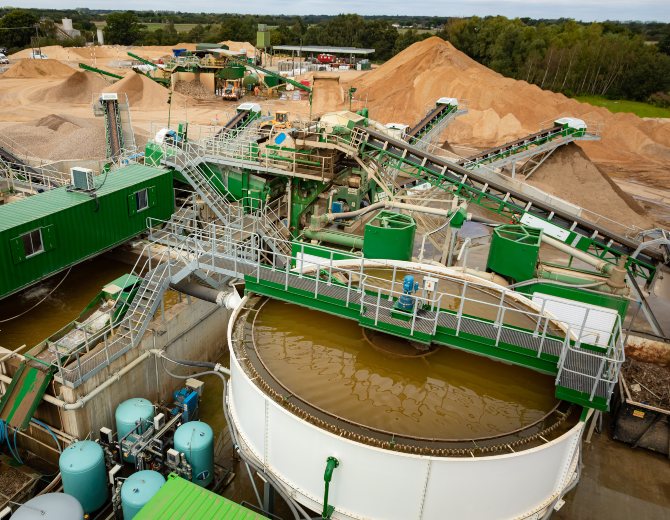 THE SOLUTION
Underpinned by CDE's co-creation approach and taking into consideration SRC's site requirements, its commercial and environmental aims and objectives, and the varied nature of incoming feed material, a tailored wet processing solution was developed to recover saleable sand and aggregate products that would otherwise have been destined for landfill.
CDE proposed a solution comprising its R4500 primary scalping screen, AggMax™ modular logwasher, EvoWash™ fine classification system, AquaCycle™ thickener, and Filter Press.
CDE's R-series primary scalping screens are designed to maximise product yield from feed material by scalping off oversized material at the beginning of the process to ensure the efficient delivery of difficult material to the wet processing plant and to maintain optimum utilisation of the processing equipment.
This material is then transferred to the AggMax™ modular scrubbing and classification system. The industry standard log washer, CDE's market leading AggMax™ logwasher technology is engineered to operate in the toughest of conditions to maximise product yield from the most abrasive of feedstocks. Its versatile design incorporates five processes on a single and compact portable chassis, including pre-screening, scrubbing/attrition, sizing, contaminants removal and stockpiling.
The heavy-duty AggMax™ Logwasher can process challenging construction, demolition and excavation waste material containing large quantities of organic and other inert physical contaminants into high-value materials suitable for a variety of applications in the construction industry.
Fine material is processed by CDE's signature EvoWash™ fine classification technology. A compact, modular sand washing system, the EvoWash screens and separates the smaller sand and gravel fractions through an integrated high-frequency dewatering screen, sump and hydrocyclones which provide unrivalled control of silt cut points and eliminates the loss of quality fines with significant commercial value.
Incorporating CDE's patented Infinity Screen™ technology, the EvoWash offers optimal dewatering results which enables materials processors to produce a range of high-quality sands that are market-ready straight from the belt.
As well as supporting SRC to extend the life of its quarry reserves through the recovery of high-value recycled sand and aggregates derived from inert waste, the CDE solution commissioned at Martell's Quarry also incorporates market leading water management to minimise SRC's environmental footprint.
CDE's AquaCycle™ thickener, a single, compact, and user-friendly unit that can be applied to high and low tonnages across many markets. It helps to accelerate return on investment by maximising production efficiency, minimising the loss of valuable fines, and reducing water and energy costs.
An alternative to water extraction and the costly process of pumping water to the plant, the AquaCycle is a highly efficient water management solution that significantly reduces costly water consumption by ensuring up to 90% of process water is recycled for immediate recirculation.
That water management system uses a flocculant to separate clean water from the solid particles, which form a sludge and is dried further in the Filter Press, recovering more water for recirculation and creating a dry filter cake which can be used for pipe bedding and landfill capping.
Feed Consistency
John Hilton, SRC Group Operations Manager, says consistency of material is one of the biggest challenges.
"The material coming in is never the same, so it's about identifying material and understanding how it's going to behave as it goes through the process. Our latest CDE wet processing plant at Martell's Quarry is mindful of these challenges and offers us the flexibility to adjust the specification of the plant to suit our incoming feed material."
Incoming inert waste is received from a variety of SRC's business activities and projects, including demolition and earthworks, and can vary on an almost daily basis. CDE technology accepts a wide variety of feed material and offers the flexibility to adjust the specification of the plant set-up, including, for example, the variable silt cut points of the EvoWash, to maximise material recovery and ensure the plant is running at optimum utilisation to maintain consistent throughput and output.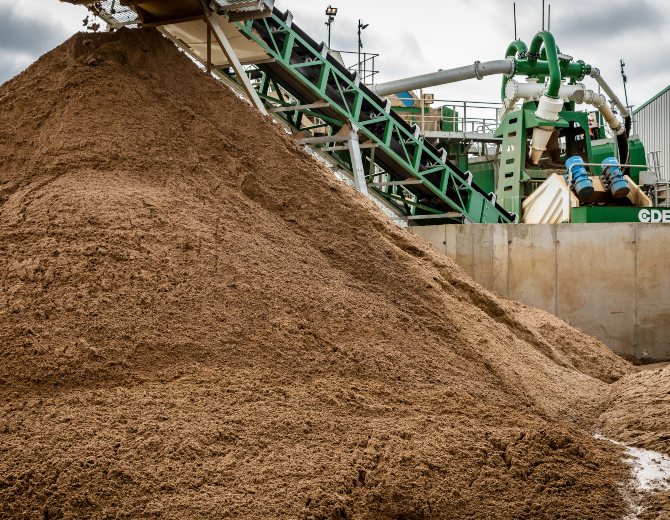 THE RESULTS
SRC's new 135tph C&D waste recycling plant at Martell's Quarry represents its eighth project with wet processing partner CDE. It is the culmination of a close working relationship that has developed over the past decade between two businesses that strive to advance the circular driven economy and unlock the potential of sustainable resources.
With the support of CDE wet processing technology, SRC is now extracting valuable sand and aggregate resources with substantial commercial value from incoming inert waste streams, generating additional revenue for the business and diverting significant tonnage from landfill. More than 80% of all incoming waste can now be processed, recovered, and returned to market as recycled sand and aggregate products.
Facilitated by CDE technology, SRC, across its three recycling depots, is now diverting up to 800,000 tonnes per year from landfill.
The engineered-to-order wet processing system is supporting SRC to transform 135tph of raw feed into six new products.
As well as supplying its recycled sand and aggregates directly to the local construction market, SRC is also utilising recovered materials in the production of prefabricated concrete blocks for retaining structures, compacted concrete for paving, and more.
"SRC has firmly committed to a sustainable future and we at CDE are very pleased to play our role in helping the business to achieve that vision," says Kinloch.
"Growth and sustainability need not be mutually exclusive and Oliver and the team at SRC have shown the high returns that can be achieved with a circular economy approach. Our latest commission is helping the business to reduce the burden and reliance on primary sand and aggregate resources, supplementing those with sustainable alternatives, and ensuring SRC has the processing capacity to continue to meet future demand."
Customer for Life, Investment for Life
Commenting on the relationship between the two companies, Rees says investment in CDE technology is an investment for life.
"It's not like purchasing a crusher or acquiring a new screen. To get the best from your plant it needs to be running efficiently and continuously with minimal downtime. The project doesn't just end once the plant is operational. It requires maintenance, parts. That's why we've stuck with CDE over the past ten years. We've a great rapport with the parts department and CustomCare team and are reassured by their consistent and proactive support which keeps us operational across all of our sites."
Every CDE project benefits from its customer for life model, which ensures transparent and effective communication from the beginning of the project until commissioning and unrivalled aftersales support. Kinloch says its CDE's CustomCare team that sets it apart from the competition.
"We don't stop when the plant has been commissioned. From there our CustomCare team pick up and continue to work in partnership with the customer through the life of the plant."
CDE's CustomCare team offers 24/7 technical advice, preventative maintenance checks, responsive on-the-ground support, guaranteed supply of spare parts, and assists with making adjustments to the plant in line with changing requirements and feed material.
You May Be Interested in These Projects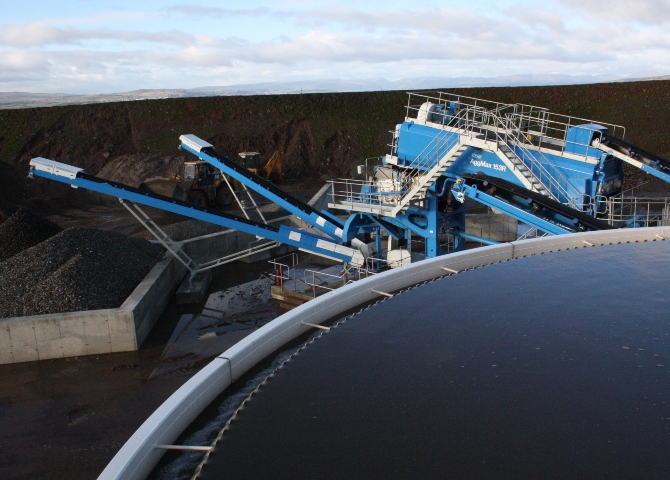 William Thompson & Son
Scotland
Material Excavation Waste, Non Hazardous Soils, C&D Waste
Output 2 Sands | 3 Sized & 1 Oversized Aggregates
End Use
Concrete Production,
Brick Paving,
Cable Sand,
Drainage Stone,
Pipe Bedding
This C&D recycling plant on the outskirts of Glasgow operates at a capacity of 120 tonnes per hour and includes closed circuit water treatment and recycling.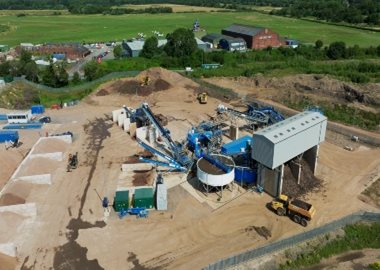 NRE Aggregates
England
Output Four aggregates: 6-10mm, 10-20mm, 20-40mm, 40-80mm | 0-2mm sand | 0-4mm grit
NRE Aggregates 120tph C&D waste recycling plant will have a positive impact on Greater Manchester economy.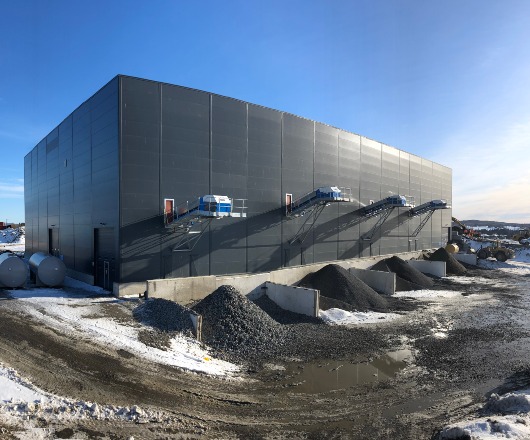 AF Decom

Norway

Output 0-2mm & 0-4mm recycled sand | 4-10mm & 10-20mm recycled aggregates

End Use

Concrete Production,

Shotcrete,

Asphalt,

Road Base,

Road Grit

250tph indoor C&D waste recycling plant to enable AF Decom to process recycled construction & demolition waste throughout the year.

; ;