TPI achieves total utilisation of feed material with CDE wet classification technology. The 300tph solution is processing quarry by-product into valuable materials.
Material
Sand & Gravel, Quarry Waste, Crushed Rock, Manufactured Sands
Output
0-0.6mm and 0.6mm-2.5mm Sand & C33 Man Sands | 2.5mm-5mm Aggregate | Filter Cake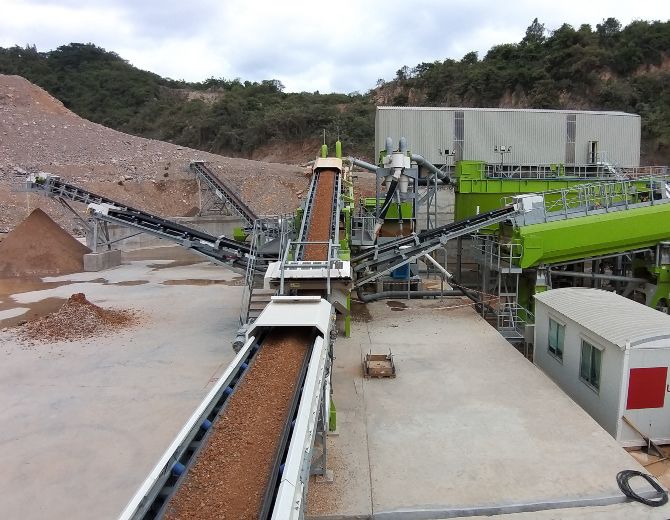 THE CHALLENGE
TPI, the Thailand-based manufacturer and distributor of cement and concrete products, recently expanded its operations following an investment in its first-ever wet classification plant. Designed and engineered by experts CDE, the solution is supporting the company to recover valuable materials from stockpiles of historic by-product and meet zero waste targets
TPI Concrete Co., a subsidiary of the Thailand headquartered TPI Polene, was established in 1991 for the production of cement and ready-mix concrete products. By 1997, its production capacity had expanded to a combined 9,000,000 tonnes per annum. Today, it is the second largest manufacturer and distributor of ready-mixed concrete in the country.
Historically, materials processors in Thailand have adopted dry processing technologies for classifying sand and aggregate products. Such processing techniques lack the precision necessary to maximise product yield. As a result, the fine fractions from feedstock are inefficiently separated and contribute to significant volumes of by-product.
With a multi-million tonnes per annum production capacity, TPI had generated in excess of seven million tonnes of what it had considered to be unusable 0 – 50mm quarry by-product. TPI CEO, Prachai Leophairatana, initially approached CDE's in-market partner, Uawithya Machinery to find a zero-waste solution to move towards a circular economy.
Now, with the support of wet processing experts CDE, the company has invested in its first wet classification solution to maximise the quality and quantity of its products and extend the life of its available resources by recovering high-value material millions of tonnes of stockpiled by-product.
Quality and Quantity in Equal Measure
CDE's wet processing technologies support materials producers to gain competitive advantage in their markets by not only maximising the volume of resources, but also their commercial value.
CDE's regional manager of Australasia, Daniel Webber, says CDE worked with its in-market partner on the project, Uawithya Machinery, to demonstrate the technical capabilities of its wet processing technologies to efficiently process TPI's stockpiles.
"Widespread adoption dry processing techniques provided us with an opportunity to really showcase the huge benefits of wet processing. Through intensive lab analysis and real-world testing through a scale plant we were able to put forward a compelling case for how CDE wet processing technology could process TPI's by-product into high quality materials for use in its downstream processes."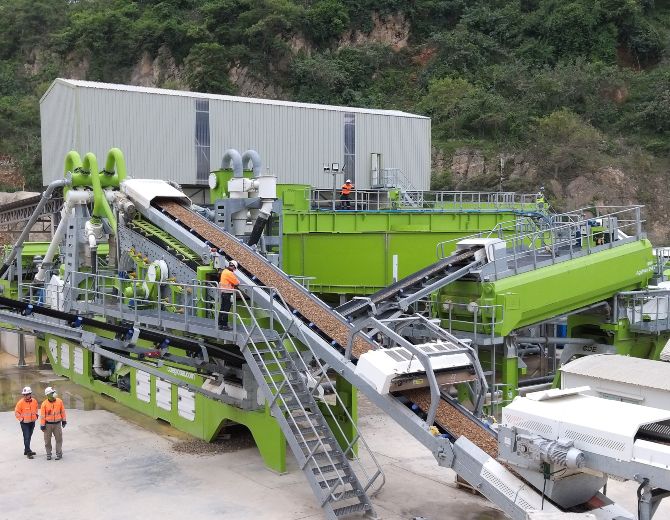 THE SOLUTION
Following a site visit to Léman Granulats, one of CDE's customers based in Switzerland, Uawithya Machinery and CDE worked closely with TPI to design and engineer a new classification plant to help recover a range of products from its quarry by-product.
CDE proposed a bespoke 300 tonnes per hour wet processing solution that was engineered to integrate with TPI's existing equipment at its base of operations in the Saraburi province.
"Over the years TPI has made huge investments in infrastructure, equipment and the makeup of its site which sits adjacent a limestone quarry feeding four batching plants. It was essential to integrate our solution seamlessly with the existing crushing plants," Webber explains.
The resulting solution which provides material for TPI's on-site batching plants features a combination of CDE equipment operating in perfect synergy; an M4500 modular wash plant, AggMax modular logwasher, CDE's pioneering Infinity Screen technology and closed-circuit water management system incorporating the AquaCycle thickener and Filter Press.
Minimising Environmental Footprint
The CDE solution is an expansive network of uphill and downhill conveyors to transfer material to and from the plant. Covering over 1,800 metres, the sophisticated conveyor system has significantly reduced load and haul fuel usage, noise pollution and dust pollution at the quarry by eliminating the need for trucks. In addition to the environmental benefits, the system has minimised costly fleet maintenance for TPI.
CDE's AquaCycle is an important addition to the water intensive TPI operation, supporting the company to reduce its environmental impact. An alternative to water extraction and the costly process of pumping water to the plant, the AquaCycle is a highly efficient water management solution that minimises costly water consumption by ensuring up to 90% of process water is recycled for immediate recirculation.
After feed material has been washed and classified, waste is sent to the AquaCycle thickener tank. Here, a small amount of polyelectrolyte flocculant is added to the water via an automatic dosing station which forces fine particles to settle on the bottom of the thickener tank. The clean water on the top overflows the weir and is stored a sheltered concrete water tank before being re-circulated around the plant. The result is a highly efficient water recycling system that requires only a 10% supply of top-up water.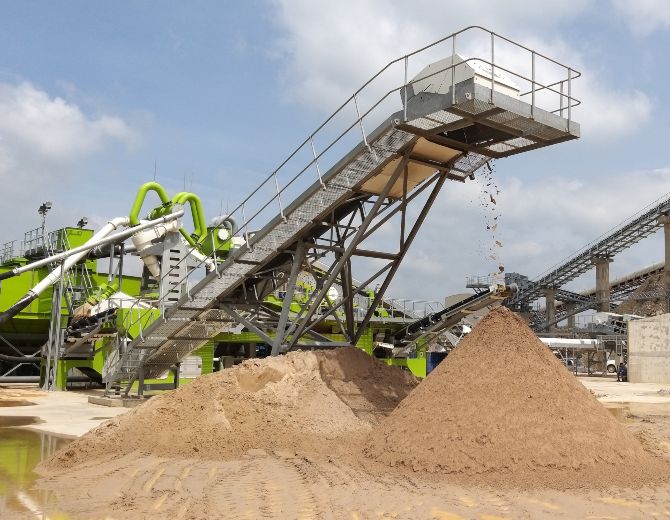 THE RESULTS
Previously stockpiled material is now being processed into a variety of high-value products including: 2.5 – 5mm scrubbed aggregate, 0 – 0.6mm and 0.6 – 2.5mm sand, manufactured C33 concrete sand (M-Sand) and dried filter cake.
TPI historically purchased significant volumes of natural sand at high expense for its ready-mix concrete and mortar production. Now with the cut point accuracy offered by CDE wet processing technology, stockpiled crusher fines are being turned into in-spec, reliable and consistent C33 manufactured sand resulting in huge savings for the company.
While dry filter cake is often used for pipe bedding and landfill capping, TPI has utilized this material in its cement production, meaning the CDE solution is recovering 100% of the raw feed material for high-value applications and supporting TPI to divert millions of tonnes of historic by-product from landfill.
"CDE technology is supporting TPI to respond to two primary challenges, namely growing demand for quality construction aggregates and identifying alternatives to finite virgin materials. The solution is central to supporting TPI achieve its zero waste aims," Webber explains.
Manufactured C33 concrete sand is being produced from the 0 – 0.6mm and the 0.6 – 2.5 sand, and results have shown it to match the quality of natural C33 concrete sand.
"This is a significant achievement towards the company's sustainability goals It demonstrates the strength and consistency of CDE M-Sand and will help TPI maintain a competitive advantage in the market," Webber concludes.
You May Be Interested in These Case Studies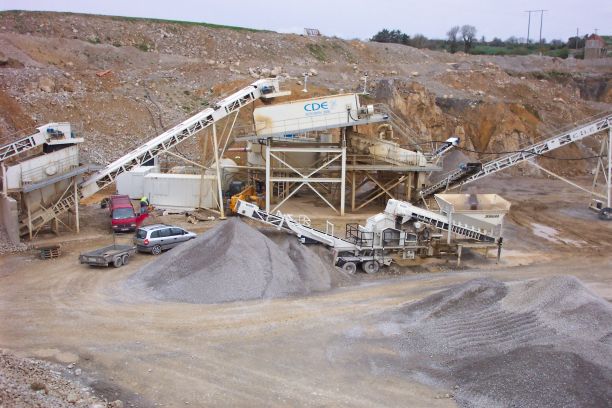 Lagan (Duleek)
Northern Ireland
Material Limestone, Claybound Aggregates, Sand & Gravel
Output Concrete Sand & 4 Washed Aggregates
Processing heavily clay-bound limestone at Duleek Quarry to produce sand and aggregates for use in road construction from material previously seen as waste.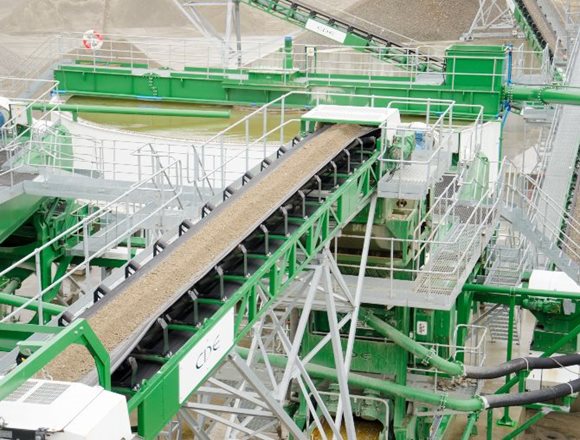 Velde Pukk
Norway
Material C&D Waste, Excavation Waste, Quarry Waste
Output 2 Sands | 4 Aggregates | Filter Cake
End Use
Readymix Concrete,
Asphalt,
Concrete Blocks,
Recycled Construction Materials
The world's largest wet processing plant for C&D waste can be found at Velde Pukk in Stavanger, Norway-situated alongside the company's natural sand & aggregates processing facilities.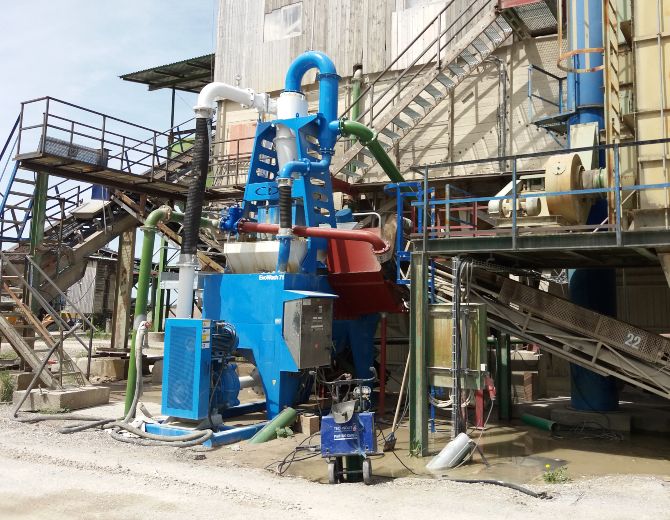 Kies und Quetschwerk Oberbrunn GmbH

Germany

Output 0-4mm, 4-8mm, 8-16mm, 16-32mm and +32mm to be crushed

After doubling its sand production following the installation of an EvoWash wet processing plant, Kies- und Quetschwerk Oberbrunn GmbH significantly improved its operations with additional CDE equipment.

; ;