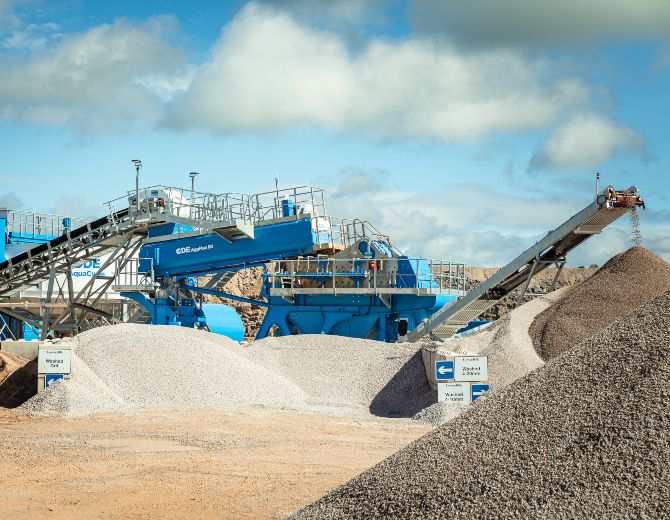 Maximising available resources and optimising plant efficiency while minimising environmental impact is just one of the challenges we continue to help materials processors across the world solve. We recently caught up with Willem Du Plooy from the CDE team in South Africa to learn more about some of the challenges facing processors in South Africa, and indeed African countries in general.
"Working in sub-Saharan Africa requires an understanding that each country has its unique challenges and advantages. We, therefore, cannot approach projects with a one-size-fits-all outlook, but rather one that is customised for each environment", says CDE sub-Saharan Africa business development manager Willem Du Plooy.
Du Plooy notes that CDE approaches each project with the concerns of investors and communities in mind, adding that water recovery, energy efficiency, and waste reduction are the key focus areas.
Further, DuPlooy's experience with CDE has demonstrated that the best way of mitigating the challenges in sub-Saharan Africa and West Africa is by providing "unique and effective products" for use in the regions' mines.
"With the current drive from mine developers to integrate washing processes, we are seeing an increase in the demand for certain products such as our industry-leading CDE AggMax™ logwasher technology, a compact combination of screening, scrubbing sizing and organics removal."
He notes that African alluvial gold and Diamond mines that aim to increase productivity tend to be inclined towards using the CDE AggMax™ logwasher, in combination with the bespoke R-Series primary scalping screens, as this results in "a continuous plant operation in some of the stickier feeds – regardless of the rainy season".
Advances in Diamond Processing
Meanwhile, Du Plooy points to significant advances in diamond recovery, were using the latest technologies have become the norm. "This has shown the need for cleaner, uncontaminated feeds to the diamond selection process with continuous operation and reduced loss potential." This need for a cleaner feed material to process in diamond mining has been addressed advanced materials scrubbing systems like the AggMax™.
Moreover, the ability to recover larger-stone sizes using CDE's technology has further increased demand for the AggMax™, as it cleans and scrubs without causing damage to the stones, also removing contaminants from the feed material and increasing the potential of discovering stones before passing to the crushers. This can help create additional revenue streams with a higher quality aggregate material produced as part of the washing process.
New Possibilities for Mining in Africa
Mining in West Africa is opening up new growth possibilities, Du Plooy notes, adding that the shift from companies in the region, from just barely providing an adequate amount of capital expenditure to 'proper investment' in the latest technology, has driven demand for state-of-the-art solutions.
He adds that CDE is progressing opportunities with various stakeholders and mining investors who are seeking to implement CDE technology at mines in West Africa and Southern Africa, ranging from diamonds to rubies and emeralds.
Du Plooy notes that CDE hopes to replicate its successes in the Australian market by offering our proven modular technologies to African countries for the enrichment of low-grade iron-ore stockpiles, as these countries are expressing greater interest in the abovementioned technologies amid the depressed iron-ore environment. Learn more about these low-grade opportunities by viewing our recent iron ore beneficiation project with Simec Mining in Australia.
This article was first featured in Mining Weekly.