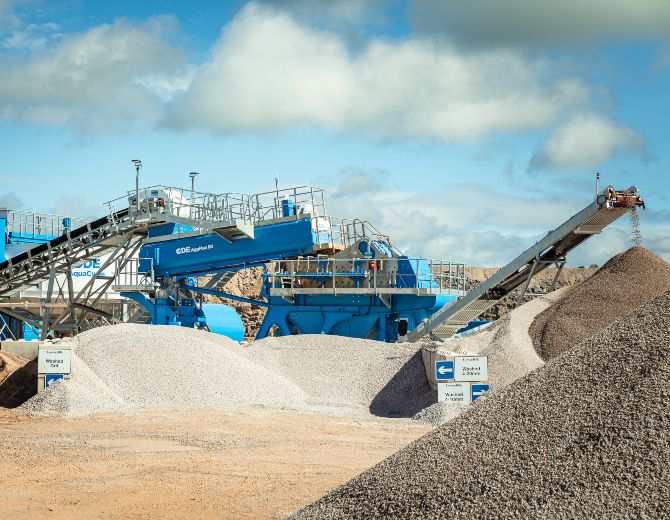 Our Regional Manager for MEA, Ruchin Garg spoke to Quarrying Africa magazine about the importance of wet processing technology for manufactured sand.
1. Manufactured sand is one of the most important materials in the modern world is no overstatement. Just how important is this resource going forward?
We're on track to be a planet of nearly 10 billion people by 2050. Most of them are going to want to consume resources the way they do in the Western world, and that is just physically impossible. Sand & Aggregate demand is growing:
50 billion tons of sand & aggregates used very year

Over 4 billion tons of cement / 16 billion tons of concrete per annum

70% of the worlds population will live in urban areas by 2050

50% increase in demand for energy and water by 2050

Illegal sand extraction is a major transactional crime
2. While wet processing remains a crucial part of sand production, just how big a challenge is water management?

It is indispensable. Essential for life, water is also vital for economies and climate regulation. It is of utmost importance, therefore, that our water resources are protected – even regulated. The mining and quarrying, manufacturing, and construction sectors accounted for 10.6% of total water use in Europe in 2017 [1] and the industry compounds water scarcity, water efficiency and wastewater management challenges the world over. All corners of the globe are facing unique challenges.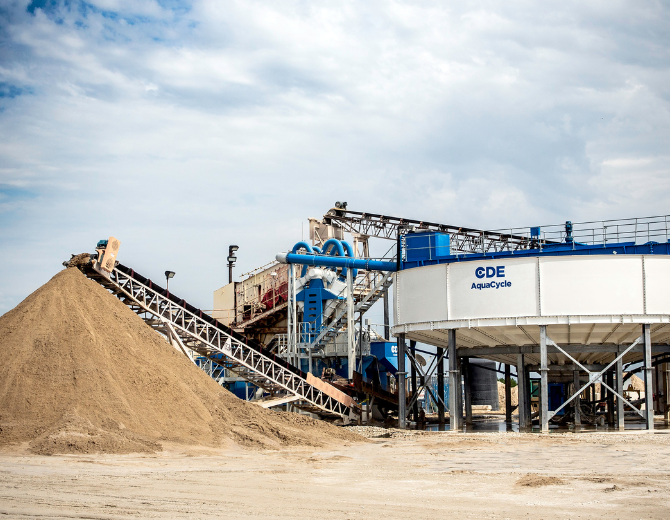 3. Innovations in wet processing equipment are helping sand producers overcome water management challenges. What are some of the wet processing innovations that you have brought to market that speak to better water use and management on site?

Innovations in the washing sector and the continued advancement of CDE's pioneering wet processing solutions are supporting quarry operators and materials processors alike to overcome the challenges stemming from water management; cost-based, efficiency, sustainability, and regulatory. While laws governing water vary around the world, it is a resource that is absolutely essential to the extractive industries and is therefore increasingly under the water management microscope.

CDE consistently invests in research and development with the aim of enhancing the capabilities of its premier water recycling and management equipment. At the forefront of its water recycling systems is the AquaCycle™ thickener, a single, compact, and user-friendly unit that can be applied to high and low tonnages across many markets.
Delivering competitive advantage to its customers, CDE's AquaCycle™ thickener accelerates return on investment by:
maximising production efficiency
minimising the loss of valuable fines
reducing water and energy costs.
An alternative to water extraction and the costly process of pumping water to the plant, CDE's AquaCycle™ thickener is a highly efficient water management solution that minimises costly water consumption by ensuring up to 90% of the process water is recycled for immediate recirculation.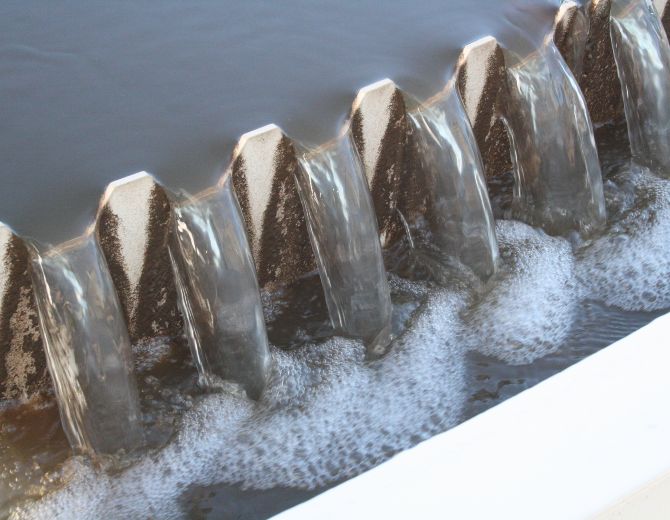 4. What are some of the key features and benefits of your wet processing solutions that speak to better water use?


Though water recycling may seem simple in theory, it is, in practice, much more complex. Water thickeners are not born equal and their efficiency is the result of years of dedicated research, development, and refinement. Every aspect of its design is carefully considered so that the system is responsive to the site-specific needs of its owner.

All CDE equipment is designed to allow plug-and-play operation, that is equipment that is pre-wired and pre-tested before despatch, designed for rapid assembly, and set up and can start processing material within days of arrival onsite. These design considerations and factory acceptance tests significantly reduce install time and accelerate return on investment.

Return on investment with a CDE AquaCycle™ thickener is typically achieved in just six to nine months.

CDE's modular wet processing equipment can contribute to the easing of water scarcity issues arising from the materials processing industry's consumption of water resources, greatly improve water efficiency, and better wastewater management practices. Developing technological solutions to tackle these mounting challenges is paramount for many materials processors seeking to boost the profitability of their operation by minimising the consumption of costly water resources.

5. What are some of key case studies where your wet processing innovations have proven to be the difference in terms of water usage (preferably in Africa)?


The partnership between CDE Global and Estim Construction in Dar es Salaamwas was an exciting breakthrough in the African market. Estim Construction's dedication to excellence and innovation mirrors the CDE work ethos, so developing the most efficient sand washing solution was a gratifying process resulting in a product that surpassed Estim Construction's expectations.

"To ensure that Estim Construction had complete ownership of their operation, a CDE engineer trained an Estim Construction operator to oversee the installation and take actions based on the changing characteristics of the feed material. The plant is fed 50 tons per hour to produce 40 tons per hour of final quality washed sand. Waste and water from the EvoWash report to the AquaCycle high-rate thickener so that up to 90% of the water is recycled and reused. The concentrated fines are flushed out, resulting in minimal water replenishing the water tanks.

Founded in 2011, Mission Point Mining is now a major player in the South African sand production industry and employs 30 people on its mining site in Sasolburg. Johann Pretorius continues: "Since we replaced our bucket wheel with a CDE turnkey plant, we have witnessed a significant increase in the quality of our product and a no less significant decrease in our water consumption, so switching to CDE technology has proven to be the smart choice. With the EvoWash and Aquacycle working in tandem, the quality of our washed product is much better and much drier than any other producers' in the region."

Since MPM switched to the CDE cyclone and water recycling technology, demand for its products has grown to the point that the company is now expanding its business and exploring the best value for money solutions to increase sand production.

6. What are some of the key trends we are likely to see in wet processing in the near future?

Water management systems are becoming a must-have for mine and quarry operations to comply with environmental regulations. Matters concerning the protection of finite resources on the planet will only become more prevalent, too. At CDE we see the solution increasingly pointing towards manufactured sand – it is in more demand as natural sand sources deplete, there is value in quarry waste/fines and it is predicted that the use of manufactured sand by the construction market will overtake the use of natural sand by 2026.

[1] EEA | www.eea.europa.eu/data-and-maps/daviz/annual-and-seasonal-water-abstraction-7#tab-dashboard-02

;