About NRE Aggregates:
NRE Aggregates exists to repurpose the waste that would normally enter landfill from construction and development sites. 200 million tonnes of demolition waste is produced in the UK each year – 80% of this is recycled by the aggregates industry - NRE Aggregates aim to recycle up to 240,000 tonnes of C&D waste per year.
NRE Aggregates is a business governed by the Materials Management Experts within the Peel NRE team. Peel NRE is part of the Peel L&P group, a regeneration business based in the North West of England with regeneration at its heart.
About the wash plant:
This recycling plant will process 120tph of C&D waste from NRE Aggregates own inhouse projects as well as third party companies. The plant will produce 4-10, 10-20, 20-40 & 40-80 clean rinsed aggregates as well as 2 in spec 0-2 soft & 0-4 Grit sands.
With the capacity to produce up to 240,000 tonnes of secondary raw materials per year, the plant is commissioned at Port Salford in Eccles, Greater Manchester, the site of a proposed tri-modal freight facility and distribution park on the banks of the Manchester Ship Canal.
Open Day Details & Getting There:
When: Wednesday 12th July, 2023
Time: 8am - 5pm
Location: Port Salford Waste Recycling Facility, 15 Port Salford Way, Eccles, Manchester M30 7FS (view map)
Agenda: During your visit you will be welcomed to the site by staff from CDE and NRE Aggregates. Following a health and safety induction you will have the opportunity to complete a walking tour of the wash plant. Your guide will be happy to answer any questions about the plant.
We welcome you to join us for refreshments following your tour. Please allow around 90 minutes for your visit.
Health & Saefty:
This is a working site, please follow all health and safety requirements as advised during the safety briefing and stay with your guide at all times.
PPE – All visitors are required to bring steel-toe safety boots. CDE shall provide hard hats, high vis vest, eye & ear protection. Guests may bring their own if they prefer.
***Please note registration for this event has now closed.***
OTHER C&D WASTE RECYCLING PROJECTS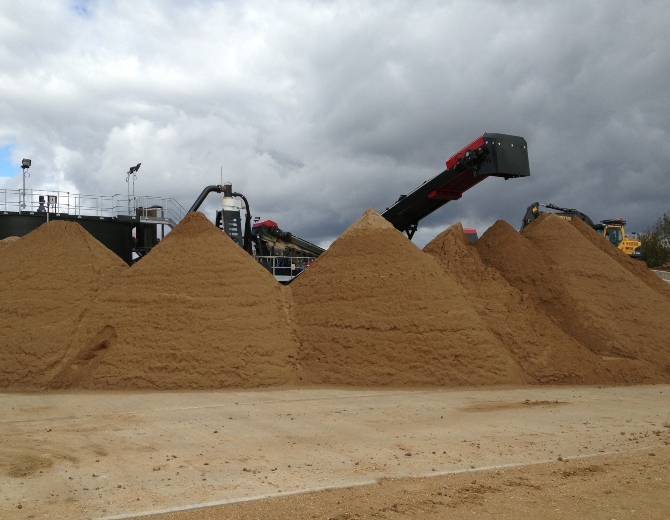 Smiths Bletchington
England
Material Sand & Gravel, C&D Waste
Output 2 Sands | 3 Aggregates
A 250 tonnes per hour turnkey sand & gravel washing plant in Oxford, England including the AggMax logwasher, EvoWash sand washing plant and Infinity screens.
Brewster Bros
Scotland
Output 2 Sands | 3 Sized & 1 Oversized Aggregates | Filter Cake
Passionate about driving towards a Circular Economy model, Brewster Bros installed a large-scale construction & demolition waste recycling plant in Livingston, to serve Scotland's central belt.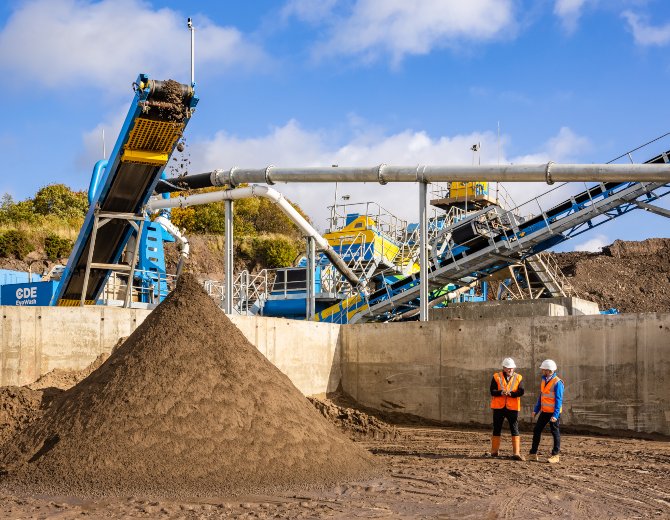 The Malcolm Group

Scotland

Material C&D Waste, Excavation Waste

Output 2 Sands | 3 Aggregates

The waste recycling plant is being used to process a variety of waste streams including arisings from public works contracts and construction, demolition & excavation waste received at the landfill sites operated by the company.

;