BPE Lecieux chose modular and highly-efficient 100tph wet processing system from CDE for its rare limestone material - the Lutetian limestone.
Material
Limestone, Sand & Gravel
Output
0-4mm Sand | 4-10mm & 10-20mm Aggregates
End Use
Readymix Concrete
Construction Products
Landscaping Products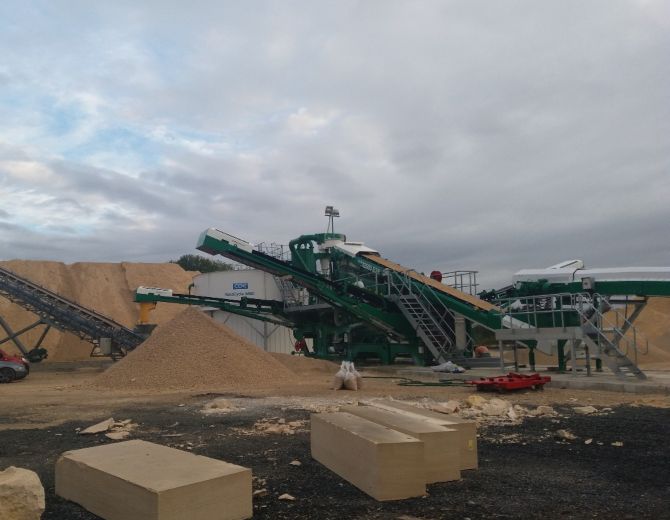 THE CHALLENGE
Established in 1957, BPE Lecieux, a stone and gravel company located in Saint-Maximin (Oise, France), exploits 300 hectares of quarries of Lutetian limestone, a creamy light beige stone typical of Paris' most famous buildings, used for the restoration of the Château of Versailles, the Louvre, and the Panthéon, as well as many other historical monuments.
Until 2014, Lecieux had used a washing system to treat alluvial sand deposits. However, after the acquisition of Lutetian limestone sites, the company had to adapt its technological requirements to the production of new products corresponding to the standard specifications for ready-mixed concrete. The site of the treatment platform in Saintes Barbes presented the ideal conditions for the installation of a washing system specially developed for the production of materials to meet ready-mixed concrete standards while protecting the natural environment.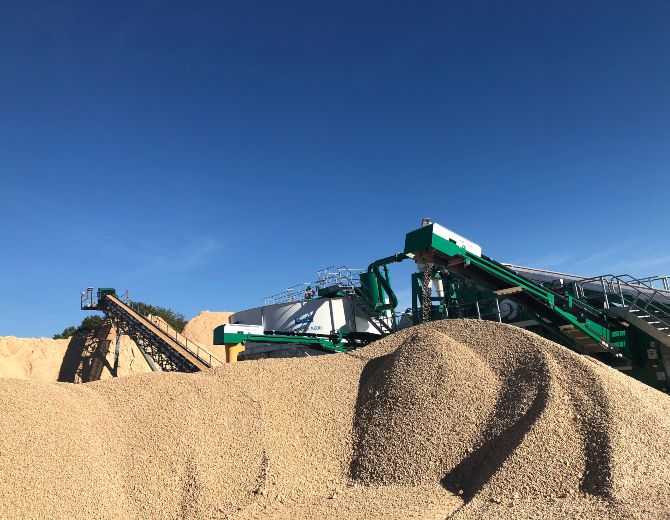 THE SOLUTION
The raw material obtained from a combination of materials is essentially soft limestone with a particle size of 0-20mm or 0-40mm, processed by a custom-made CDE solution comprising a wet processing unit combined with a wastewater recycling unit. The Saintes Barbes site produces between 80 and 100 tonnes per hour of materials for the concrete industry and public works market.
The CDE M2500 E3X wet processing solution, co-developed with Lecieux in order to meet its production needs, integrates a feeding system, a cyclonic sand treatment unit, a sand and gravel washing and classification system and stockpile conveyors on a single chassis. Marc Sopransi, Business Development Manager for CDE France, explains: "The M2500 E3X demonstrates the efficiency of CDE's cyclonic technology and the adaptive ability of our process and engineering teams, who designed a bespoke process in order to extract from the sand the smallest possible amount of fine material.
The used water carrying unwanted particles is expelled from the cyclone overflows, while the washed sand, having been processed, continues on to enter into the drying and storage stages. Thanks to cut points of unrivalled precision, the three products are processed simultaneously to the required standards and without any risk of cross-contamination amongst the products."
It is combined with a wastewater treatment unit - an AquaCycleTM A600 CDE thickener with a capacity of 600m³/h - which allows up to 90% of the used water to be recycled for immediate re-use into the system.
Extra water is added to the treated water via a CDE AquaStore AS556 unit. The very limited amount of extra water added to the treated water via a CDE Aquastore AS556 unit serves to compensate the losses incurred due to residual moisture in the sand and sediments. The water is then sent immediately back towards the process, which thus functions almost as a closed system.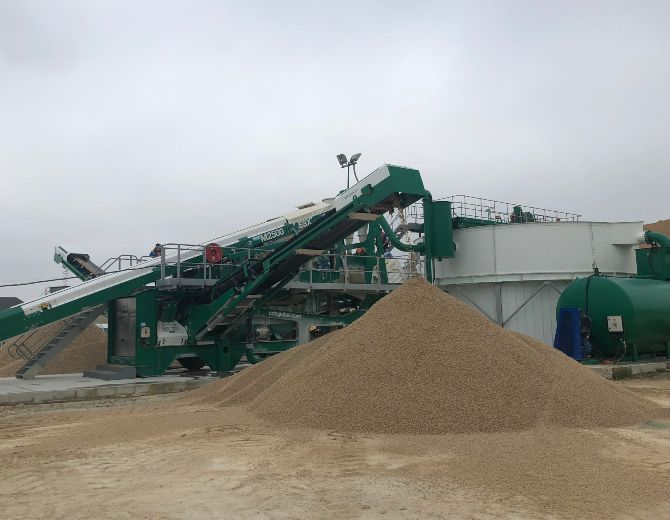 THE RESULTS
Three products are processed simultaneously by the CDE system: 0-4mm, 4-10mm and 10-20mm.
The gravels graded 4/10 (known as mignonette gravel) and 10/20 are used to produce concrete and products for landscaping projects. The quarry material also allows the production of a dry sand with a grain size of 0 to 4 mm, which is highly polyvalent and especially well-suited to masonry as well as some construction and public works applications requiring sand which is fine and easy to work with.
The CDE team, in collaboration with the client, designed a tailor-made solution with a minimum of steep angles and with slopes calculated to avoid any risk of blockage. The management of BPE Lecieux says: "The design of our CDE system has proven itself over the past three years. The crushed raw limestone contains 28% of fine particles, which needs to fall to 12% to meet ready-mixed concrete standards.
You May Be Interested in These Projects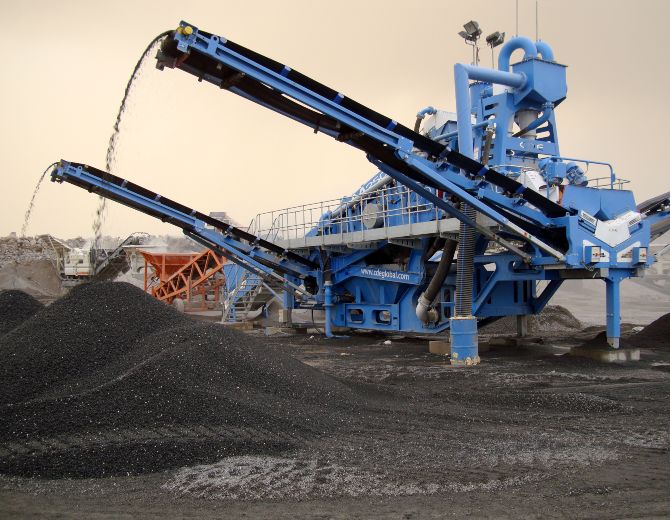 Eren Construction
Turkey
Material Limestone, Crushed Rock, Sand & Gravel
Output 0-4mm sand | 4-15m, 15-22mm, +22mm aggregates
End Use
Construction Products,
Civil Engineering Projects
Processing blasted and excavated limestone and basalt from a major canal project in Turkey.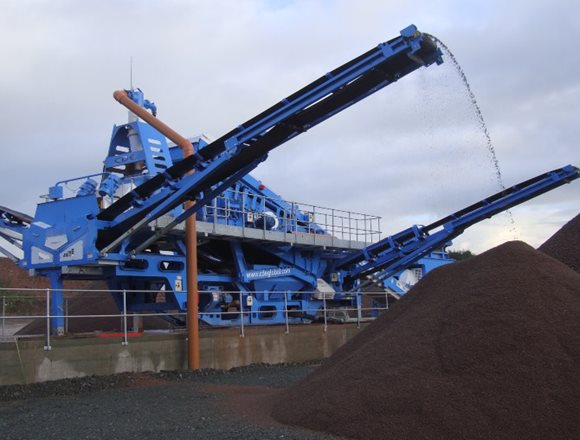 Grange Quarries
Scotland
Material Quarry Waste, Limestone, Crushed Rock, Sand & Gravel, Manufactured Sands
Output 2 Sands | 3 Aggregates
End Use
Construction Products,
Concrete Production
200tph wash plant processes limestone to produce manufactured sand and three washed aggregates.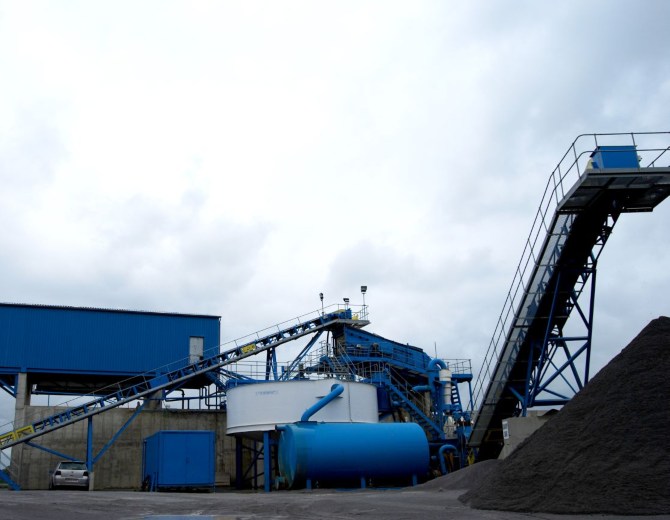 Liam Lynch Quarries

Ireland

Material Limestone, Quarry Waste, Crushed Rock, Manufactured Sands, Sand & Gravel

Output 20mm, 10mm and sand for the concrete mix

Turnkey washing plant processing -6mm crushed limestone with high fines content and producing aggregates and manufactured sands.

; ;