We commissioned our largest C&D waste plant in Canada for Calgary Aggregate Recycling.
Material
C&D Waste, Contaminated Soils
Output
0-1mm fine sands | 0-4mm coarse sands | 4-10mm undersize, 10-20mm midsize | 20-40mm oversize | 40-100mm oversize | >100mm oversize aggregates
Calgary Aggregate Recycling Installs 250tph C&D Waste Recycling Facility in Calgary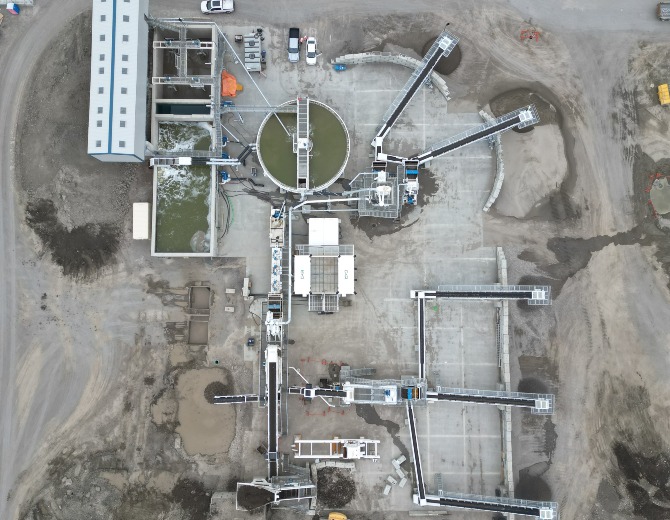 Problem
Based in Calgary, Alberta, Calgary Aggregate Recycling (CAR) is an enterprise focused on developing aggregate materials from the innovative reuse and repurposing of leftover or discarded construction & demolition waste and excavation waste.
As Alberta's population growth continues, the demand for infrastructure has never been greater.
Understanding the problems facing the construction industry, the company felt it imperative to find sustainable solutions to the large increase in C, D and contaminated soils refuse and the growing scarcity of raw materials available.
Prior to CAR working with us, it did not have an outlet for contaminated soils. Therefore trucks were taking a 350km round trip to dispose of contaminated soils at a landfill whereas now the trucks have increased load frequencies per day, with less servicing required resulting in a reduction in carbon emissions.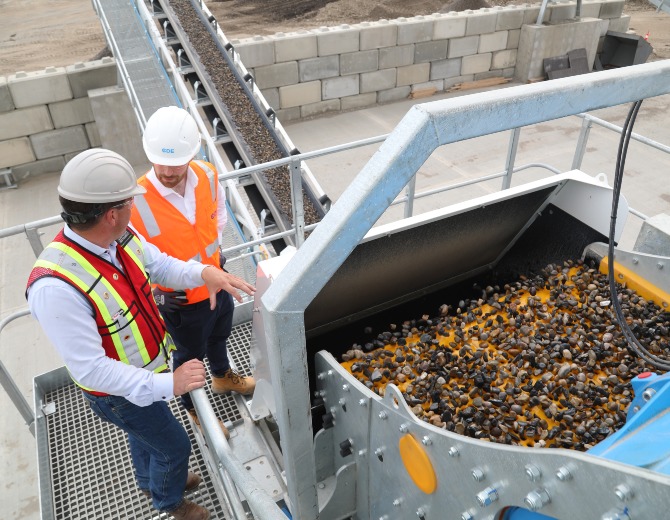 Solution
CAR were first introduced to us via YouTube channel and were impressed by our technology and how it integrated with our company vision. Following virtual meetings the company completed the investment to expand the company's recycling and reuse operations the largest of its kind in Alberta.
Our experience in developing waste recycling solutions in North America is what made CAR want to partner with us to commission the advanced system to support its economic and environmental goals.
We facilitated meetings virtually and utilized 3D modelling and remote technologies to showcase to CAR many of its international waste recycling plants, including Brewster Bros, based in Scotland, a family business that recently announced it was investing in its second CDE wash plant, and the Long Island, New York-based Posillico Materials LLC, home to the first contaminated soils wash plant of its kind in the US.
CAR commissioned its first-ever wash plant consisting of an R4500 primary feeding and scalping screen with the M4500 modular sand washing plant and AggMaxTM 253R scrubbing and classification system, which combines pre-screening, scrubbing, organics removal, sizing, stockpiling, fines recovery and filtrates removal on a compact chassis.
The solution also features our EvoWashTM modular sand washing system that screens and separates smaller sand and gravel fractions through an integrated high-frequency dewatering screen and hydrocyclone technology to provide unrivaled control of silt cut points and eliminate the loss of fines, as well as our CFCU (Counter Flow Classification Unit) technology which offers a variable cut (separation) point to provide greater control over sand classification.
Underscoring the solution is our AquaCycleTM thickener water management system, which offers efficient recycling of up to 90% of process water, and our Filter Press sludge dewatering system which presses sludge discharged from the thickener to recover even more water – bringing recovery up to 95%.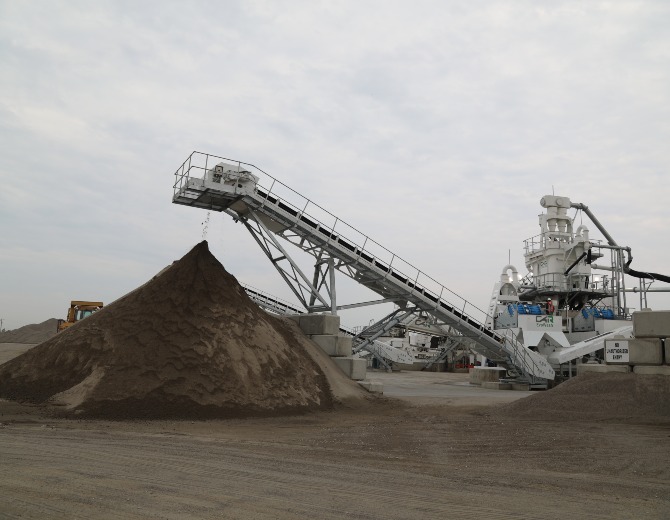 Result
Our solution is transforming C&D waste into a high value suite of construction products, helping CAR to generate additional revenue while simultaneously diverting significant tonnages of material from landfill.
Since commissioning in April 2023, the plant has been delivering 250tph of a number of high-quality recycled materials for the local construction industry, including 0-1mm fine and 0-4mm coarse sands as well as 4-10mm undersize, 10-20mm midsize, plus 20-40mm, 40-100mm and >100mm oversize aggregates.
Frequently tested to ensure compliance with City of Calgary standards and specifications, the product suite is being marketed to the wider construction industry in the Calgary and Alberta areas and is supporting a range of major public works and infrastructure projects, including a project with City of Calgary, hauling 1,300 tons of contaminated soils out of the Bow River, this project generate 54 tons of CO2 emissions, saved from the environment.
The company now has the capacity to process an additional 600,000 tons of waste material to produce more than 1.25 million tons of construction sand and aggregate products every year across the wider company operations.
Our Business Development Manager for Canada, Adrian Convery, says: "This plant is both the largest we have ever commissioned in Canada, but also our first partnership with CAR which demonstrates real confidence in our washing technology and recycling process.
"It's a partnership that is pioneering better ways of managing resources in Canada, driving forward the agenda for change, and building a strong case for the adoption of recycled materials in the construction industry by highlighting the immense potential of C&D waste streams."
It is expected that the plant will help to reduce carbon emissions in Alberta by an estimated 22,567 tons annually.
Case Studies you might be interested in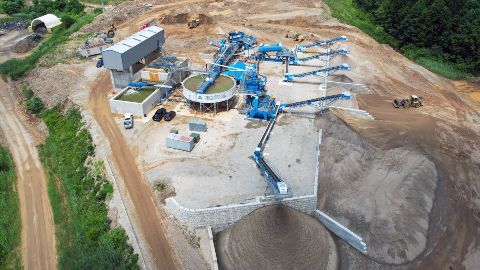 Repurpose Aggregates
Maryland, USA
Material C&D Waste, Claybound Aggregates, Dredged Sands, Excavation Waste, Road Sweepings & Gully Waste, Water Recycling
Output C33 Concrete Sand | #3, #8 & #57 Stone
End Use
Asphalt Production,
Concrete Production,
Construction Products
Repurpose Aggregates to transform Maryland construction industry with innovative CDE technology.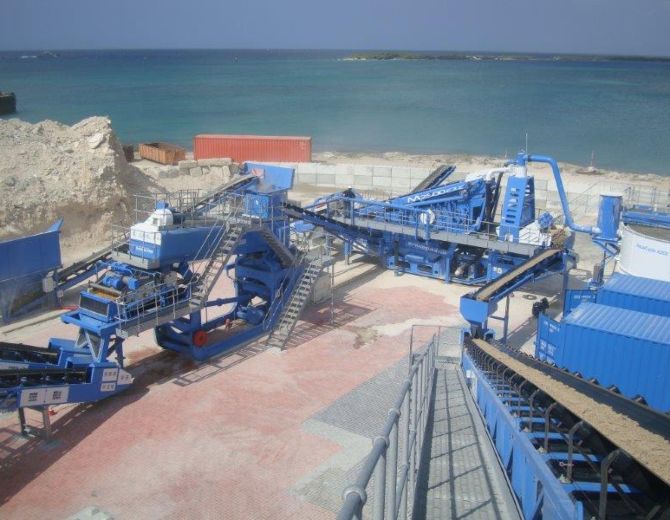 ATCO Concrete
Aruba
Material C&D Waste, Crushed Concrete
Output 1 Sand (-5mm) | 2 Aggregates (5-10mm, 10-20mm)
Located on the holiday island of Aruba, ATCO Concrete Products operate a turnkey waste recycling plant to process C&D waste for use in concrete production.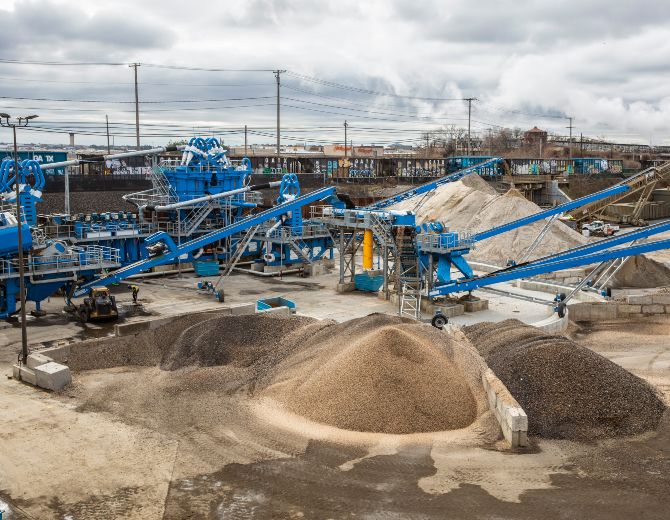 Posillico Materials LLC

USA

Material Contaminated Soils, C&D Waste

Output 2 Sands | 3 Aggregates

First-of-its-kind contaminated soils wash plant commissioned for Posillico Materials LLC in New York.

; ;