CDE technology maximizes productivity and provides manufactured sands solution for Hawaiian Cement.
Material
Claybound Aggregates, Crushed Rock, Sand & Gravel, Manufactured Sands
Output
3/4 inch minus | 3/8 chip | No.4 manufactured sand
345tph Wash Plant Creates New Manufactured Sands For Hawaiian Cement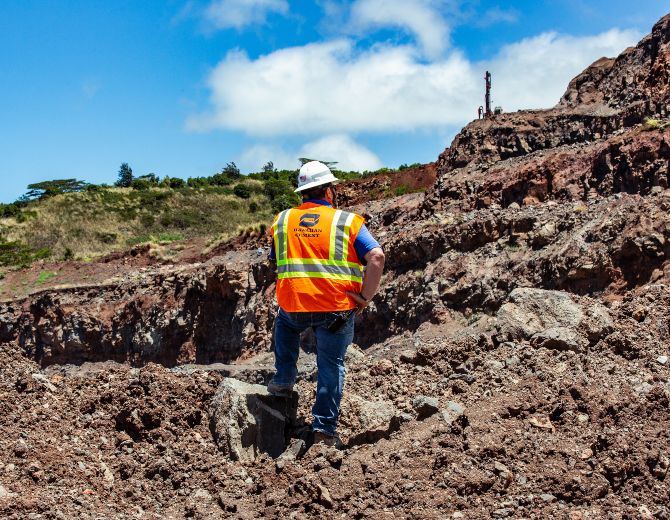 THE CHALLENGE
Hawaiian Cement is an integrated construction materials business that serves all of the major Hawaiian Islands. Established in 1959 with the construction of the first cement plant on Oahu, Hawaiian Cement now operates as a subsidiary of Knife River Corporation who acquired it in 1995. The company is divided into three divisions; the Cement division operates cement distribution terminals in all major Hawaii harbors, while the Concrete & Aggregate divisions are located in the Halawa Valley (Oahu) and at the Puunene quarry (north-central Maui).
Hawaiian Cement wanted to future-proof their operations and needed an innovative solution that would deliver in-spec, high quality manufactured sand in large volumes to create their concrete products and remove the need for sand imports to the island.
CDE's technology presented an opportunity to maximize productivity through sustainable methods, delivering significant savings and a fast return on investment.
The Oahu concrete and aggregate quarry (with approximately 135 employees) is capable of producing in excess of one million tons of aggregates per year. However, the idyllic island location poses unique challenges for Hawaiian Cement and its team.
Problem One:
The quarry has a lot of clay and silt material - not ideal for concrete production and leaves a surplus of B-grade material. In addition, there is a moratorium on harvesting and mining for natural sand on Oahu. As a result, the quality of manufactured sand that was previously produced at the Halawa Valley quarry did not meet the company's high standard and led to a dependency on imported sand from British Columbia. The company was absorbing the cost of shipping in excess of 150,000 tons of sand each year in order to sustain their activities. Coupled with other operational costs this was proving to be an unsustainable and non-environmentally friendly approach in the long term.
Problem Two:
General Manager, Sean Haggerty, and his team, therefore, wanted to reduce their carbon footprint. Hawaiian Cement has been a proud industry leader in ecologically conscious practices for the past 20 years, using recycled aggregates to develop sustainable concrete. With this in mind, the company sought a smarter washing solution that would align with their environmental values and support an eco-friendlier future.
Problem Three:
In addition to the imported sand, water is a tremendous cost to an island-based company. In securing a new washing plant, Hawaiian Cement wanted to reduce the amount of water used for both environmental and financial purposes.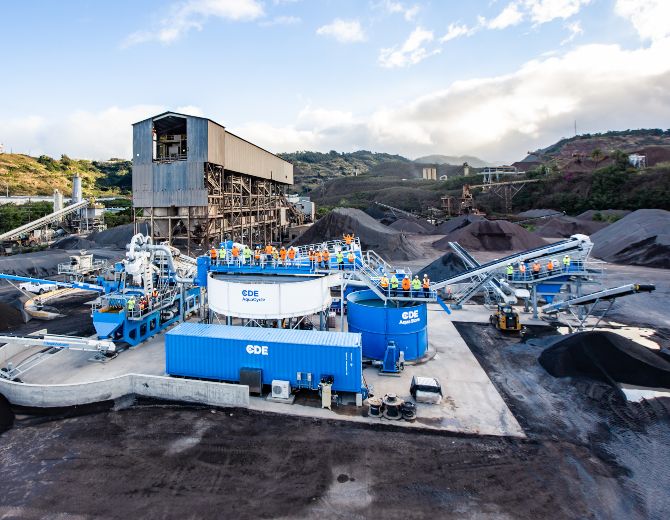 THE SOLUTION
Haggerty sought to reach and exceed their possible production rate through investment in new plant technology that was capable of realizing their potential without the additional spend. They needed an innovative solution that would deliver a range of results. Having witnessed the success of the company's plant on Maui Island, Sean was confident that sand washing experts CDE would have the solution.
Experience, combined with a proven track record at Hawaiian Cement's Puunene site, meant CDE was appointed to develop a custom-built wet processing solution for the Halawa Valley quarry.
CDE's technology guaranteed to maximize productivity through water recovery and washing of No.4 manufactured sand, improving the quality and quantity of production on the site through sustainable methods.
Ryan O'Loan, CDE Business Development Manager, explained, "Hawaiian Cement already have a very effective CDE plant, but for us every project and every plant is unique. We wanted to build upon what was working for the company in Maui and establish a designated and comprehensive project team to work hand-in-hand with them to design, manufacture, install and commission a custom-built solution for this site."
Sean added, "We didn't want an off-the-shelf piece of machinery. It was important that we worked directly with the manufacturer and that they understood our aims. We had witnessed the success of our Maui division under President Jason Macy & Maui's General Manager David Gomes, but we needed the advice and support in establishing this new system at our Oahu site and CDE have been there every step of the way."
Partnership in Planning
Sean explained, "CDE's team of local experts took the time to truly understand our site, our feed and our needs, working with us to maximize the efficiency that would come out of our new plant and deliver a smarter, integrated solution. We worked together with a formidable, dedicated project team, consisting of Electrical Engineers, Process Engineers, Technical, Finance, Project managers and more. We had a point of contact for every step. The experience has exceeded both our expectations and their promise, extending right through to after-sales care. Being on an island, we appreciate this can be difficult, but CDE go to lengths to mitigate the inconvenience, ensuring a smooth service."
Haggerty additionally notes that the CDE staff were extremely receptive of the input from his team, especially around elements that would affect them in the day-to-day running of the plant such as housekeeping and preventative maintenance measures.
Fully-Integrated Innovation
O'Loan says that after a thorough process, "A fully integrated plant was developed, based around the existing Evo-Wash™ wet processing plant and included an M4500™ modular wash plant and AggMax™ logwasher. Our modular machinery allowed for this integration and was identified as the most efficient system to achieve the company's ambitions, with an AquaCycle™ thickener and AquaStore also included to recycle and store water."
The plant is currently producing up to 345tph of aggregates used in Hawaiian Cement's concrete products, comfortably meeting the monthly aggregate demand of 60,000 tons.
The efficiency of the plant is optimized using a wastewater treatment unit, the CDE AquaCycle™ thickener, which allows recycling of up to 90% of the water used via a system that settles the solids from the dirty water in a controlled environment and expels sludge into the nearby settling ponds. On an island, water is a tremendous cost and is not as readily available. This new system was ideal for Hawaiian Cement as it means taking less water from the island on which they reside; a huge environmental issue at present.
Customisation and Futureproofing
As well as customizing the plant to suit their business objectives, CDE also opted for a 'marine specification finish' due to the salty environment on the island. This ensures maximum life of the asset by way of galvanizing, Marine Spec paints and stainless-steel bolts to name a few measures.
O'Loan added, "Global demand for construction sand is more than 15 billion tons per year. Our sustainable technology, producing washed and graded manufactured sand, has removed the dependency on finite natural sand resources which are becoming increasingly expensive. By utilizing normally low-value crusher fines for sand production we can extend the life of natural resources and add huge commercial value to our customers' enterprises. That's exactly what we've enabled for Hawaiian Cement."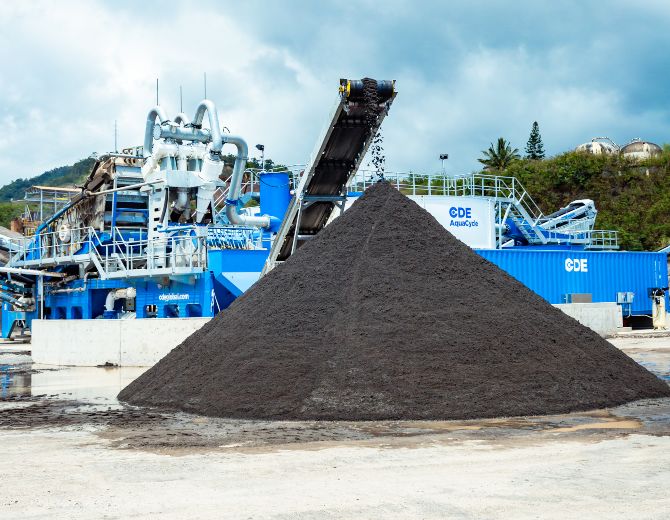 THE RESULTS
At the Halawa Valley quarry, Hawaiian Cement is now producing:
3/4inch minus
3/8 chip
No.4 manufactured sand
The new plant is capable of cleaning the B-grade surplus materials to a standard that means they can reduce their dependence on imported British Columbia sand (from 150,000 tons+ every year to 50,000 tons every 14 months), proving a significant financial saving for the company.
Sean explains, "By reducing our dependence on import sand, as well as boosting our product offering, CDE's technology is a game-changer for Hawaiian Cement and is instantly feeding into our company's bottom line. We were already well established, and the potential is there for more customer acquisition and to expand into new markets with new lines. It's been extremely positive."
O'Loan added, "We proactively work with customers to ensure optimization of their plant and ROI. Indeed, for this project, we had a very succinct ROI brief and Hawaiian Cement will be able to recoup that cost within a very short period of time. We hope the positive results seen so far for the company continue. Hawaiian Cement is more than a customer to us, Sean and the team are our partners, and we will continue to support them."
With the plant fully operational and producing the new quality product, the Hawaiian Cement team is looking forward to not only supplying their existing customers and applications but exploring new markets and opportunities. At present, they are supplying ready-mix concrete to various government, private and commercial projects including the Honolulu Light Rail Project, high rises, and homeowners, as well as providing both engineered and non-engineered fill materials related to site work.
You May Be Interested in These Projects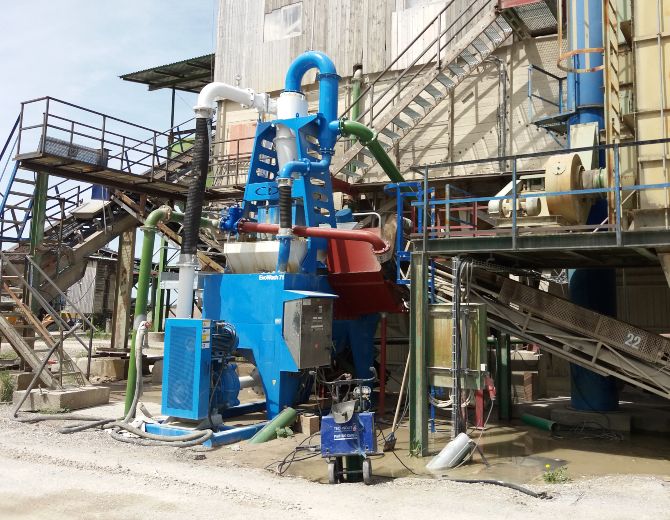 Kies und Quetschwerk Oberbrunn GmbH
Germany
Output 0-4mm, 4-8mm, 8-16mm, 16-32mm and +32mm to be crushed
After doubling its sand production following the installation of an EvoWash wet processing plant, Kies- und Quetschwerk Oberbrunn GmbH significantly improved its operations with additional CDE equipment.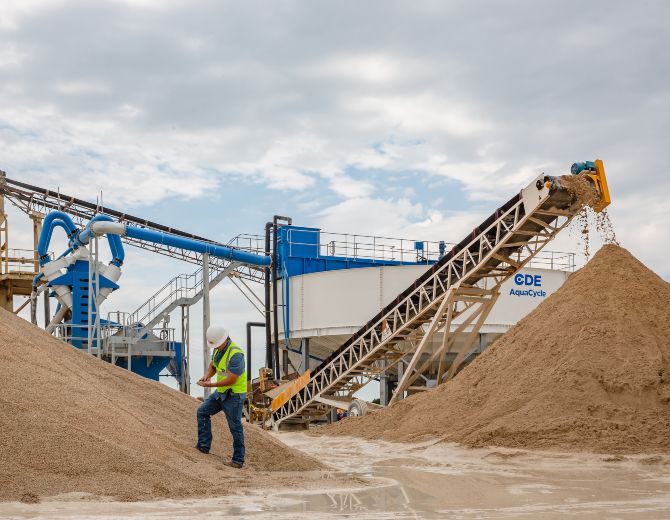 Collier Materials
Texas, USA
Material Claybound Aggregates, Sand & Gravel, Limestone, Crushed Rock
CDE sand washing technology increases the production of C-33 spec sand for Collier Materials by 50%, improving product quality and reducing plant footprint in the process.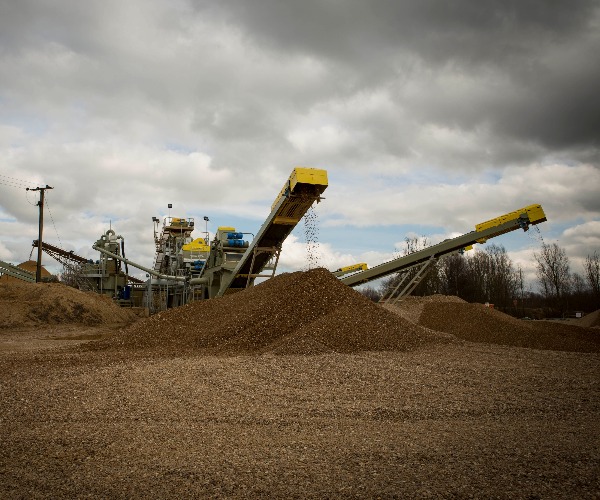 Little Paxton

England

Material Claybound Aggregates, Limestone, Crushed Rock, Sand & Gravel

Output 3 Sands | 4 Aggregates | +90mm Oversize

End Use

Concrete Production,

Decorative Stone

Little Paxton Quarry, part of Aggregates Industries has been given a new lease of life thanks to the installation of a CDE wet processing plant.

;