CDE delivers first construction, demolition and excavation waste washing plant of its kind in Australia.
Material
C&D Waste, Excavation Waste, Non Hazardous Soils
Output
2 Sands | 4 Aggregates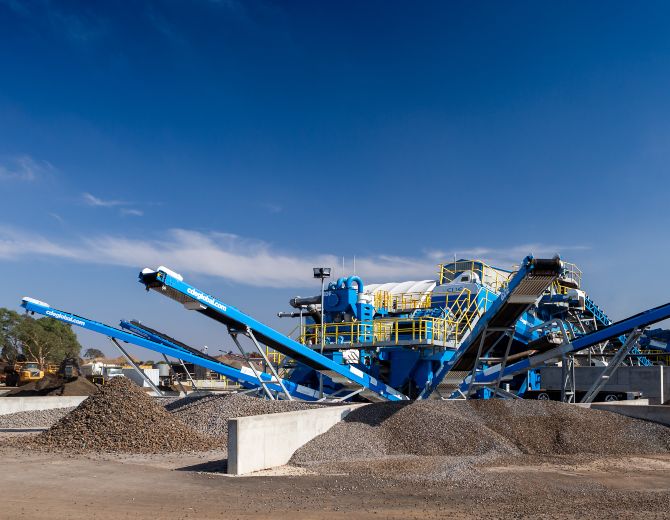 ABOUT THIS PROJECT
Melbourne-based Repurpose It is a recycling company with a difference: dedicated to making landfills a thing of the past, it is driven by the belief that all waste has the potential to be turned into value. To achieve its environmental mission towards a zero-waste world that respects earth's natural resources, George Hatzimanolis (the CEO of Repurpose It), turned to CDE to transform construction, demolition and excavation (CD&E) waste along with contaminated railway ballast into in-spec sand and aggregate products that meet the requirements of the local building industry. The first of its kind in Australia, the innovative wash plant sits on a 150-acre rehabilitated quarry site in Epping, a stones-throw away from Melbourne.
Repurpose It operates at the heart of Victoria state, the second most populated state in Australia. The company processes all types of waste from some of Australia's largest local government authorities, private waste operators as well as local community members keen to make a positive difference.
The company offers a full-circle service to its clients, including waste management consulting, transport and collection and all other waste-to-resource processes. Its owner, George Hatzimanolis, leveraged his 15-year experience in the civil works to establish the resource recovery business in 2017 on the industrial ecology model.
Hatzimanolis' core belief that action needs to be taken to stop the depletion of the world's natural resources led him to focus on creating manufactured sands from waste, with a view to tackling contaminated materials with cutting edge technology, therefore deflecting the need for natural sand extraction.
Hatzimanolis recalls: "When putting the project together, the opportunities and projected results became clear. In recognition of our 'best practice technology' innovative approach and willingness to invest in industry-leading technology. Sustainability Victoria, a governmental body founded under the Sustainability Victoria Act 2005 to facilitate and promote environmental sustainability in the use of resources, issued us a grant of $500,000 for our project.
"We were delighted when integrated services company Downer, an existing CDE customer, came on board as a 50% partner in the business, ensuring a bright and sustainable future for Repurpose It."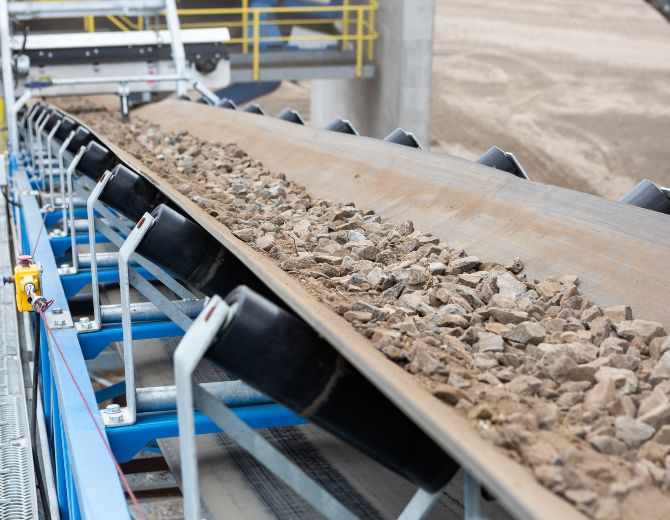 THE CHALLENGE
Victoria is the second most populated state in Australia, with Melbourne alone totalling nearly 5 million of the state's 6.5 million inhabitants. With the associated waste volumes continuing to escalate, the implementation of what is known as 'industrial ecology processes' is more than ever recognised as the only remedy to landfill pollution, where generated waste is collected, sorted and transformed into products fit for use in a variety of sectors.
The aim of the project was to develop a wet processing system capable of transforming a number of CD&E waste streams, including a majority of inert waste and some industrial waste previously earmarked for landfill for being too difficult to treat, including glass cutlet and drilling muds. The solution needed to efficiently separate and wash every available fraction of material in the feed.
DEPLETING NATURAL RESOURCES
Daniel Webber, Regional Manager for CDE in Australasia, reflected: "Entrepreneurial companies such as Repurpose It, have identified that the Sydney Basin and Melbourne are running out of sand. The depletion of local sand reserves means that construction and concrete companies now have to cart sand via road from further away or turn increasingly to the production of manufactured sands from hard rock deposits which are more expensive to mine and more hard-wearing on plant and equipment."
"This is where C&D waste processing plants come into their own: they accept waste feed from metropolitan areas and clean it to repurpose it back into the local construction market. At the same time, as there is limited room available for tailings ponds, our world-leading water recovery and tailings treatment technologies are used to make dry tailings that can be carted away or even turned into marketable products themselves."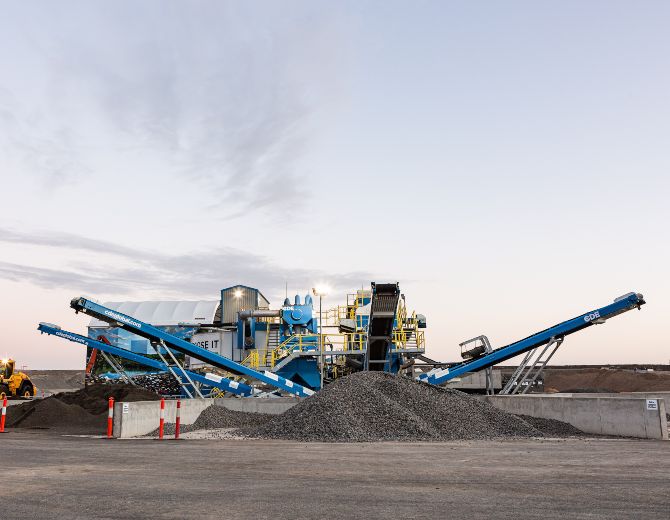 THE SOLUTION
The CDE solution at Repurpose It incorporates a selection of modular elements that work in synergy to produce the best results: an AggMax™ logwasher, the latest in the CDE patented Infinity screening range, a ProGrade H2-60 screen, an EvoWash™ sand classification & dewatering system, conveyors, a decanter centrifuge and an AquaCycle™ thickener.
The plant processes up to 150 tonnes per hour of a single waste input. Each single waste, depending on available volumes, will run for a minimum of two weeks. The feed material then changes to meet incoming waste types and volumes as well as production requirements.
The C&D waste recycling wash plant operates as a closed loop system. Its efficiency is optimised by the incorporation of a waste water treatment unit, a CDE AquaCycle™ thickener which allows the recycling of up to 90% of the waste water for immediate re-use into the system. The process water, after passing into the deaeration chamber, passes gently to the centre of the thickener so that the added flocculant can work and act on the sedimentation of the fine material.
A single motor operates the rack arms of the AquaCycle™ thickener for optimal treatment of the sludge prior to its drainage. As a result, every valuable grain of material is retained in the system.
Fine materials are trapped and the sludge is dewatered then expelled via the centrifuge to clean fill or landfill depending on the levels of contamination in the product. The waste water is sent to sewer under a trade waste agreement whereby it will ultimately be treated at the Western Treatment Plant with a view to recycling it for various applications.
With a capacity of 600m³/h, the AquaCycle™ thickener only requires a top up of 60m³/h and accepts water from street sweepings and educator truck dewatering pits, enhancing the project's environmental objectives. Stormwater is used as a preferred option for top-ups and a portable water reserve is available as back up or to refill the plant after maintenance activities.
The precision of the CDE water management technology allows the washing plant to re-use the water to process different types of feedstocks, without any risk of cross-contamination or other diminution in the quality of the final materials.
Key to the success of the CDE equipment is its modular make-up, allowing to associate compact processing modules within a small footprint without compromising on efficiency. As such, CDE equipment packs a punch even on the smallest sites, which is a substantial plus when it comes to recycling facilities located in urban settings.
Of significant importance to the Repurpose It project, effective sludge management by the centrifuge optimises water recycling and efficiency of the system, reducing the need for large ponds.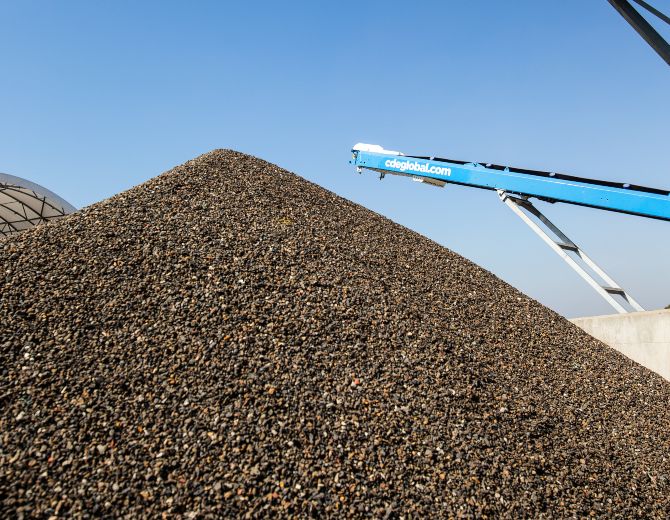 THE RESULTS
The plant processes up to 150 tons per hour of a single waste input. Each single waste, depending on available volumes, will run for a minimum of two weeks. The feed material then changes to meet incoming waste types and volumes as well as production requirements, creating high value construction products every day, which would otherwise have been diverted to landfill. Based on processing nearly 500,000 tons of material Repurpose It can save more than 82,000 tons of CO2 every year.
The CDE tailor-made solution for Repurpose It takes C&D waste, rinses and grades it to make six in spec products – 4 aggregates (4-10, 10-20, 20-150, 50-100 oversize) and two sands (0-2 and 0-4) – depending on feed available and its contamination levels.
Notably, Repurpose It operates a full circle process when the opportunity arises, such as in the case of the ongoing infrastructure project in Victoria which involves replacing level crossings: existing hydrocarbon-contaminated railway ballasts are washed, scrubbed to remove the contamination and the resulting recycle materials are re-used in the fabrication of new railway ballast.
The same applies for a new tunnelling project: tunnelling material is sent to Repurpose It for transforming and the transformed materials are re-used by the tunnelling project as construction materials.
Based on processing 500,000 tonnes of material through its innovative, state of the art CDE washing plant, Repurpose it can save more than 84,000 tonnes of CO2 every year.
George Hatzimanolis concludes: "Recycled sand and aggregates are now recognised as high-value materials of equivalent quality as materials processed from natural reserves. The CDE plant helps Repurpose It to achieve its goal of remaining a sustainable, ethical business that transforms transforming waste into re-usable products whilst having minimal environmental impact."
You May Be Interested in These Projects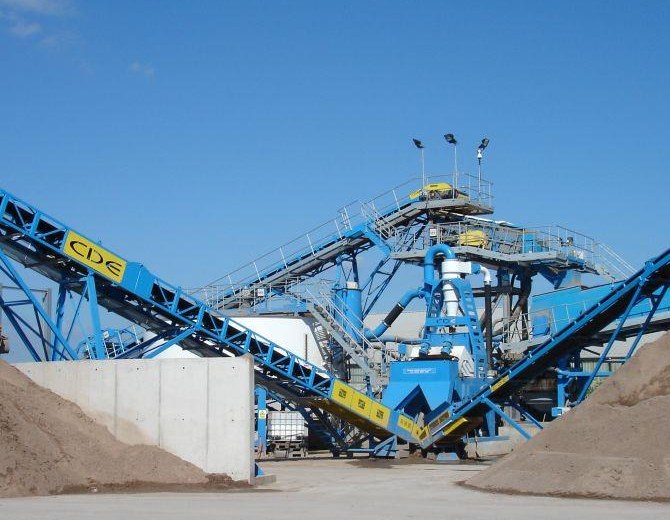 Nick Brookes Group
England
Output 2 Sands | 3 Sized & 1 Oversized Aggregates | Filter Cake
End Use
Concrete Production,
Concrete Blocks,
Pipe Bedding,
Road Sub Base,
Screened Soil,
Landfill Capping,
Canal Lining
The new washing plant was purchased to improve the handling of the construction and demolition waste material that is received at the site, which can be found just off the A51 near Nantwich.
Grundy & Co Excavations
England
Material C&D Waste, Excavation Waste
Output Recycled Sand & Aggregates
A washing plant for the recycling of construction, demolition and excavation waste material has allowed Grundy and Co Excavations to add significant value to their final recycled sand and aggregate products.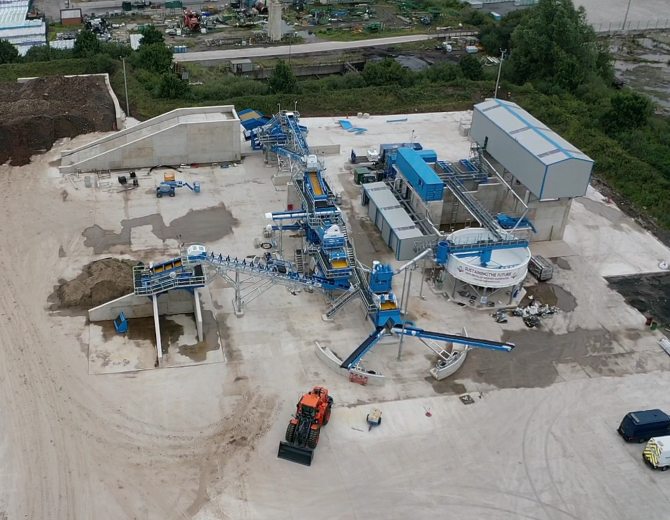 Ash Aggregates

England

Output 2 Sands | 3 Sized & 2 Oversized Aggregates

ASH Group extends sustainable waste management offering with invest in new CDE wash plant.

;