Resolve Aggregates – in partnership with CDE since 2015.
Material
Claybound Aggregates, Sports Sands, Sand & Gravel
Output
C33 concrete sand | #8 pea gravel | #57 gravel | ASTM 144 masonry sand | asphalt sand
End Use
Construction Products
Asphalt Production
Golf Sands
Resolve Aggregates 350tph Modular Sand Washing Plant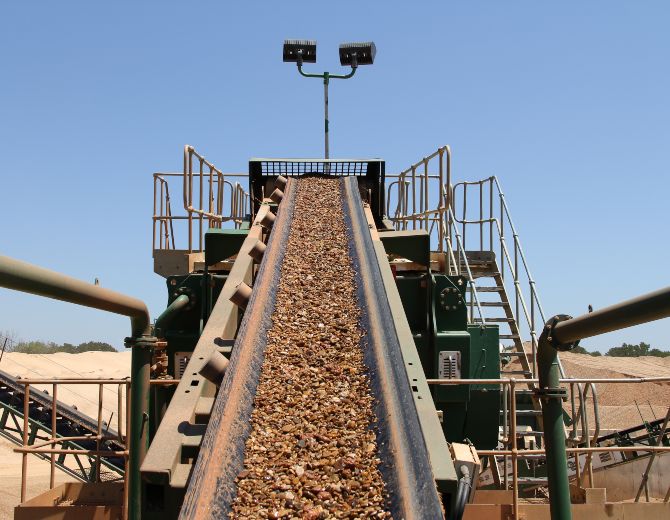 THE CHALLENGE
Resolve Aggregates sand and gravel company has been processing fine and coarse aggregates since the mid-80s in Fort Worth, Texas. Before relocating its CDE wash plant to Ravenna, Texas, the company had been enjoying the benefits of CDE's wet processing equipment in Fort Worth from 2015-2017, when it made the decision to explore new pastures and maximize opportunities at a new site.
At its new site, the Resolve Aggregates team projects continued growth as the market of greater Dallas Fort Worth expands northwards. And capitalizing on that opportunity requires a partnership and service that ensures the business is geared for success and never offline.
Gearing up for the future
After 16 months at its Fort Worth site, Resolve Aggregates had met its targets and was ready to relocate. The full CDE installation was disassembled, containerized, relocated, installed in just 11 working days, with CDE completing the recommissioning.
The relocation has enabled Resolve Aggregates to diversify into industrial sands and golf sands and continue to produce in-spec finished products in a single pass, helping to reduce operation time and increase efficiency.
Back in 2015, the Resolve team originally had their sights set on a fixed plant similar to their existing setup. They wanted to ensure that the solution would stand the test of time and provide improved functionality with easy access for maintenance. It was also important for Resolve Aggregates to work directly with the manufacturer, they wanted a partner who would be on hand to support and provide the aftercare needed to help capitalize on the vast reserves at their new site.
CDE met with the Resolve Aggregates team to gain a deeper understanding of the company's long-term ambitions, its highly abrasive alluvial river deposit raw feed material and its intentions for future use of the equipment. This is how CDE ensured the solution delivered was fully customized to the needs of Resolve Aggregates.
The CDE solution helped the company to successfully achieve its objectives while also reducing operational costs, plant downtime and impact on operating cash flow. Its ongoing success is thanks to a close working relationship between the team at Resolve Aggregates and CDE's CustomCare team.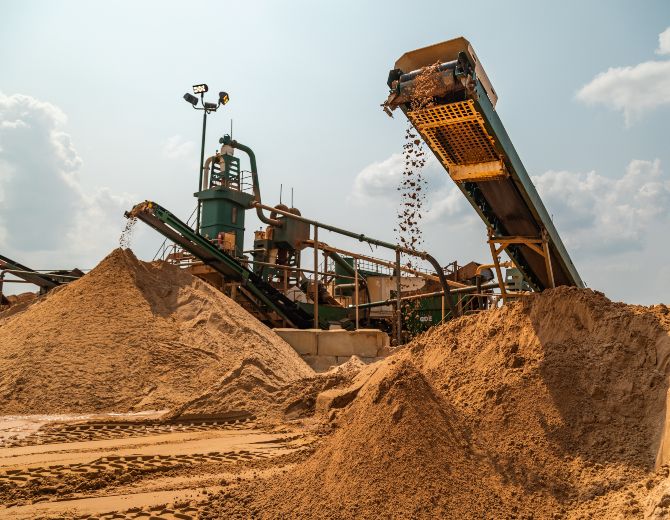 THE SOLUTION
Darren Eastwood, Business Development Director at CDE, explained, "We appreciated that the Resolve team needed an expert partner to provide industry-leading technology that could not only assist in achieving the objectives at its old site but translate as the business ventured to other locations."
Forecasting for its future relocation and long-term strategy, CDE recommended a smaller footprint wash plant solution, modular in design, with a reduced dependency on water suppliers which was important in a small town like Ravenna.
CDE's modular washing solution and aftersales CustomCare approach guaranteed to meet Resolve Aggregates' specific needs, through the assurance of mobility and maximized productivity, while providing improved quality and quantity of in-spec finished products and reduced environmental impact, and continued support, parts & service.
Aftercare with CDE CustomCare
Resolve Aggregates notes, "We were impressed by CDE's technology after our first encounter at ConExpo and were invited to see a plant in action in North Carolina
which served to confirm our decision and boost our confidence. CDE has ticked all the boxes of our brief and more and extended their exemplary service through to after-sales care, shown in their incredible work through our relocation.
"When setting up our plant, the CDE team worked with us through installation, training and remained post-commissioning until we were fully confident. The professionalism and expertise of CDE's personnel clearly match the quality of their equipment and we continue to be in regular contact with the CustomCare team."
CDE opened a new North American Center of Excellence in Cleburne, Texas in 2018 to be best placed to serve its customers at the heart of the market and boost productivity. The CustomCare service provides a dedicated Regional Service Engineer for every customer, coupled with CDE's readily available stock of common parts worth over $3m and complete order history to ensure shorter downtime.
Clara DeLeon, CDE Regional Supply Manager, keeps in touch with the Resolve Aggregates team regularly. She explains, "Between our initial set up in Fort Worth and the re-commissioning at Ravenna, we have established a real partnership with the Resolve Aggregates team. They know that whether they have a question about parts, tech advice, checking stock levels or inspections, both our Regional Service Engineers and I are readily available and happy to help.
"In particular, we make efforts to shorten any lead time by keeping a record of parts they have needed in the past to ensure we keep stock of what they're likely to need in future. We are also in the process of implementing our CDE CORE system across North America to help customers monitor their plant and foresee any issues or maintenance requirements, something we hope to bring online at Resolve Aggregates in addition to further site upgrade in the coming year."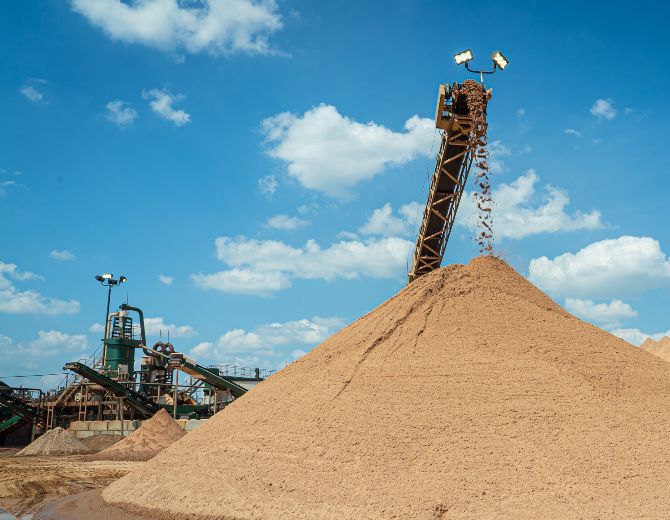 THE RESULTS
CDE's methodology is based on a custom-made service to customers, who are invited to collaborate in the development of their installation. This ensures that each solution is co-created with the customer's requirements in mind for optimum achievement of objectives.
At the new site, the plant is currently averaging 85,976 tons-per-month with plans to hit 125k-150k tons per-month by the start of 2020, exceeding 1 million tons of sales. It is washing & producing 7 saleable products including C33 concrete sand, #8 pea gravel, #57 gravel, ASTM 144 masonry sand and asphalt sand, with as little as 280gpm of water.
The plant recycles 90% of water for immediate reuse in the system through the CDE AquaCycle™ thickener, helping to significantly reduce water consumption. One of the largest advantages Resolve has in the market is the high sand equivalencies (SEs), which are consistently hitting C33 sand (typically 97% or higher) and low moisture content (typically less than 4.5% when loaded). The high SEs of our sand save our concrete ready-mix customers on cement requirements to hit the desired PSI. Low moisture contents of our sand mitigate the FOB destination price of our materials. The plant also incorporates a third-party VSI in a closed-circuit format.
Resolve Aggregates confirms, "There have been minimal parts changes, the bulk of original parts of our CDE plant are still operational, the impellers, liners & pumps and the logwasher paddlers are still original and highly efficient after more than 17,000 hours and over 3.5m tons since 2015, it's still producing incredible results."
"We have been able to ensure a sustainable business operation for the future of Resolve Aggregates, and benefit from an expanded product portfolio. With an excellent maintenance schedule by our team, supported by CDE, and readily available high consumable parts the plant maintenance costs are low, which is incredible when I compare it to our old fixed plants' maintenance costs. Our plant uptime is in excess of 90%, so for a twenty-four hour, five to six-day schedule that's actually pretty good."
Sean O'Leary, Regional Operations Manager at CDE said: "The success we have experienced with Resolve Aggregates is a direct result of the importance we place on collaboration with our customers and the genuine partnership we share. We worked together from the outset to understand both their immediate and potential future needs and co-created a solution that would achieve them."
You May Be Interested in These Projects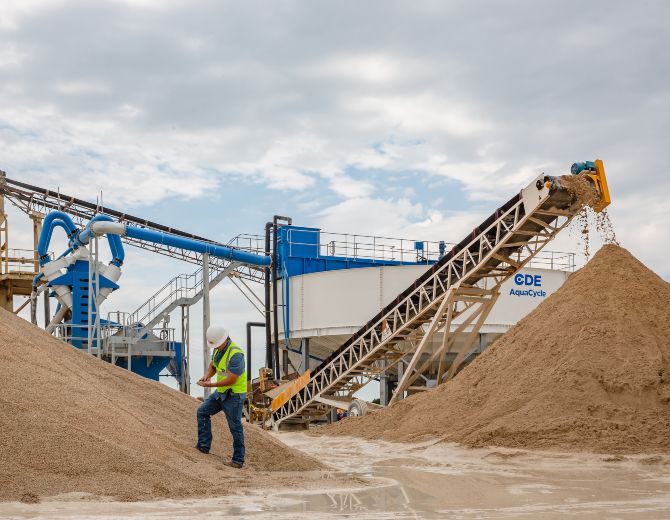 Collier Materials
Texas, USA
Material Claybound Aggregates, Sand & Gravel, Limestone, Crushed Rock
CDE sand washing technology increases the production of C-33 spec sand for Collier Materials by 50%, improving product quality and reducing plant footprint in the process.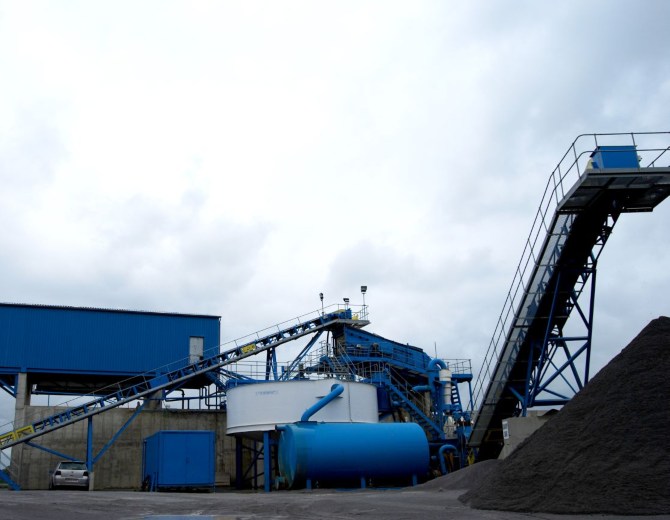 Liam Lynch Quarries
Ireland
Material Limestone, Quarry Waste, Crushed Rock, Manufactured Sands, Sand & Gravel
Output 20mm, 10mm and sand for the concrete mix
Turnkey washing plant processing -6mm crushed limestone with high fines content and producing aggregates and manufactured sands.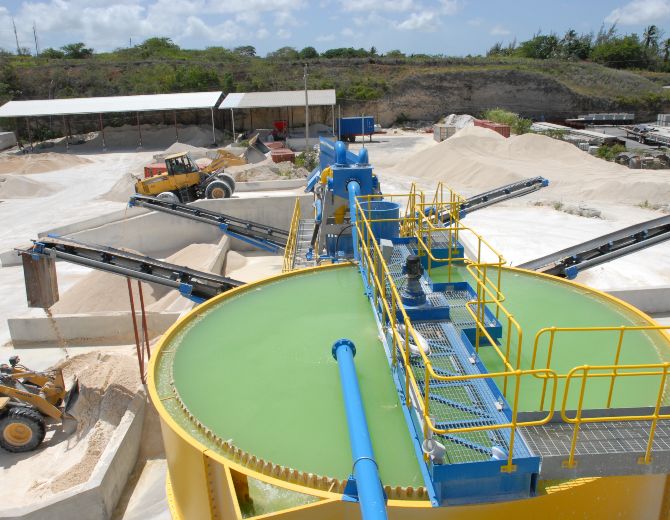 CO Williams

Barbados, Latin America

Material Sand & Gravel, Claybound Aggregates, Limestone, Crushed Rock, Quarry Waste

Output 2.4mm to 6mm | concrete sand | 63 micron to 2.4mm sand product | 63 micron to 1.2mm washed sand

End Use

Concrete Production,

Asphalt,

Masonry,

Plaster Sand

Concrete production, asphalt production and masonry processes for block work and plastering.

; ;