Sodextra S.A. continue their journey to a circular economy with investment in C&D waste recycling plant.
Material
C&D Waste, Excavation Waste, Non Hazardous Soils, Road Sweepings & Gully Waste
Output
0-250um, 0-2mm and 0-4mm Sand | 4-10mm, 10-20mm +20mm Aggregates
135tph Waste Recycling Plant Installed Outside Paris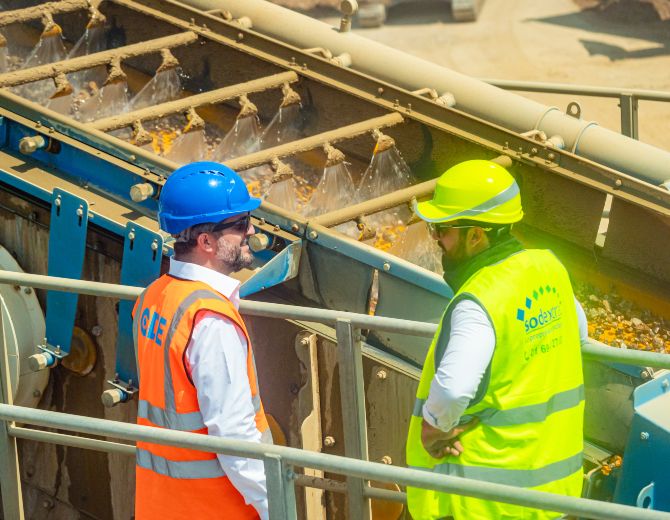 THE CHALLENGE
French waste management company Sodextra S.A., based along the Plateau de Saclay, 15km south of Paris, operates a major construction waste recycling treatment facility, situated on an eight-hectare site, that supports construction professionals to deposit and process waste and rubble in the Paris region.
Established in 1975, the business has, for over 45 years, facilitated the diversion of significant tonnages of C,D&E waste from landfill, assisting in the recovery of a variety of high-value construction materials, including recycled sand and aggregate products, and returning them to the sector for use in major public works and infrastructure projects.
Its primary market sectors are the recovery of deconstruction concrete, the recovery and treatment of industrial waste and the sale of ready-mixed concrete.
Problem
Currently, the third generation family business recovers one million tonnes of material from waste per year. It sought to further increase its recovery rate of inert soil but highly variable waste coming into the waste processing facility was presenting a major challenge
Previously, soil was screened to recover approximately 20% of aggregates with the remaining 80%, which contained a high volume of valuable recyclable construction materials was landfilled.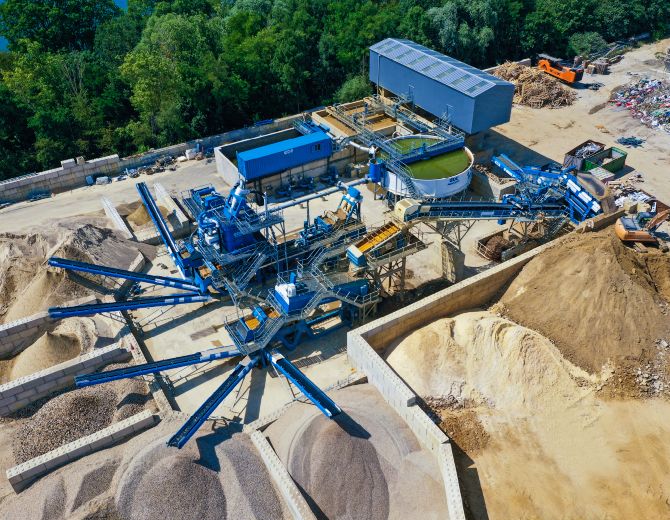 THE SOLUTION
Samples of feed material to be processed by the plant were tested and analysed by CDE process engineers in its laboratory to determine the reclamation potential of the incoming waste stream and the quality of its output.
The final solution incorporates a combination of CDE signature modular technologies, including the AggMaxTM modular logwasher setup for scrubbing and sizing and EvoWash™ sand classification and dewatering systems with integrated patented technologies, including CDE's Infinity Screen and Counter Flow Classification Unit (CFCU) for density separation, which efficiently separates materials of differing specific gravity to maximise the quality and value of feed stock.
Uniquely, the solution uses technologies usually used in the treatment of industrial sands, a first in Europe.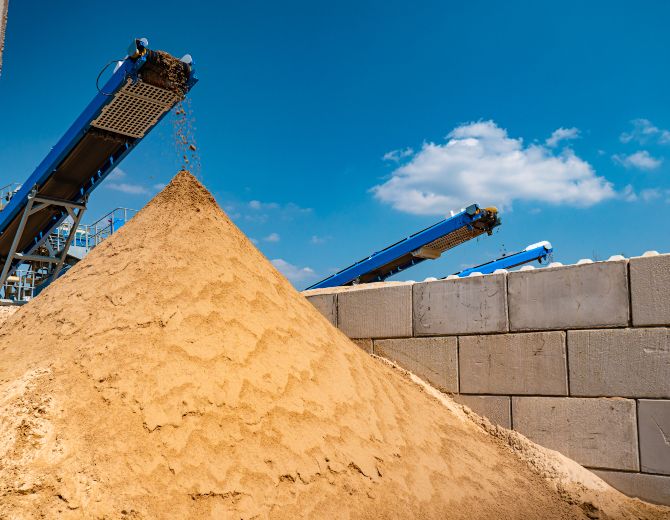 THE RESULTS
The solution designed for Sodextra not only allows for the recycling of C,D&E waste, but it also maximises water efficiency with CDE's AquaCycle™. In combination with CDE's Filter Press, the company has achieved a water recycling rate of approximately 96%, significantly reducing the need for top-up water supplies.
The plant is processing material that was once destined for landfill, achieving a 70% recovery rate and producing a range of products, including three different sands: a fine sand 0-250um, a 0-2mm and a 0-4mm; and three different aggregates: a 4-10mm, a 10-20mm & a +20mm aggregates, all ready for use in construction projects in the Paris region.
A filter cake product from the integrated CDE Filter Press also has applications as a waterproofing layer or for pipe bedding and landfill capping.
You May Be Interested in These Case Studies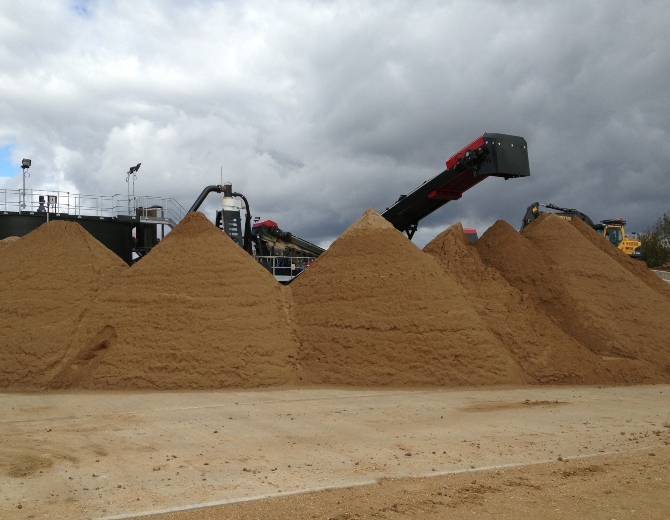 Smiths Bletchington
England
Material Sand & Gravel, C&D Waste
Output 2 Sands | 3 Aggregates
A 250 tonnes per hour turnkey sand & gravel washing plant in Oxford, England including the AggMax logwasher, EvoWash sand washing plant and Infinity screens.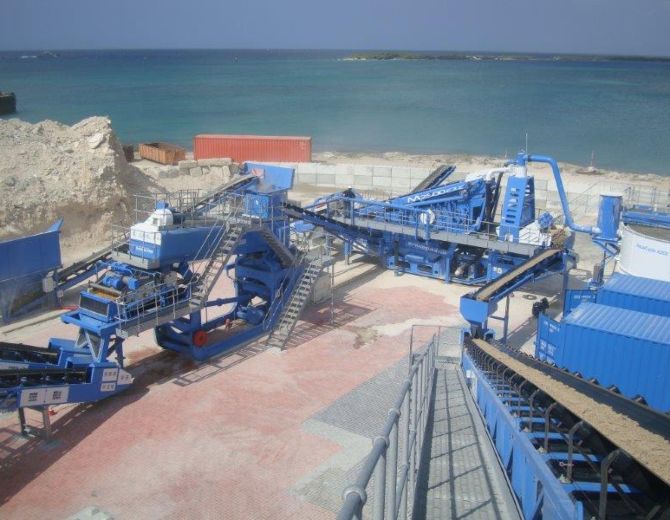 ATCO Concrete
Aruba
Material C&D Waste, Crushed Concrete
Output 1 Sand (-5mm) | 2 Aggregates (5-10mm, 10-20mm)
Located on the holiday island of Aruba, ATCO Concrete Products operate a turnkey waste recycling plant to process C&D waste for use in concrete production.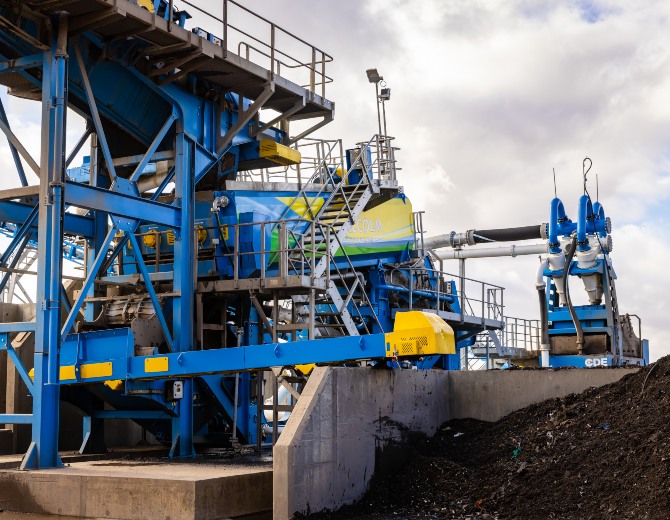 Skipway Waste Management

Northern Ireland

Material C&D Waste, Trommel Fines

Output Recycled Sand & Aggregates

End Use

Concrete Production,

Construction Bedding,

Drainage

Skipway Waste Management in Lisburn has commissioned the first trommel fines plant in Northern Ireland in a bid to push the boundaries in sustainable innovation

;