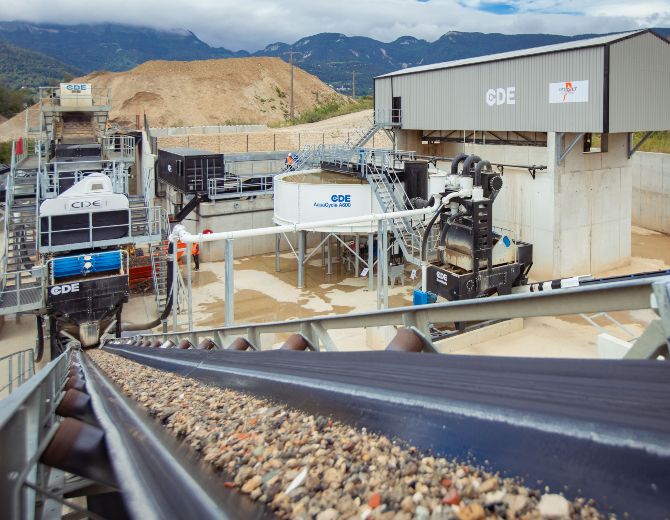 Engineered For Future Thinkers
As global leaders in materials wet processing solutions, we take great pride in the years of knowledge and expertise that our team possess. No other materials wet processing equipment manufacturer boasts more patents than CDE.
The following list outlines the products and processes that set the standard for our industry and are protected by patents around the world. CDE is constantly evolving and redefining materials wet processing and in addition to this list of granted patents, we also have several products and processes with patents pending.
CDE Granted Patents
Infinity Screens™ D-Line:
Trilogy side walls - GB 2505483, US 9643115 and CA 2882997
U-Span cross members - GB 2515489
Infinity Screens™ P-Line:
Trilogy side walls - GB 2505483, US 9643115 and CA 2882997
U-Span cross members - GB 2515489
Infinity Screens™ H-Line:
Trilogy side walls - GB 2505483, US 9643115 and CA 2882997
U-Span cross members - GB 2515489
Split bottom deck option for 4 products- US 10046365
Infinity Screens™ F-Line:
Feedbox design - GB 2503812 and US 9636688
Combined Screening / Dewatering - GB 2524651 and US 9409208 B2
Trilogy side walls - GB 2505483, US 9643115 and CA 2882997
U-Span cross members - GB 2515489
M1500 mobile washing plant:
Infinity Screens™ - As per Infinity Screens™ D-Line
M2500/M4500 mobile washing plant:
Jet pump technology - GB 2523657 and US 9764330
Swinging pump access - GB 2524249
E5 3 Deck screen chute designs - US 9776214
Infinity Screens™ - as per Infinity P-Line & D-Line Status
M5500 mobile washing plant:
Infinity Screens™ - As per Infinity Screens™ P-Line & D-Line
AggMax™ logwasher:
Integrated trash screens (R models) - GB 2548856B and US 10016764
H2-60 Split bottom deck option - US 10046365
Infinity Screens™ - As per Infinity Screens™ D-Line, P-Line & H-Line Status
EvoWash™ (101, 102 & 151):
Infinity Screens™ - As per Infinity Screens™ D-Line
FracLine™ FL300AC:
Technical Process - 3006112 (Europe), US 9744537 and US 9987637
Silica (Glass) Sands Process:
Technical Process for full process - GB 2546491 | US 10799880 | Australia 3405295 | South Africa 2018/04765 | Ireland 3405295
CONTAMINATED SOILS PROCESS:
Technical Process - GB 2584652
HYDRO EXCAVATION RECEPTION SYSTEM:
GB 2566260 | Canada 3065866 | Australia 2018280016
Attrition cellS:
Concentration: GB 2549290 | Europe 3231514 | US 10569308
Start up sequence: GB 2533597
COUNTER FLOW CLASSIFICATION UNIT (CFCU)
GB 2527381 | Europe 3017871 | US 9656270 | Australia 2015255200 | South Africa 2015/08264 | Ireland 3017871
Combo™ all-in-one wet processing plant:
Integrated materials washing and water treatment process - GB 2552042B
;