CQMS, Ireland's construction and quarry machinery show, will be even bigger and bolder in 2017 for Cookstown-based wet processing equipment company CDE Global. The world's leader in materials washing products, CDE will be exhibiting its staple EvoWash plant and a high tech screen from its new Infinity range on 21-22 April 2017 at Molloy's Quarry in Tullamore.
Purchased by long-term client Roadstone, a subsidiary of Irish CRH Group, a leading international producer of building materials, the EvoWash and Infinity screen will go about their washing duties on their Classis site in Co. Cork after an estimated 8,000 visitors have had the opportunity to discover - or re-discover - them at CQMS.
One of CDE Global's first and earliest customers, Roadstone has been using CDE washing equipment on most of their sites across Ireland since 2002. The original multi-sand plant sold for the Classis site is now being upgraded after 15 years of loyal services to Roadstone, having produced more than 3 million tonnes of sand for the construction industry.
Due to increased demand for product and the improved production offered by wet screening at the primary stage, Roadstone decided to upgrade their existing plant with an EvoWash 151 sand washing plant and an Infinity screen able to adapt to variations in feed contents. 450 tonnes per hour of raw sand and gravel material will be fed into the plant to produce 105 tonnes per hour of 0-4mm, 155 tonnes per hour of 4-20mm, 90 tonnes per hour of 20-50mm and 100 tonnes per hour of +50mm.
The washed materials will be used in the production of ready-mixed concrete, concrete blocks and blacktop. With a new and improved washing system, issues of downtime will be minimised. Infinitely ingenious High tech screening technology has become a must for washing plant operators who want optimal production results from a reliable range of equipment.
CDE invests extensively in its research and development department to remain ahead of the innovation curve, and with all products being manufactured and tested at its assembly facilities in Cookstown, Northern Ireland, reliability is guaranteed.
A case in point, the Infinity screening range was launched in 2016 and has since become one of the firm's most popular products. The Infinity screens' bolted construction eliminates the need for welds and the U-Span cross-members, in combination with the construction of the side walls, deliver higher specific stiffness that prolongs the working life of the screen. Cathal Lavin, Location Manager at Roadstone Classis, opted for the CDE inclined sizing Infinity screen with VibroCentric electric drive system. He explained: "Our existing multi-sand plant and dry screen have performed extremely well over their 15-year lifetime, but as construction technology evolves, so does demand for increasingly consistent sand gradings.
Given the increased requirement for sand and coarse aggregates for our downstream products, the time has come to grow our production capability. "As a result, we needed to upgrade in order to ensure that we achieve maximum TPH every hour and that our plant is capable of adapting to challenges such as variable deposit moisture content brought by weather and natural variations within the deposit. "We have nurtured a solid relationship of trust with CDE over the years and had no hesitation in turning to them for an upgrade of our existing CDE equipment.
CDE equipment is used across most of Roadstone's Sand & Gravel sites in Ireland and we have had the opportunity to witness the reliability and hard-wearing of the CDE offer." High tech for high quality production Kevin Vallelly, Head of Product Development at CDE commented on Roadstone's new Infinity screen with VibroCentric electric drive system: "A key success of the VibroCentric drive system is the harnessing of the power used and ensuring the maximum transfer of energy to the material being screened. "This system is employed on the Infinity P-Line range of inclined sizing screens.
A unique shaft design allows for a significant reduction in the weight of the drive system and the screen assembly which results in a significant reduction in overall power consumption. "As a result, dewatering performance is maximised to allow the final washed product to be ready for market straight from the belts." Cathal Lavin concludes: "We are very much looking forward to the upgrade of our CDE multi-sand plant. The new CDE EvoWash and the Infinity screen will overcome the challenges presented by increased demand and allow us to produce the required grades of clean sand and aggregates to answer our customers need for high quality building materials."
Visit the CDE stand in Zone 3 – Stand 1 on 21 and 22 April at Molloy's Quarry, Tinnycross, Tullamore, Co Offaly.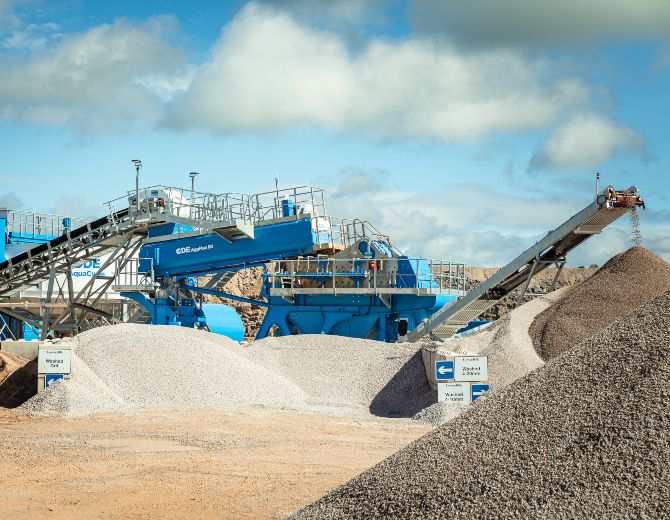 ;