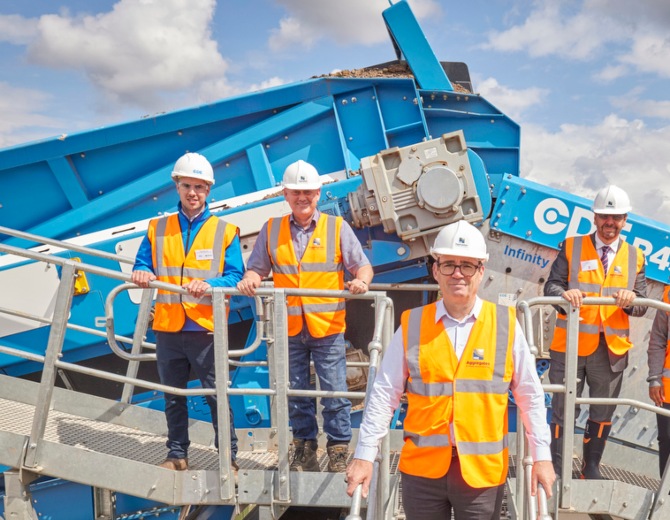 120tph C&D Waste Recycling Facility At NRE Aggregates
Andy Burnham, Mayor of Greater Manchester has visited our construction and demolition wash plant run by NRE Aggregates, part of regeneration business Peel L&P.
The new aggregate recycling facility repurposes demolition waste which would normally enter landfill to create sustainable aggregate products, contributing to the circular economy and reducing carbon emissions in the North West.
Mayor Burnham was hosted by The Peel Group Chairman, Mark Whitworth and Associate Director of Asset and Materials Management, John Peaker as they embarked on an interactive tour of the new wash plant, highlighting the positive impact it will make across the Greater Manchester economy.
Located near to the AJ Bell Stadium, the aggregate recycling facility works by separating gravel, sand, clay and other debris from materials which have been extracted from construction projects in Greater Manchester.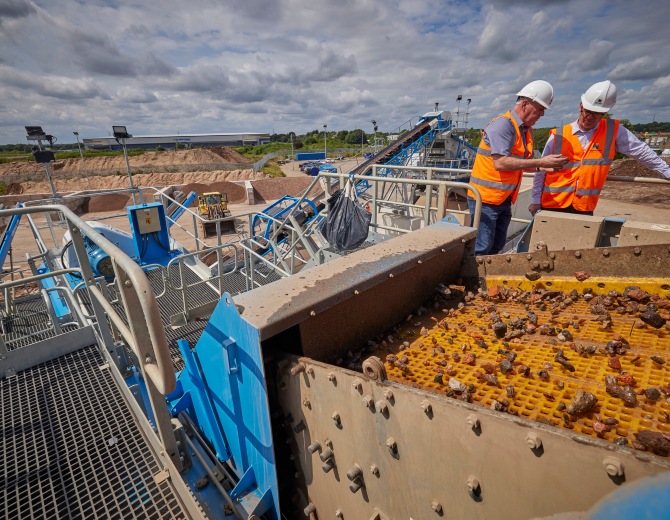 The Process
The process starts with the material being fed onto a conveyor belt towards a screen which separates out larger rocks and debris. The screened material is then processed through wash plant technology, developed by global processing experts CDE, the world's leading provider of wet processing solutions with applications across a wide range of materials within the natural processing and waste recycling sectors.
Water used in the process is recycled and clay is recovered by a filter press for use as fill material or flood defence works, subject to approval and testing.
The process recycles up to 99% of the waste material received at the site and deploys rainwater harvesting to recover water for reuse in the process.
After a tour of the plant and climbing the 15-metre-high structure, Mayor Burnham returned to ground to discuss the importance of recycling projects like the Port Salford Aggregate Recycling Facility with members of the team.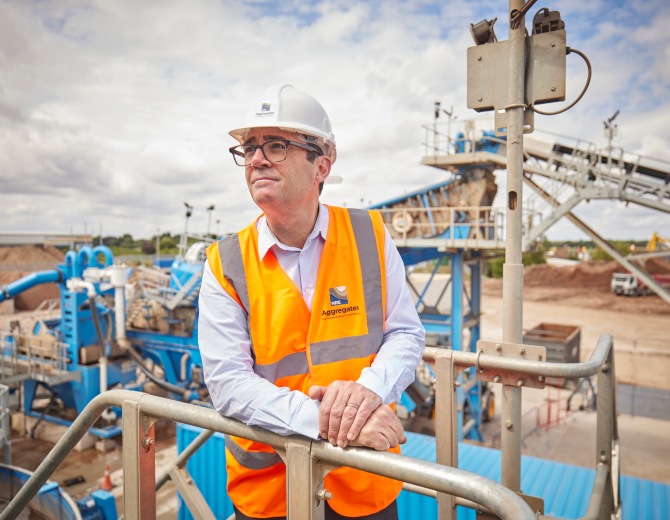 Promoting Sustainability
John Peaker, Associate Director of Asset and Materials Management at Peel NRE added:
"It was a pleasure to show Mayor Burnham our cutting-edge aggregates wash plant which can recycle up to 250,000 tonnes of construction, demolition and excavation waste per year.
"We want to influence the construction industry in Greater Manchester and the North West region to encourage the use of recycled aggregates wherever possible and to establish sustainable construction processes.
"Against a backdrop of high inflation and economic pressures, enhancing recycling in this sector will not only promote sustainability, but also reduce local construction costs for the long term."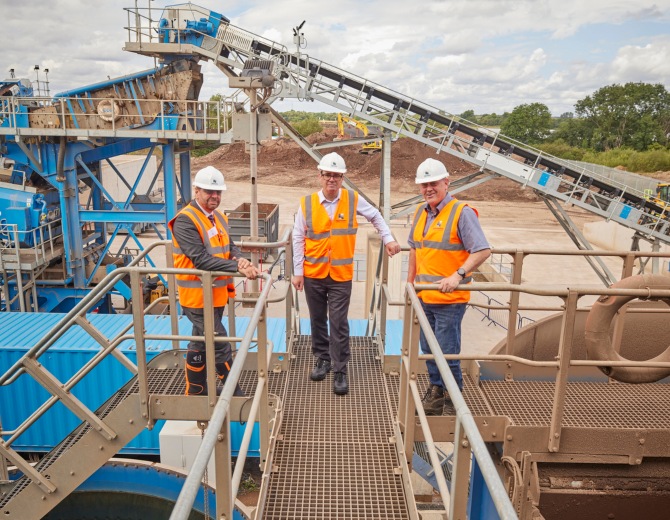 Creating our best world, a ton at a time
Michael Bibby, Business Development Manager at CDE Group said:

"Our purpose at CDE is to create our best world, a ton at a time and for NRE Aggregates it is to create a more prosperous and sustainable future for all. To that end, our two companies are both intently focused on building a greener tomorrow, so there is a lot of synergy underlying the partnership."

NRE Aggregates is working with industry experts and partnering with the next generation of innovative thinkers in recycling with the aim to continually improve and refine methods to reduce carbon emissions.

;