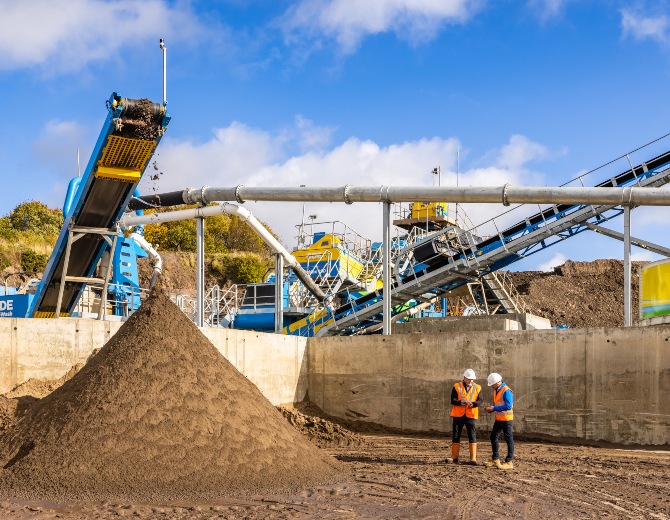 Engineered For A Sustainable Future
On Wednesday 7th and Thursday 8th September, Malcolm Construction are set to open their doors and demonstrate how CDE wet processing technology has supported their move towards a sustainable future.
A limited number of guests will have the opportunity to tour the wash plant and find out first-hand how the wet processing plant is helping Malcolm's save void capacity, extend the life of their hard rock reserves and produce a range of in-spec sand and aggregates.
Malcolm Construction, a division of The Malcolm Group, embarked upon their second project with wet processing industry experts CDE to install a 150tph construction & demolition (C&D) waste recycling facility at its Beith site that will assist in the development of sustainable business solutions.
They identified that landfill space for waste products they could not treat and repurpose was becoming limited. The company therefore set an objective to divert over 500,000 tonnes of material a year from landfill. In addition, Malcolm's sought to develop marketable and innovative solutions with a broad range of applications in the construction sector.
As the site is an existing hard rock quarry, which produces a wide range of aggregates, the solution developed by CDE can conserve their natural reserve and save tipping space.
REGISTER FOR TOUR
OPEN DAY DETAILS & GETTING THERE
When: Wednesday 7th and Thursday 8th September, 2022
Location: Malcom Construction Loanhead Quarry, Boydstone Road, Beith KA15 2JN, Scotland (view map)
This quarry is located approx. 11 miles from Glasgow Airport and is a 20-minute drive.
HEALTH & SAFETY:
This is a working site, please follow all health and safety requirements as advised during the safety briefing and stay with your guide at all times.

PPE – All visitors are required to bring steel-toe safety boots. CDE shall provide hard hats, high vis vest, eye & ear protection. Guests may bring their own if they prefer.

REGISTER FOR TOUR

; ;