In the first of a new series of innovation articles, we recently caught up with Darren Eastwood, Business Development Manager here at CDE to discuss more about the companies drive with innovation.
Engineers are always learning from human experience; whether that's how we use our cars, interact with a website or indeed our sand washing plants.
We have just launched a new CDE website, and its development has been driven by understanding our users' experiences, learning from those and designing a solution that fulfils their needs and expectations. This process got me thinking about how our engineers and designers drive innovation to improve our customers user experience delivering incremental improvements or disruptive change.
I'd like to kick off this innovation series, with my colleague, Kevin Vallelly, CDE's Director of Engineering, and demonstrate how understanding the user experience enables our teams to drive revolution through innovation.
In this blog, I'll explain the efficiencies we've achieved through our innovations in hydraulic classification for glass, frac, and recycled sands.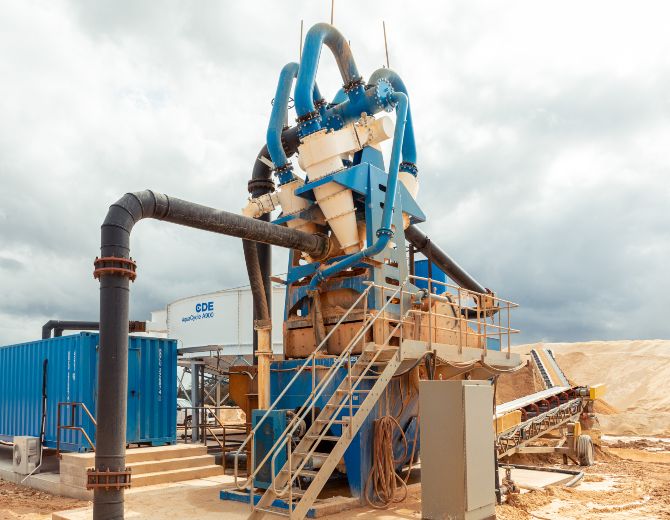 Hydraulic Classification
Counterflow classification is the art of preventing something that should sink, from sinking, for long enough to encourage something that doesn't float, to float.
In the world of washing materials and minerals, it helps us achieve so many processing functions that it's a regular feature in many of our solutions. Over the years we've used it for removing lignite, mica, hydrocarbons, organic contaminants and desliming clays. We have used it to split sands for specialist production, such as mortar, golf or frac, and it's removed the "belly" of sands (300-600 micron, or #30-#50) to achieve concrete specification. If only every belly was that easily removed.
Having stood on top of enough classifiers over the years, both to observe the classification, and get better phone signal, I began to wonder, if horizontal classifiers get a few bites at the cherry (…or a few cuts on the gradation), why can't we?
Every time material is processed it incurs a cost. It's power for a pump, or a wear on a component or a pipe; another bearing to be greased, or plant that needs walkway access. Through analysing each stage of this process and understanding our customers user experiences, we started to see where we could remove steps to reduce capital spend, impact operational costs, and improve output materials.
This understanding enabled our engineers to re-imagine how our existing classification solution could be set up and adapted. The subsequent innovation enables us to both deslime material (removing 0-150 micron, or 0-#100) and create a specific cut point (around 300-700 micron, or #25-#50), getting two solutions out of the same system, creating real efficiencies in the process.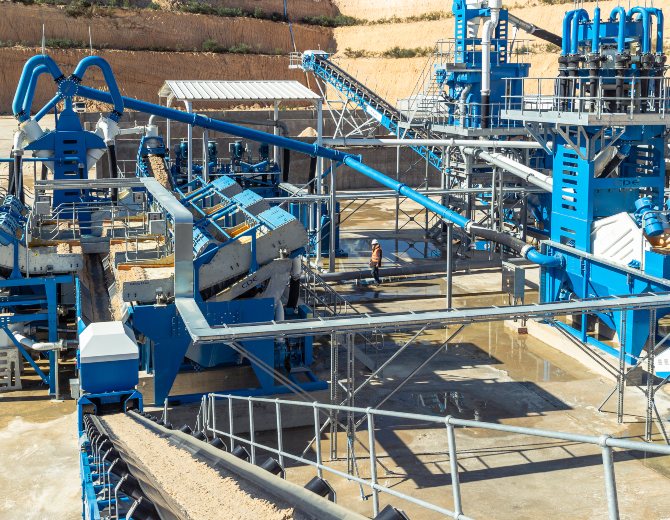 Glass sand production
Producing the correct gradation of glass sand, with the necessary clarity, is a tried and tested solution within CDE's back catalogue. However, this typically requires a combination of hydraulic classification and screening to achieve the required product specification. The high tolerance requirements of glass sand would normally require multiple processes to get this right, typically fine screening and classification.
However, with this more novel approach of hydraulic classification, our process can remove or de-slime the material in the 0-125micron (0-#120) sand product stream from the first stage. The second stage will then remove up to 125-500 micron (#120-#35) glass sand, thereby creating two material cut points within a fine glass sand feed, within the same system.
The footprint, power and operational savings make it a more attractive means of achieving this output. Importantly, it enables feed stocks, previously considered unsuitable, to be processed into a commercially viable product. On-site testing has not only proven processing capacity, but also accuracy of the split. Ranging from coarse classification (700micron/25 mesh) and down to basic desliming, the solution has shown that large portions of the gradation can be captured and reintroduced, in a controlled way, to achieve specification.
The tonnage capacity of this system has been tested to levels in line with the current alternatives and can achieve higher efficiencies, coarser cut points and will produce one extra product. The higher cut point achieved, closes the gap between conventional classifiers and screening solutions, meaning either fewer, or potentially no screens are needed. This will minimise downstream processes and handling such as wet or dry screening. The compact nature of this process reduces the footprint and cost, especially avoiding the need for walkways and reducing pipework, compared to equivalent solutions on the market today.
Figure 1 below shows the typical cut point results we can achieve. In this case unique feed materials have been tailored to make in spec glass sand.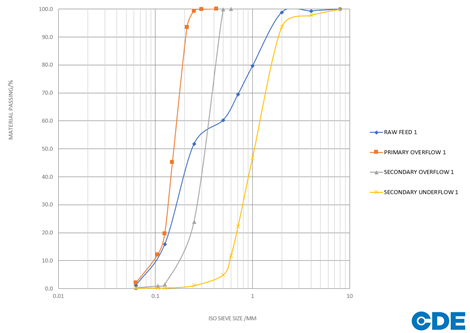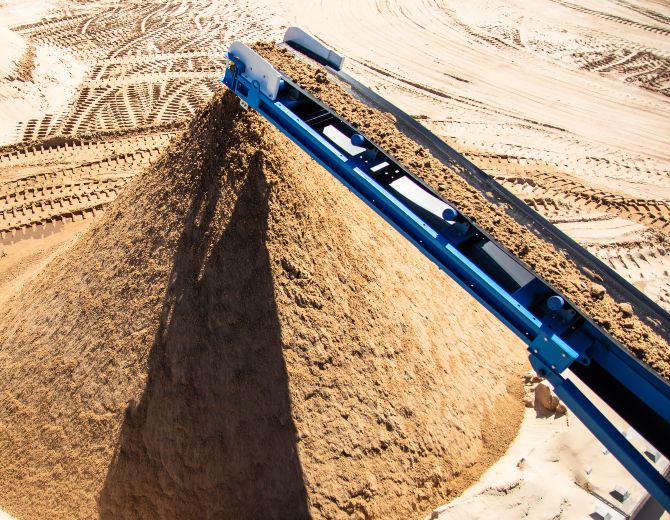 Frac Sand Production
The production of frac sand typically relies on screening to achieve the high grading tolerances required. Typical cuts, #40-#140, or even tighter #40-#70 / #70-#140 cuts, all require multiple stages of preparation before size and the turbidity can be dependably produced. By removing the extra step, CDE's innovations in hydraulic separation bring considerable cost savings before final dry sizing and injection into the well.
A tighter size fraction accuracy leads to improved efficiencies, meaning more yield in the final product and less waste to ponds or sludge treatment. The lower footprint and reduced power requirements all add up to significant savings.
The efficiency of our hydraulic classification results shows accurate and efficient particle separations, resulting in the reduction or removal of double handling and other downstream processes.
Whilst each site is different, 5-10% could be saved off capital expenditure and reductions of up to 5% off operating costs - considerable savings over the lifetime of the plant.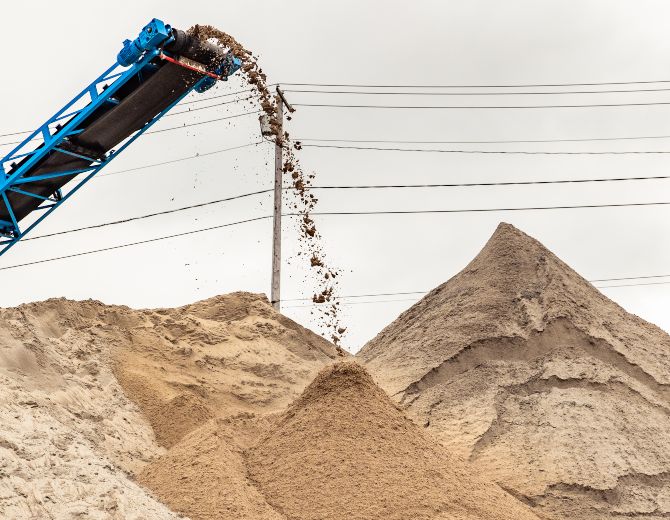 Recycled Sand Production
Within recycling applications, the need to treat scrubbed sand; to deslime, split and recombine, is often essential to achieve specification. CDE's waste recycling applications use multiple stages to dewater and decontaminate. Whilst a conventional CDE classification system will split and deslime sand, our hydraulic classification allows us to do so in the same system, creating three separate outputs, without the need for a second classification process.
We can determine where we want to target the higher cut point (typically 500-700 micron, or #25 – #35 Mesh). This allows inconsistencies in incoming excavation gradations to be split and recombined to ensure material remains in specification. This dependability of material gradations has been essential in ensuring widespread buy-in to the safe and responsible reuse of these recycled products. With recycled materials, it's true that you'll never have full control over the feed material, but you do have control on the outputs.
The ability to achieve these sand gradations, whilst taking a deslimed stream for further treatment, is another capital and operational cost saving.
The Future
Thinking about user experience made us consider - is there an even more cost-efficient way to achieve the same goal?

Introducing the Dual Stage Hydraulic Classification. This is one more tool in the CDE armoury that enables us to bring the right solution to the market in a more user-experienced-focused, cost effective, water, power and space efficient and low-wear manner – way.

In CDE we thrive on innovation and encourage innovators. We are always looking for people with a curious mindset, who look at things differently, to join our team. If that's you, visit our careers page and get in touch.

;