Major construction materials supplier, The Ashcourt Group, leads a sustainable future with CDE wash plant
Output
0-2mm soft sand and 0-4mm coarse sand | 4-10mm, 20-40mm and 40-80mm aggregates | Filter Cake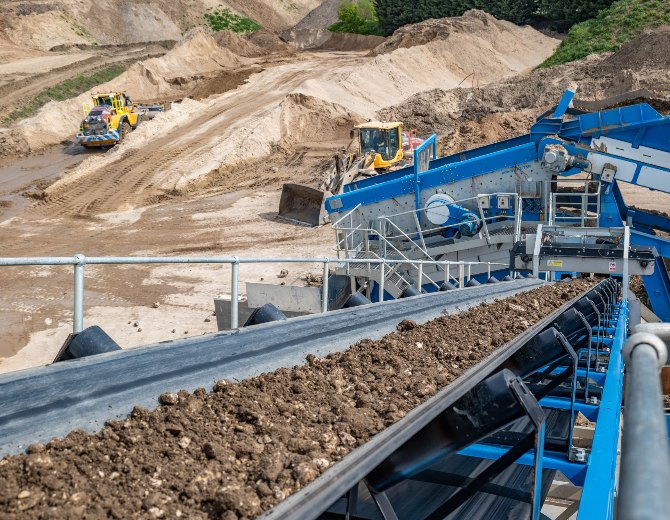 PROBLEM
Operating since 1996, The Ashcourt Group is a leading construction materials supplier throughout Yorkshire, Lincolnshire and the North East. The company operates a number of state-of-the-art wet batch concrete batching facilities which are some of the largest and most technically advanced concrete production facilities in their operating area.
In addition to this, The Ashcourt Group produces and distribute a wide range of high-quality aggregate products derived from a network of quarries, wash plants and overseas imports.
As one of the biggest concrete manufacturers and aggregate suppliers in their operating area, The Ashcourt Group wished to expand its operations with the integration of a new wash plant which will be used to support its existing concrete and aggregates businesses.
Commenting on the decision to invest in a CDE plant, Emily Summerson, Group Operations Director at The Ashcourt Group said: "As a market leader and innovator, The Ashcourt Group is forward looking and recognises the need to move towards providing more sustainable construction materials. There is a market shift in what customers are looking for, many customers now care about the green credentials of their materials and materials suppliers.  
"Additionally, it made sense for us as we are generating these materials which, without the wash plant, would have to be processed as a waste material, instead we are able to wash and recover a range of sand and aggregates in a well-placed location to serve the markets from Hull to York whilst diverting more waste from landfill."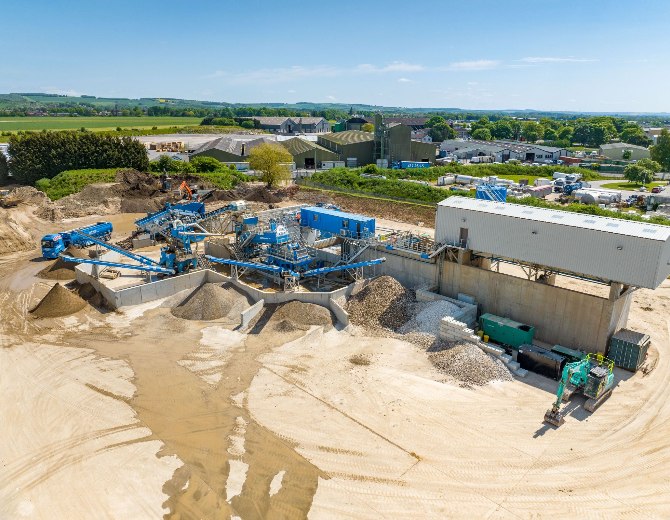 SOLUTION
The Ashcourt Group approached us to design a solution which would increase the amount of material they could process to meet current business and market demands.
Reginald Port, Director Ashcourt (Hull & East Yorkshire) said: "We spoke to some major suppliers and decided to opt for CDE based on their extensive experience with this type of plant. I visited a number of older CDE plants which have been operational for over a decade. We are interested in the lifetime of this investment, and we know that with CDE we have a long-term partner that will continue to provide support across the life of the plant."
The pioneering AggMax scrubbing, and classification system combines pre-screening, scrubbing, organics removal, sizing, stockpiling, fines recovery and filtrates removal on a compact chassis. The integrated trash screen allows for the effective removal of organics and other lightweight contaminants, ensuring the production of the highest quality final aggregates and mineral ores. 
The EvoWash sand washing system is engineered for in-spec sands with hydrocyclone technology and gives unparalleled control of silk cut points to produce quality materials and guarantees return on investment. It is also equipped with the VibroSync drive centre which distributes power evenly across the full screening area and ensures maximum transfer of energy to material for unrivalled dewatering performance. 
The integration of the AquaCycle technology is allowing the site to recycle more water, ultimately reducing energy costs. An alternative to water extraction and the costly process of pumping water to the plant, the AquaCycle minimises water consumption by ensuring up to 90% of process water is recycled for immediate recirculation.  
The filter press is designed and built to deliver maximum plant efficiency, eliminating the need for tailings dams or settling ponds which, in turn, significantly reduces waste handling. The filter cake contains 85% dry solids and can be used in several applications such as pond lining or landfill capping, eliminating waste disposal costs.
The plant also features AutoLime™ which controls the lime mixing process to ensure optimal delivery and efficiency.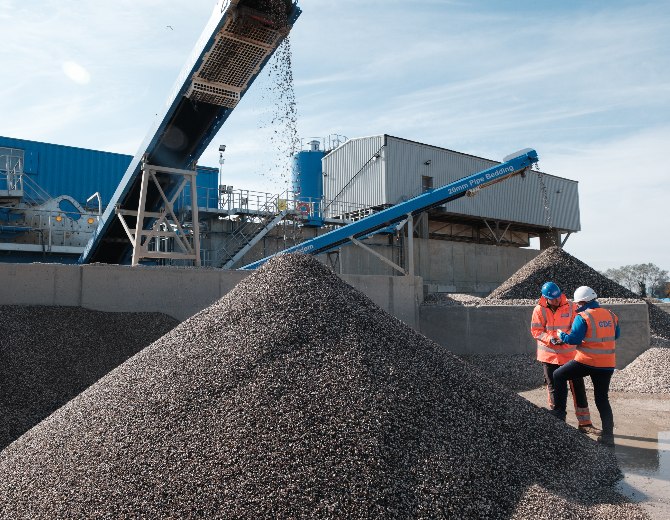 RESULTS
The plant is producing six final products (two sands; 0-2mm soft sand and 0-4mm coarse sand, and three aggregates; 4-10mm, 20-40mm and 40-80mm) as well as filter cake which will be applied in lining landfill cells.
With the opening of the new wash plant, The Ashcourt Group reinforces its position as a leading provider of building materials in the area and continue to stay committed to sustainability and environmental stewardship.
The wash plant investment is allowing The Ashcourt Group to build a circular economy business model and offer the full solution to its customers.
Discussing the value of the additional plant, Reginald Port said: "The wash plant has allowed us to keep our tipping reserve free and internalised a lot of spend which previously went to third parties, with the wash plant we are able to become increasingly more self-sufficient to supply our own construction projects and reduce costs. 
"The wash plant has definitely met our expectations, in fact, it has exceeded them with the specified tonnages. We thought 100tph would be top end processing, but we are regularly doing 115–120 tph and up to 150tph depending on the feed material. 
 Mike Bibby, CDE Business Development Manager said: "Plants like this are the future of the industry and a testament to Ashcourt Group's passion for diverting waste from landfill and creating a circular economy. It's been a pleasure to work with the team at Ashcourt to build a solution that aligns with their goals.
"At CDE we are committed to delivering quality products which stand the test of time. The Ashcourt Group was focused on investing in a plant which was going to be easy to maintain with quality long lasting components which CDE delivered. We look forward to working together with The Ashcourt Group team as they continue to grow."
Other Case Studies in UK & Ireland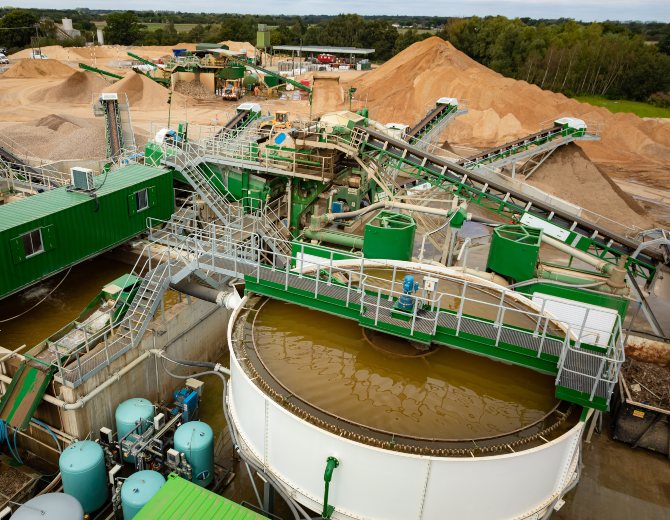 The SRC Group
England
Material C&D Waste, Excavation Waste
Output 2 Sands | 3 Sized & 1 Oversized Aggregates | Filter Cake
End Use
Concrete Blocks,
Concrete Production,
Paving Products,
Drainage Stone,
Permeable Sand
SRC invests for sustainable growth with CDE.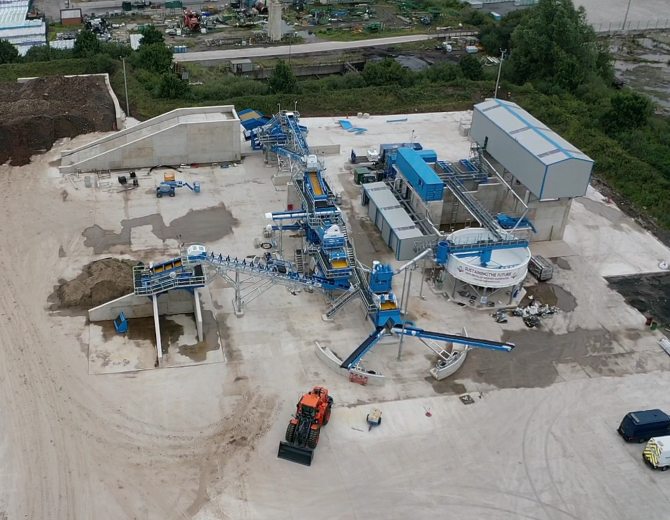 Ash Aggregates
England
Output 2 Sands | 3 Sized & 2 Oversized Aggregates
ASH Group extends sustainable waste management offering with invest in new CDE wash plant.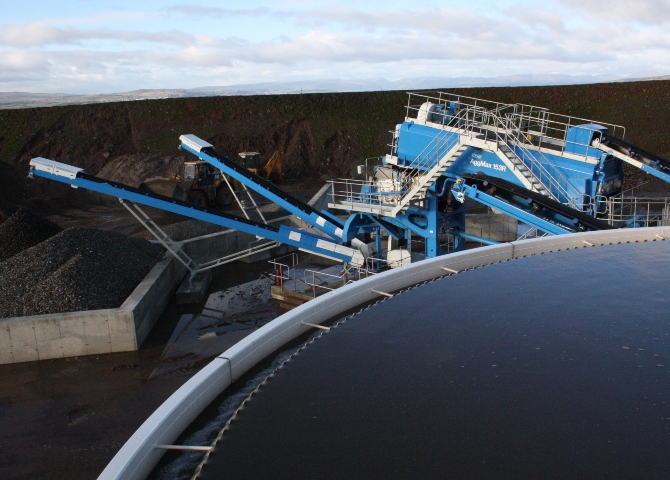 William Thompson & Son

Scotland

Material Excavation Waste, Non Hazardous Soils, C&D Waste

Output 2 Sands | 3 Sized & 1 Oversized Aggregates

End Use

Concrete Production,

Brick Paving,

Cable Sand,

Drainage Stone,

Pipe Bedding

This C&D recycling plant on the outskirts of Glasgow operates at a capacity of 120 tonnes per hour and includes closed circuit water treatment and recycling.

; ;