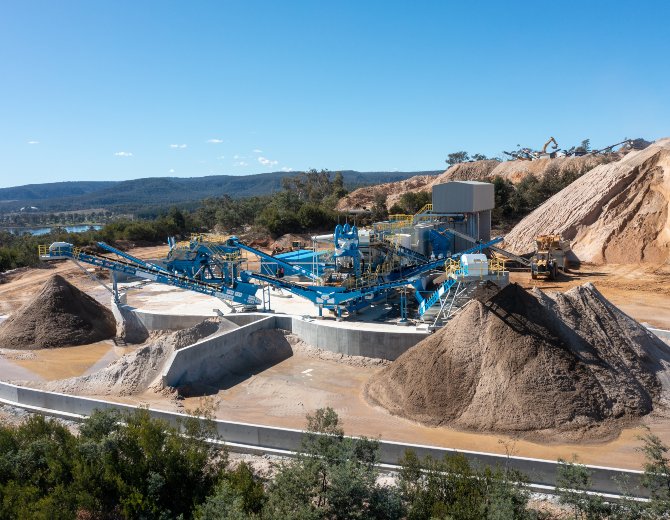 Co-Creating the right solution
Walker Quarries Pty Ltd, a subsidiary of Sitegoal Pty Ltd, mines hard rock quartzite, which is crushed on-site to make construction aggregates and manufactured sand, from its greenfield site near Wallerawang in New South Wales.
Currently on an expansion journey, the firm wanted to install a sand wash plant tailored to the quarry's needs, with particular focus on making two spec sands and discontinuing the use of tailings ponds.
The commissioning of the plant, which is located on the west side of the Blue Mountains, is the first stage in Walker Quarries ambitious 10-year growth plan which aims to increase its client base and expand into new material offerings. The plans for growth are underpinned by a new mining licence granted to the firm by the state government to produce up to 500,000 tonnes of aggregates each year.
A TAILORED SOLUTION
As part of the businesses development and growth, Walker Quarries consulted with our team to design and supply an end-to-end process plant solution, tailored to their specific needs.
Walker Quarries consulted with many suppliers over the world before ultimately choosing to work with us due to our experience in washing, dedicated local project management and aftersales support teams acting as a catalyst for the decision.
After meeting initially in 2019 at German trade exhibition bauma, the firms worked together to craft the right solution to meet Walker Quarries' needs.
Commenting on the process, Wayne Chapman, quarry manager for Walker Quarries, says that choosing CDE was definitely the right move for the firm.
"Since our initial conversations and discussions, we've been well informed, and appreciated the input that both of our teams had, tailoring our plant to our needs, whilst maximising efficiency and guaranteeing return on investment. It's been an exciting journey working with CDE and we know we made the right choice in partnering with them."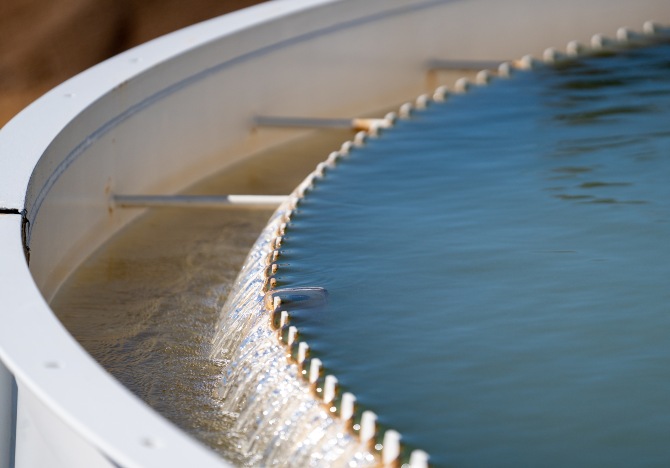 Addressing the problem
When collaborating on the solution, one of the big issues for the site was water scarcity and space available for settling ponds. The team at Walker Quarries wanted to make sure they could sustain the next drought, given the relatively limited footprint for catching rainwater.
Additionally, settling ponds used to recycle water can often encounter significant operational and logistical challenges as they can be the source of significant revenue losses, not only due to high maintenance costs, site footprint, and downtime, but also because high-value fines can become lost and trapped at the bottom of ponds.
As such, they wanted to reduce their dependence on water harvesting and maximise their water recovery which became an integral part of the design.
As well as this, the firm sought to increase plant capacity. The previous plant was allowing Walker Quarries to process 50 to 60 tonnes per hour on average, and with the desire to expand and grow, the team knew they needed to find a solution that would boost productivity.
Minimised downtime underpinning success
The plant comprises of our M-Series M4500 modular wash plant, an AggMax™ scrubbing and classification system, an AquaCycle™ high-rate thickener, and a filter press sludge dewatering system.
The solution has a feed rate of over 200tph producing an impressive range of products including two washed sands and six washed and scrubbed aggregates.
Our M-Series M4500 modular wash plant integrates feeding, screening, sand and aggregate washing and stockpiling on a single chassis with customisable hydrocyclone configuration for unrivalled cut point control to deliver consistently graded products. Appreciating the extremely abrasive nature of the coarse sand the plant would see, we also adapted it's Atro-feed jet-pump system into the sand plant to increase pump and cyclone life while reducing downtime and operating costs.
The EvoWash™ sand wash plant which incorporates unique VibroSync drive system to distribute power evenly across the full screening area and ensures maximum transfer of energy to your material for unrivalled dewatering performance, and is complemented by the AggMax which combines pre-screening, scrubbing, organics removal, sizing, stockpiling, fines recovery and filtrates removal on a compact chassis.
The AquaCycle™ is a high-rate thickener, recycling up to 90% of the process water for immediate re-use in the system, assisting Walker Quarries in maximising water recovery. The AquaCycle is designed to eliminate settling ponds and maximise efficiency.
Another feature of the plant is our CDE SmartTech plant management app, enabling the firm to understand their plants performance, as well as allowing the team to make informed decisions to increase productivity, improve operational efficiency and maximse up-time.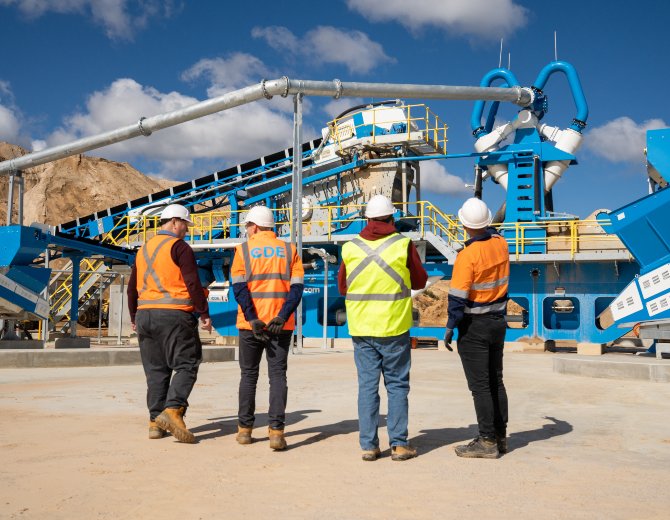 Proven results
With our technology, Walker Quarries is producing two sands; 0-3mm and 3-5mm, as well as six aggregate products; 5-8mm, 8-75mm, 10-14mm, 14-20mm, 20-75m and +75mm oversize.

The manufactured sand produced is used in the local construction industry and the fine sand and aggregates are being supplied for underlying football and cricket fields as drainage material.

With our technology, Walker Quarries is able to produce two sands simultaneously and seamlessly. With the previous plant, the firm would have had to switch out the screens to produce 2 different type sands which resulted in excess downtime, however with the new plant, this is no longer necessary, resulting in increased uptime.

Daniel Webber, our General Manager for Australasia, said: "It's been a pleasure getting to know the team at Walker Quarries. The whole team are passionate about becoming as efficient as possible whilst they continue on their growth journey. It's exciting to see this plant operational to really see the benefits it has, not only for Walker Quarries, but for the local construction industry and economy.

"We believe we've succeeded in achieving one of the firm's main goals in maximising water retention with our technology, which not only benefits Walker Quarries, but the local landscape as well.

"This project has been a huge success, and one that we're very proud of as a pioneer in the industry in New South Wales."

;