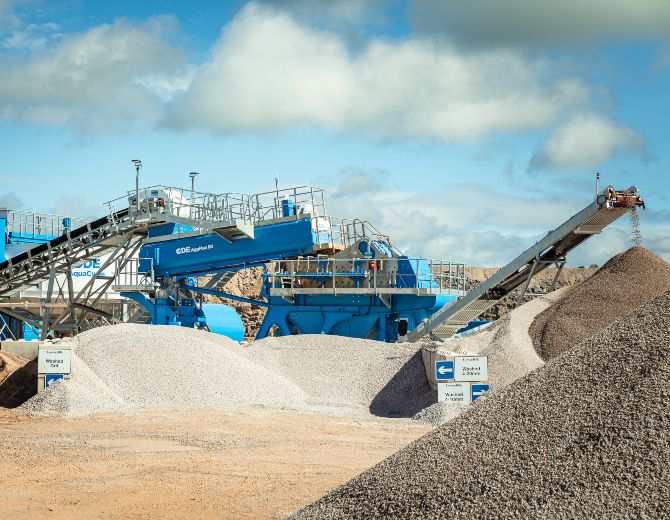 CREATING OUR BEST
CDE exists to create our best world through bold engineering in the waste recycling and natural material processing industries. To date we have successfully delivered over 2,000 projects in over 100 countries.
Our people have been central to our success, and will continue to steer the way for our future growth. We are committed to creating our best world, which means having a positive impact on our planet and creating platforms for our people. Across our global offices we have created a culture for the CDE family to shine and excel, ensuring we continue to lead the way with innovative wet processing solutions.
Continue on this page to learn more about the amazing talent we have across our business, and get some insight into life at CDE.

TRACY O'KANE
Go behind the scenes with our Technical Innovation Lead Engineer, Tracy O'Kane as she takes a trip to the Hillhead trade show in Buxton, UK. Tracy joined the CDE team at Hillhead 2022 as we welcomed a school group with the Institute of Quarrying to our stand, as well as participating in an IOQ campaign to celebrate International Women in Engineering on 23rd June.
Celebrating our women engineers:
Tracy was one of several of our female engineers celebrated in the 2022 International Women in Engineering Day. Read more...
VIEW CURRENT VACANCIES
JAMES HENDRON
Hear from our regional design engineer James Hendron who relocated from our global HQ in Cookstown, Northern Ireland, to our North American HQ in Cleburne, Texas. James has embraced the local Texas lifestyle and enjoys attending rodeos and other local events. His travels with CDE have seen him involved in installations across the Americas region, including some landmark projects, while he has also represented CDE at trade shows like ConExpo.
Watch the video to learn more about James' time with CDE...
VIEW CURRENT VACANCIES
EMMA WILSON
We caught up with Emma Wilson, a Flex Engineer in our flex department to learn more about her role. From working in our manufacturing facility to spending time in office with different departments both at CDE HQ and around the world, Emma and the flex team are involved with many parts of CDE.
Watch the video to hear from Emma and learn more about her flex role, and what else she gets up to when working at CDE.
JOIN OUR FLEX TEAM
Ryan Jackson
Project Design Manager, Ryan Jackson takes us into the life of a design engineer in the CDE team as we learn a bit more about his role in seeing our solutions go from concept on the screen to reality in our manufacturing facility. Ryan has worked across many projects during his career with CDE, and as he highlights in the video, it's always good to celebrate the wins!
Watch the video to hear from Ryan and learn more about his design role, and what he gets up to working at CDE.
VIEW OUR CURRENT VACANCIES