Official Office Opening Of Our Australia HQ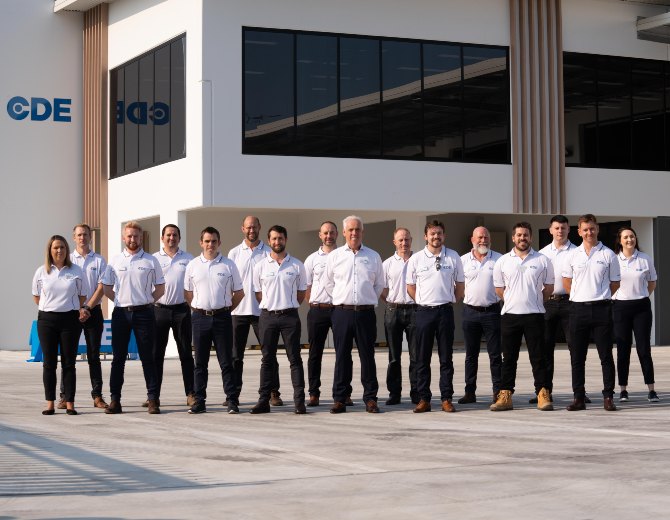 INVESTING IN OUR FUTURE
We are delighted to announce the official opening of our new Australian headquarters in Queensland as we commit additional resources to the local market.
Based in Stapylton, near Brisbane and Gold Coast, the new 2,900m2 site, complete with managed stores, is part of our wider growth plans and follows our announcement and commissioning of several new large-scale projects in the Australasian market.
We have steadily grown our local team to over 20, across business development, project management, installation, commissioning and aftersales support teams with plans for future recruitment underway.
We have designed and engineered over 60 projects across Australia, New Zealand, and Papua New Guinea, including turnkey solutions for Repurpose It – described as "Australia's most sophisticated resource recovery plant" – and Walker Quarries – one of the newest and most advanced quarry wash plants in New South Wales.
In 2022, we were awarded the contract to design, supply and install a state-of-the-art washing solution for Rino Recycling for the treatment of construction & demolition (C&D) and commercial & industrial waste materials at their Pinkenba site in Brisbane.
When operational, the new Rino Recycling plant will have the capacity to recycle more than 1.5 million tonnes of C&D waste material every year to recover high quality recycled sand and aggregates and supply the construction industry with a quality alternative to virgin quarried material.
Commenting on the opening of the new headquarters, our Australasian general manager, Daniel Webber, says: "Our purpose is to create our best world a ton at a time, and to do this we need to be supporting our customers to realise their purpose and vision. Support means being there when they need us, and that means having CDE boots on the ground.
"We have great confidence in the potential of this market and we're fully committed to supporting new and existing customers, whose trust in our expertise is key to making this very investment possible."
A world-class service to maximise plant efficiency
To minimise plant downtime, the investment in our new Australian headquarters includes the development of fully stocked and managed stores to house high-wear, consumable and critical plant components.

Peter Neely, our CustomCare Regional Manager for Australasia, says: "For the first time in the local market, we're able to offer readily available parts. Responsive on-the-ground support and locally available parts with short lead times means we are better equipped to strengthen our direct relationships with customers, ensuring their plants continue to run material at optimum efficiency to support a fast return on investment."

The company's pre-emptive and preventative approach to plant maintenance sees 1,000s of replacement parts readily available for immediate dispatch to customers throughout Australasia.

Webber adds: "Our approach to aftercare is designed to ensure our customers get the maximum performance from their CDE equipment. Central to this is having a direct relationship with customers and continuing to invest resources in the markets where they are based. Our investment in Australia is but one part of wider plans to invest in and resource our regional teams and offices to provide the best level of care possible to protect our customers' investments."

;