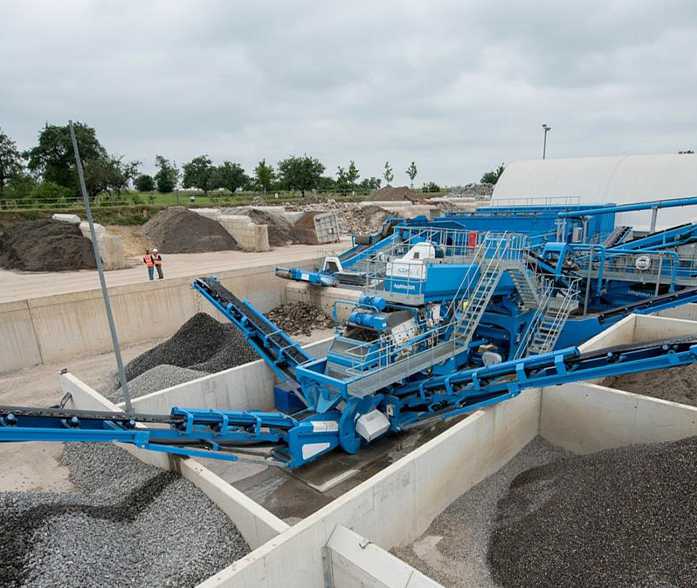 Innovative mobile screening unit processing 360m3 of tank cleaning waste to reduce operational costs & landfill disposal volumes.
Material
Sludge Dewatering
Output
Rag and Grit material
End Use
Pipe Bedding
Construction Products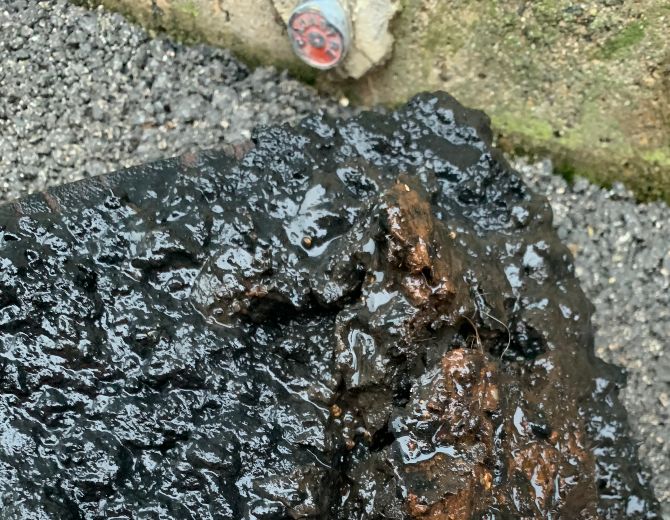 THE CHALLENGE
Freiburghaus AG is a family-owned company, situated in the canton of Fribourg, Switzerland. Operating since 1994 the company offers a range of services including transport logistics, waste disposal, skip hire, vacuum excavation and biogas/digestor plant cleaning.
The company is a key contractor to the biogas sector, specialising in tank and digester cleaning at waste water treatment and biogas sites. Biogas digestor tanks require periodic cleaning and emptying due to heavy inert material settling on the bottom of the tank. This sedimentation takes up considerable space in the tank and therefore reduces the production of Biogas. High levels of inert materials are also associated with increased wear and maintenance in the plant.
Challenges with traditional tank cleaning methods
Using traditional methods such as vacuum trucks removes the contents of the biogas tanks through large blowers and transports the material via container to a local landfill or incinerator site for disposal.
Before investing in the MSU:10 G – CDE's newest portable screen technology - Freiburghaus would typically decant and pump out the liquid on the upper section of the tank, then vacuum the inert rich sludge from the bottom of the tank. This method meant a high moisture content sludge was often being transported for disposal. Disposal costs in Switzerland are high and therefore fractions with high moisture are a costly disposal. Increasingly the incineration of highly liquid waste fraction is being avoided where possible at the waste incinerators.
THE SOLUTION
The MSU:10 G multi-purpose solution offers rapid solid/liquid separation on-site, across a variety of waste streams – and therefore proved the perfect solution for Freiburghaus. The MSU:10G was designed with adaptability in mind – it can be used across a variety of applications including: tank cleanout operations of sewage or digester tanks, gully waste and interceptor cleanouts and drilling mud processing and dewatering. The unit can also be held on site for back up and emergency screening as required.
The small footprint of the MSU:10G mobile screening unit ensures it can travel easily between sites – eliminating the need to transport waste to a central processing facility for processing. A key feature of the unit is the delivery and start up time, together with the rapid project time on site. This innovative technology ensures significantly reduced waste volumes are being sent to landfill or incineration.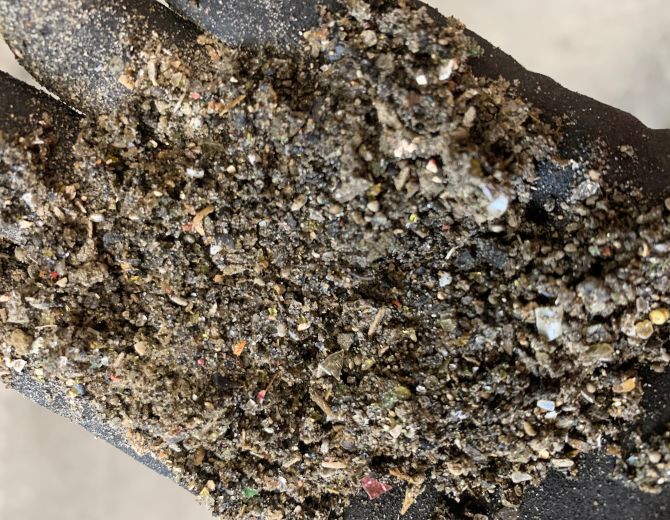 THE RESULTS
Freiburghaus AG is now able to process the entire contents of the digestor tank on site; dewatering oversize, inert material and pumping the liquid back into the wastewater treatment works in a continuous process. This results in two main fractions, a dewatered coarse oversize fraction which is organic rich and is typically destined for incineration and an inert rich fraction which through further processing can go into low grade fill applications or has applications in the cement industry. This results in only the organic rich material being transported to the incineration facility, cutting down on transport costs as less water and material is being transported.
Critically, disposal costs are also reduced as only oversize organic rich fraction is incinerated and the finer inert fraction is a perfect pre-sorted fraction to be upgraded in a larger processing facility. The MSU:10 G not only improves on site processes but it also has environmental impacts in reducing carbon footprint of material transport as well as the incineration energy requirements - who no longer waste energy incinerating the liquid material from the tanks.
Freiburghaus AG has recently completed a project in the Swiss capital, Bern, on a 54GW hours biogas plant which meets the needs of around 5000 households. The company is completing cleanouts on two of the large digestor tanks with process sludge from ARA Bern water treatment works and also organic waste from industry required cleaning. Around 360m3 of material from each digestor was processed through CDE's MSU:10G system. The inert rich fraction only has a small contamination of around 6% organics which can be further processed in Switzerland.
Saving cost and reducing landfill disposal volumes
Grit material from water treatment works should and can be reused in low grade applications. The MSU:10G is producing a dewatered oversize 6mm organic fraction which is typically sent for incineration, while the sand rich material can further processed, increasing the inert content and ensuring its reuse as a secondary aggregate such as in pipe bedding - significantly reducing operational costs. Erwin states the MSU:10G will enable Freiburghaus to be even more competitive in this field, reducing logistics and supporting the circular economy.
Discussing the importance of the first MSU:10G in Switzerland, CDE's Business Development Manager for Switzerland, Andrew Wilson commented: "Freiburghaus AG was looking for a solution to reduce its costs while meeting legislative requirements in Switzerland. The innovative design of the MSU:10G has proved benefits for the company and its customers. CDE has over 20 mobile tank cleaning systems in operation worldwide and we are optimistic in the future of the Swiss market having our first fully mobile system successfully operational in Switzerland."
You May Be Interested in These Projects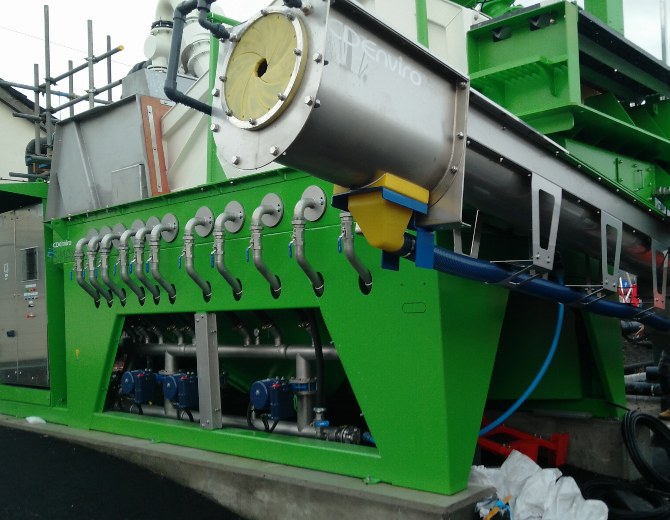 Scottish Water Cumnock
Scotland
Material Sludge Dewatering, Digester & Tank Cleaning
Output High Quality Sludge, Grit & Rag
End Use
Anaerobic Digestion,
Soil Fertiliser
Scottish Water continues to prove its commitment to innovation and resilience with investment in CDE S:MAX G at Cumnock.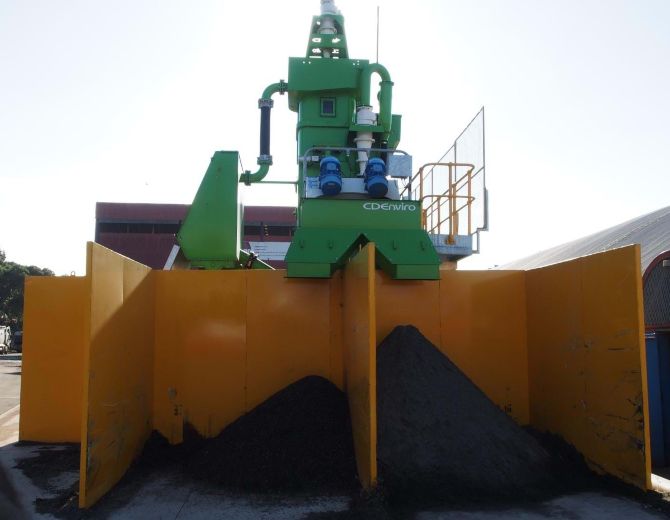 Conhur
Australia
Material Digester & Tank Cleaning
End Use
Compost Additive,
Pipe Bedding,
Bio Solids Generation.
Conhur has invested in a purpose built, state of the art plant for dredging and dewatering projects throughout Australasia.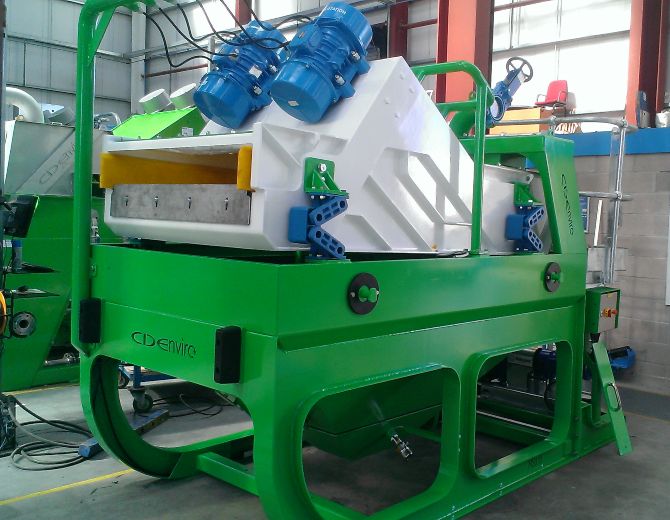 Granville Ecopark

Northern Ireland

Material Sludge Dewatering

Output High Quality Sludge Products

End Use

Anaerobic Digestion,

Soil Fertiliser

Granville Ecopark uses MSU:10 sludge screening technology to remove residual plastics and produce high quality sludge

;