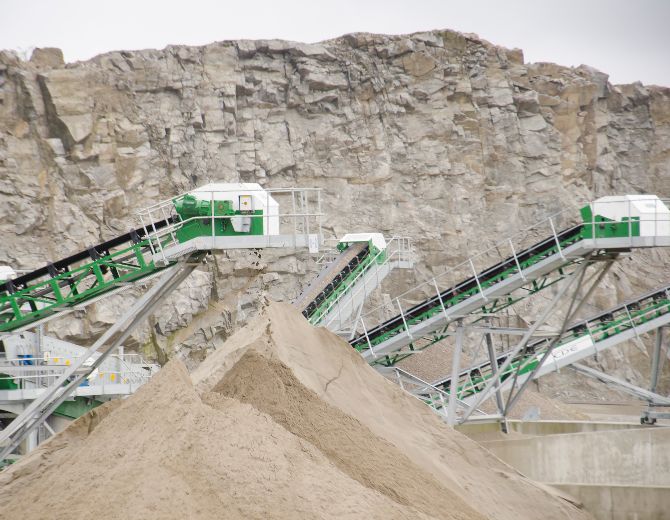 MOBILE, STATIC AND RADIAL CONVEYORS.
Our conveyors are tailored to your specific site requirements and equipment layout to maximize transfer point efficiency.
OPTIONS FOR YOUR EVERY NEED
Our conveyors can be tailored to your every need, we have a range of optional extras including belt weighers, galvanization, overband magnets to protect downstream processes, dust covers, metal detector, double sided walkways, motorized radial action, chevron belt and a wash box for fluidizing your material - rest assured that your conveyor specification will be tailored to the specific requirements of your project.
EASY MAINTENANCE
Integrated belt scraper and dirt disposal plate prevents material build up, therefore reducing time spent on maintenance. Central grease point ensures required maintenance is as time efficient as possible while also reducing the risk of the maintenance regime being incomplete.
SUITABLE FOR ALL APPLICATIONS
Belt scrapers available in a variety of materials to cope with a wide range of feed materials.
INCREASED STOCKPILE CAPACITY
Optional radial mechanism allows for increased stockpile capacity.
VARIABLE CAPACITY REQUIREMENTS
Variable belt widths available to cope with varying capacity requirements. Variable belt speeds allow for customization to your specific feed or stockpiling requirements.
MAXIMUM PRODUCTION
All transfer points with other equipment from the CDE range designed to ensure the efficient transition of material, minimizing spillage and therefore maximizing production.
TECHNICAL SPECIFICATIONS FOR OUR RANGE OF CONVEYORS
Conveyors

M1510

S1710

M1265

S1708

S2010

S2310

S2610

M1565

S2008

S2910

S3210

Feed Capacity (max t/h)
300
400
300
400
Total Power Requirement
11.0
11.0
4.0
7.5
; ;