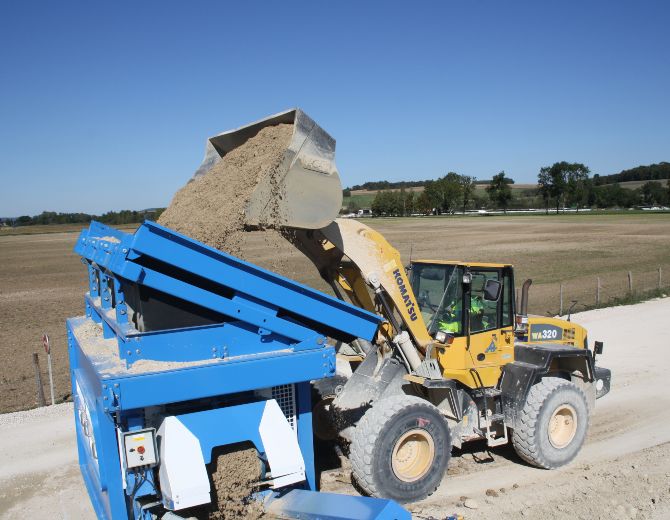 CUSTOMIZABLE FEED HOPPERS
The heavy-duty feed hopper units can be used for a wide range of applications including sand and aggregates, waste recycling, and mining.
EFFICIENT TRANSFER POINT TECHNOLOGY
Our transfer point technology – the material transfer points between the hopper and conveyor – is easily connected.
INTEGRATED BELT FEEDER
The integrated belt feeder ensures efficient transfer of material from the feed hopper to the next stage of processing. The heavy-duty belt is designed to deal with a variety of feed material types for maximum equipment life.
OPTIONS FOR YOUR EVERY NEED
Our feed hoppers can be tailored to your every need, we have a range of optional extras including an automated tipping feature and hopper lining depending on material abrasiveness or stickiness.
TECHNICAL SPECIFICATION FOR OUR RANGE OF FEED HOPPERS
| | | | | | |
| --- | --- | --- | --- | --- | --- |
| Hoppers | M14 | S20 | L35 | L45 | L55 |
| Total Power Requirement (kW) | 4.0 | 4.0 | 4.0 | 5.5 | 5.5 |
| Weight Empty (tonnes) | 7 | 9 | 11 | 14 | 13 |
| Bin Capacity (tonnes) | 11 | 20 | 30 | 44 | 48 |
| Weight Full (tonnes) | 18 | 29 | 41 | 58 | 61 |
; ;