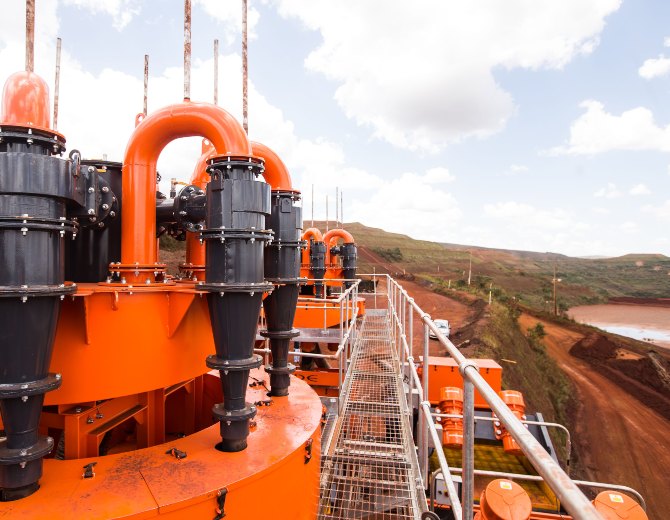 Engineered Solutions To End Tailings
Our energy-efficient processes enable recovery of high value minerals from waste stockpiles or tailings, whilst our water management technology allows you to reduce or totally eliminate the need for tailings dams.
At CDE we have made it our business to protect, preserve and reinvigorate the environment using the most sustainable methods. Pioneering a new era of mine waste management, we engineer custom solutions to re-purpose materials previously deemed unusable.
These innovative technologies not only have a positive effect on the environment but unlock new revenue streams for our customers, proving that good environmental practice makes good business sense.
The Challenge With Tailings Dams
Tailings from mining operations are usually stored in large tailings dams as a slurry that contains the waste materials from the beneficiation process. This slurry includes mineral material, metals and any reagents used in the beneficiation process.
Acid generation and metal mobilisation increase within the tailings dams because of the exposure of the tailings to air and water. This can lead to run off or seepage which causes a phenomenon known as Acid Mine Drainage (AMD) or Acid Rock Drainage (ARD).
This is one of the main areas of concern for the mining industry at present and as such mine operators are increasingly adopting alternative means of tailings disposal to minimise the impact of the mining operation on the external environment and comply with increasing regulation and legislation in this area.
We offer a range of equipment for the classification and thickening of your tailings to help unlock the value in the tailings and ensure a safer mine for both the environment and your operations.
Modular Tailings Dewatering Solutions
The key to unlocking this value is through a combination of washing, scrubbing and classification or by isolating those difficult to remove fractions using our modular tailings recovery systems.
High value ore is recovered through separation of fine ore fractions from slurries or ponds, while coarse fractions are washed, scrubbed and separated from waste feeds.
Following this additional filtration processes can be employed to maximise the removal of water from your tailings.
This will include the introduction of our filter press or decanter centrifuge systems. Your customised tailings management system will include a variety of processing phases and these will include:
Fines Management - recover material for further use and minimise waste volumes
Primary Water Treatment - recover up to 90% of your process water for recirculation to your ore processing plant
Final Tailings Dewatering - the only waste product is now a filter cake with dry solids content of 80%, effectively eliminating the requirement for tailings dams
Dewatering Concentrate - The filter press can also be applied in the processing of a variety of ores for the dewatering of the concentrate in preparation for further processing – some examples are gold, copper, zinc, lead and silver.
Talk to our team of washing experts today to see how we can help you with your mine tailings challenges.
You May Be Interested in These Projects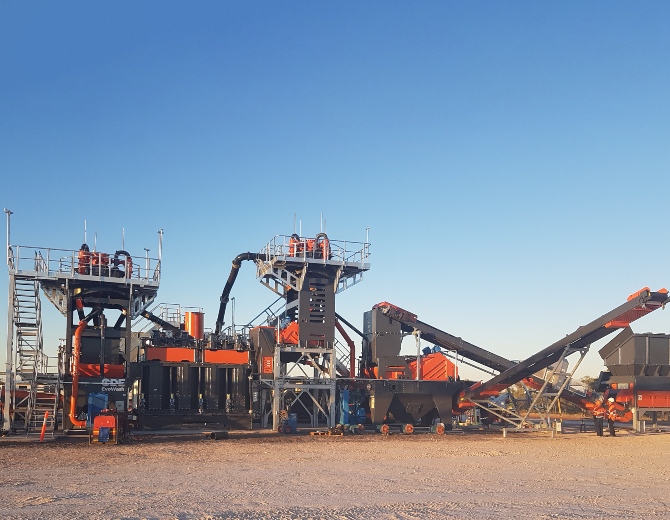 Centrex Metals
Queensland, Australia
Output Premium 35% P2O5 | Ultra-low Cadmium Phosphate Rock Concentrate
State-of-the-art 70tph wet Processing Plant that will produce phosphate concentrate, a sought after commodity in the agricultural industry.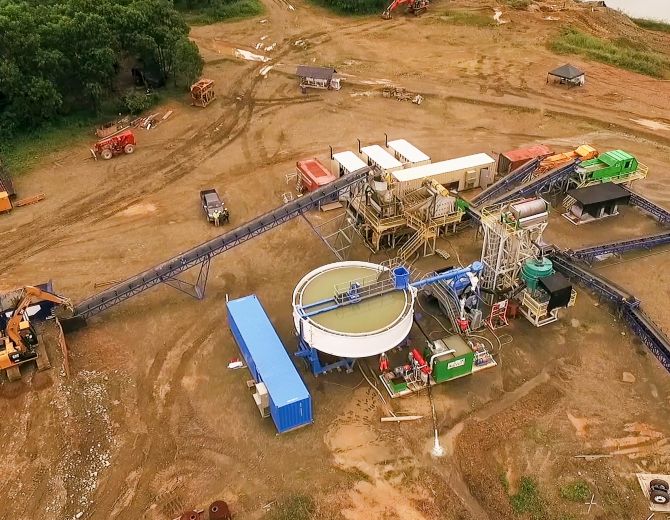 AuVert Mining Group
Condoto, Colombia
Material Other Minerals & Ores, Alluvial Gold
Output Alluvial Mining of Precious Metals
End Use
Precious Metals
Land Rehabilitation
Precious metals industry and & returned land in a suitable condition for agricultural purposes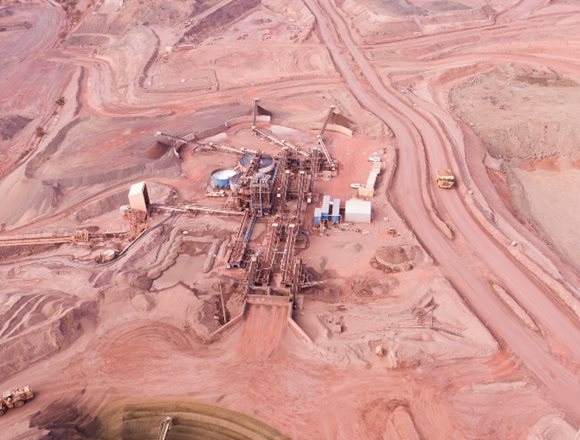 SIMEC
Australia
Output Iron Ore (silica and alumina reduced from feed material increasing Fe content to over 60%)
950tph iron ore beneficiation wet processing project in South Australia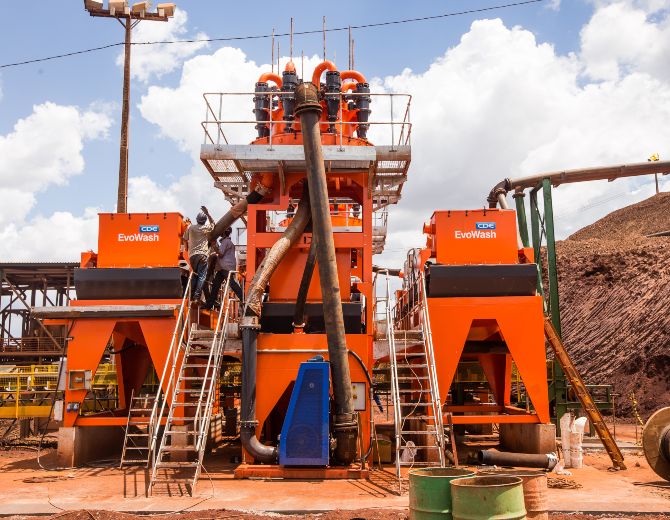 Modular Tailings Management Solutions
Our modular mining solutions for mine tailings are in operation across many mine sites around the world, helping operators divert tens of thousands of tons of materials from tailings dams every month. This is reducing the need for large tailing dams and allowing mine operators to rehabilitate land for other uses.
We do this through:
Efficient slimes removal – our hydrocyclone technology removes clays and slimes from the coarse fraction and send to the AquaCycle thickener.
Minimizing mine waste - An enclosed Filter Press with cloth wash system ensures the only waste product from your operations is a filter cake which can be dry stockpiled, totally eliminating the requirement for tailings dams.
Advanced dewatering - Using our Infinity Screen technology we efficiently remove the remaining process water allowing the coarser fraction to be dewatered and stockpiled.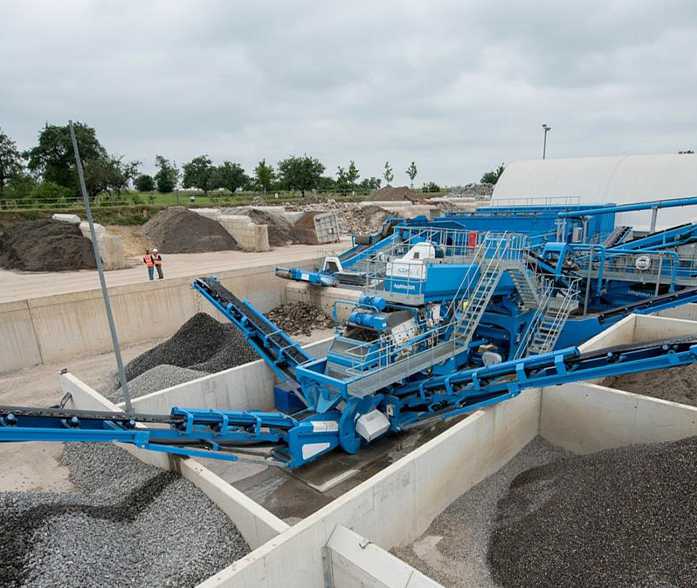 ; ;