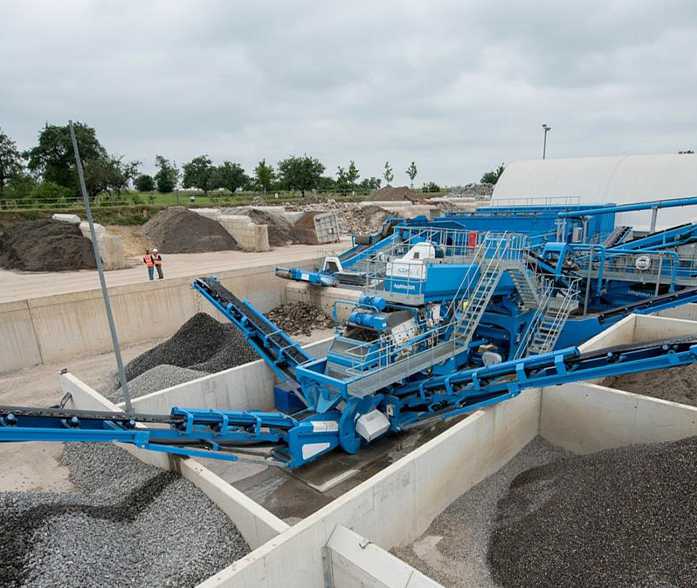 The Ruttle Group of Companies invest in 80tph CDE wet processing technology.
Material
C&D Waste, Excavation Waste
Output
2 Sands | 3 Sized & 1 Oversized Aggregates
THE CHALLENGE
The Ruttle Group of companies, one of the North West's leading suppliers of recycled aggregates, has invested in a new CDE recycling plant for its Chorley Waste Transfer Station site. The new wash plant will produce 170,000 tonnes of recycled aggregates each year for the construction industry in the North West of England and across the UK.
The investment signifies a further expansion by the company and the growth of its recycling and aggregates division. The business was founded in 1958 and began by renting agricultural equipment to the farming community before extending its operations to earth moving, excavating, civil engineering and landscape work.
Traditional waste transfer methods
Prior to the investment in the CDE waste recycling plant Ruttle had traditionally segregated and stockpiled its incoming inert material from construction sites in and around the Chorley area, or crushed and screened it for low-grade reuse. Ensuring consistency in output materials on site was challenging, and with incoming volumes of remediated soils rising the company saw the opportunity to supply the market with a higher quality of washed and recycled sands, gravels and soils. The traditional methods, while adequate, were limiting the reuse potential of both the outputs and company.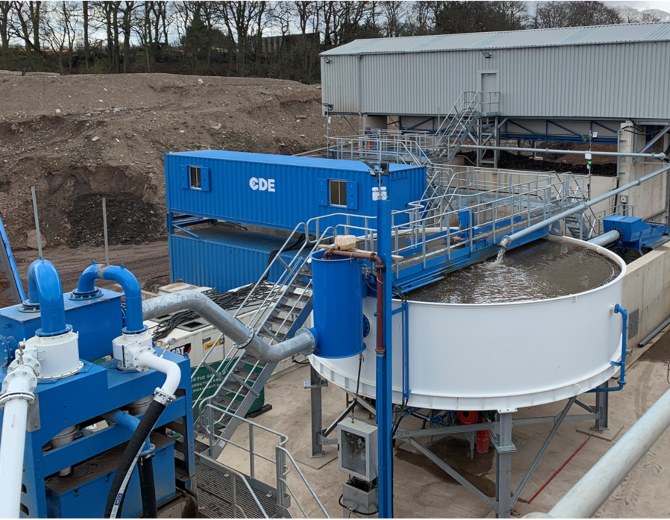 THE SOLUTION
In collaboration with Ruttle, CDE co-created and delivered a bespoke wet processing solution to meet its on-site requirements and commercial needs. The turnkey solution will effectively process the incoming inert material to produce high quality recycled aggregates.
The 80 tonnes per hour wash plant includes a R4500 primary scalping screen, AggMax™ modular logwasher, EvoWash™, AquaCycle™ and Filter Press. CDE's patented R4500 was created to handle the most troublesome materials – including heavily clay bound rock and gravel offering high energy screening of material before it enters the AggMax™ Logwasher for scrubbing and classification. Fines are passed to the EvoWash™ unit, a high-frequency dewatering screen with hydrocyclone technology, providing precise control of silt cut points and eliminating the loss of quality fines producing a range of high-quality sands.
The new Ruttle plant also incorporates efficient water recycling with the A400 AquaCycle™ thickener which ensures up to 90% of the process water can be recirculated back into the system, offering Ruttle a fully integrated primary water treatment solution. The AquaCycle™uses a flocculant to separate clean water from the solid particles. The remaining solid particles form a sludge which is dried further in the Filter Press, the final stage of the process. The Filter Press recovers any remaining water for recirculation and creates a dry filter cake that can be used for pipe bedding and landfill capping, the CDE turnkey solution ensures waste volume is minimal.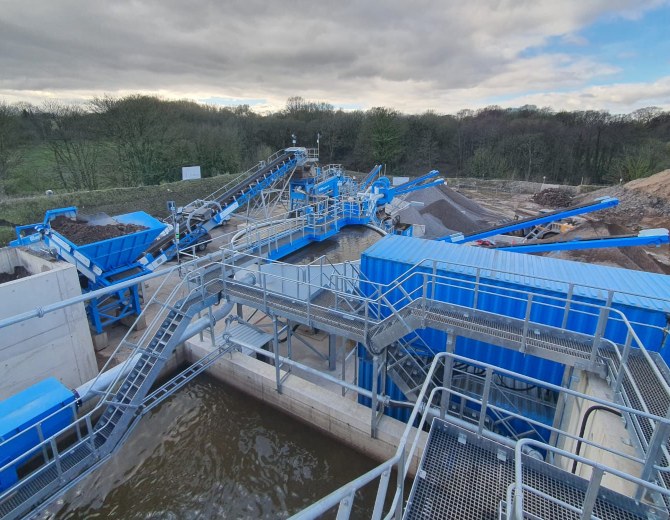 THE RESULTS
The new CDE wash plant will produce a clean, certified recycled product for Ruttle, while enabling the company to achieve greater control of the material specification something that has become a critical part of its business. "We are able to increase supply to our current market and customers while exploring new opportunities for the recycled material. We are pleased to be able to divert high volumes of material from landfill while seeing huge benefits to our on-site operations," Gareth Ruttle, Managing Director of Ruttle.
Ruttle will now produce two sand products 0-4mm, three aggregates 4-20mm and an oversized product. Ruttle Group is meeting both its commercial and environmental aims – creating high value recycled products which has opened new opportunities. A sustainable approach to waste transfer is something the company is dedicated to achieving, the addition of the new wash plant will further demonstrate the company principles and help its customers achieve a more environmentally friendly solution within the construction industry.
Discussing the new project, David Kinloch, CDE Director of Business Development – UK & Ireland commented, "We're delighted to work with Ruttle on this new project, the turnkey solution will increase the volumes of material the company can process and maximise recovery of quality recycled sand and aggregates as a sustainable alternative to diminishing virgin materials."
You May Be Interested in These Projects
Our Recycling Corp.
United States
Output #4 minus sand, 3/8"-1" aggregate & 4 – 3/8" aggregates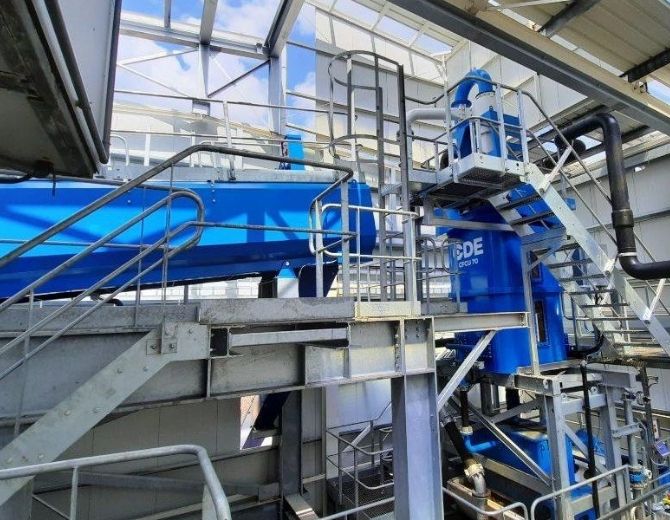 De Bree Solutions
Belgium
Material C&D Waste, Excavation Waste, Contaminated Soils, Road Sweepings & Gully Waste
Output Recycled Sand & Aggregates
End Use
Concrete Production,
Construction Products,
Drainage Works
De Bree invest in bespoke CDE wash plant to tackle a wide range of waste streams.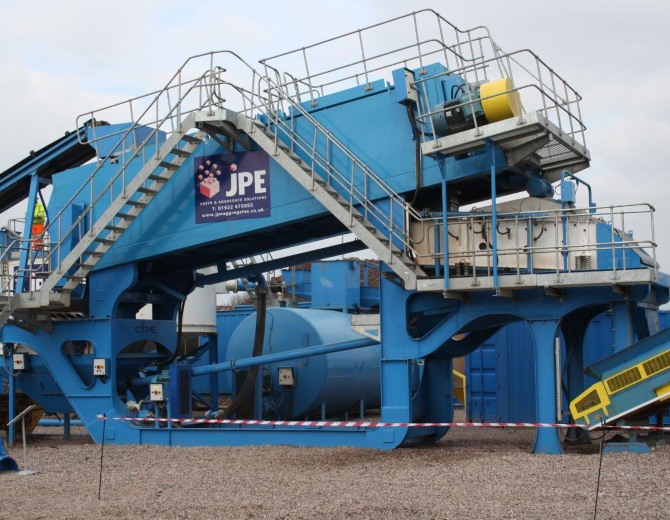 JPE Aggregates

England

Material C&D Waste, Non Hazardous Soils

Output Recycled Sand & Aggregates

The level of demand for the recycled sand and aggregate products from this plant suggests that C&D recycling plants offer a real solution to a diminishing supply of virgin material in the UK.

;