Danoher Increases Production by 30% with CDE Cyclone Technology.
Material
Sand & Gravel, Quarry Waste, Crushed Rock
Output
fine sand (0 – 1.5mm) | coarse sand (0 – 5mm)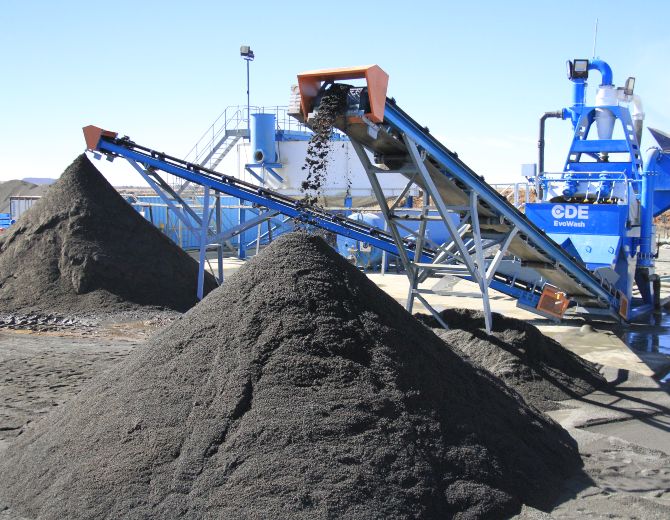 THE CHALLENGE
Johannesburg-based materials processor Danoher, which operates the Bloemspruit Quarry, has reported a 30% increase in production with the support of the latest CDE wet processing technology.
Bloemspruit Quarry is Danoher's flagship commercial operation supplying Bloemfontein and the surrounding areas with high-quality construction aggregates. The company, which offers among other services crushing and screening solutions, was operating traditional bucket wheel technology at its Bloemspruit site.
Once widely adopted in the materials processing industry, at a time when sand resources were abundant and construction materials commanded a high price tag, bucket wheel technology is now being replaced by more advanced and efficient technological solutions.
"This technology is increasingly under the spotlight for many materials processors who are seeking to address inefficiencies in their operations," says Ruchin Garg, Regional Manager for Middle East & Africa.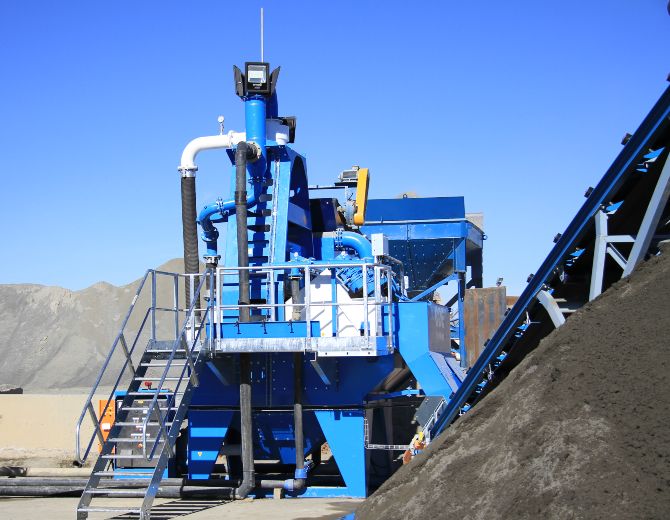 THE SOLUTION
The solution, Garg says, is cyclone-based technology. "High and variable moisture content, the loss of quality fines to settling ponds, inaccurate material classification. These are some of the many shortcomings stemming from bucket wheels that are addressed by CDE cyclone technology."
Cyclone technology, Garg explains, involves the use of centrifugal force to classify materials as opposed to bucket wheels which rely on gravity as the means of separation.
Commenting on the then-existing plant set-up at Danoher's Bloemspruit Quarry, Garg says the outdated technology had further limitations that were impacting the business and restricting its growth potential.
"This is a very competitive market," Garg explains, "The demand for high-quality washed sand and aggregates is high. In order to fulfil that increasing demand and grow your business, materials processors need to ensure they're extracting every valuable grain of sand from their feed material. To achieve that, an efficient plant is a must.
"Not only was Danoher losing valuable fines to its settling ponds but the gearbox in the unreliable bucket wheel was prone to failure leading to significant downtime and putting the business at a competitive disadvantage."
To overcome these challenges, CDE recently commissioned a 60tph EvoWash™ 102 fine classification system at the Bloemspruit Quarry.
Danoher Business Manager Johann van Niekerk says as an industry leader, the company makes use of the most advanced equipment technology and was exploring various solutions to replace the dated bucket wheel.
"We evaluated the CDE wet processing technology at one of our customer's sites where the company's EvoWash sand washing plant was in operation. It was a major asset to them, and we saw an opportunity to integrate similar technology at Bloemspruit."
Van Niekerk says they also sought to differentiate Danoher from other materials processors in the market.
"We needed something that is was more suited to our requirements, a solution that offered us greater product flexibility. We wanted to stand out. To grow the business, we needed to differentiate ourselves from the competition while simultaneously producing a superior product for our customers."
CDE's EvoWash™ , Van Niekerk says, compared to its previous bucket wheel, offers Danoher greater versatility." Demand in our local market is driven by washed sands. With our new EvoWash we're producing more sand than ever before."
Van Niekerk continues, "More control over our cut point means we're also better equipped to be more responsive to the needs of our customers as we can produce sand fractions in line with their own requirements or downstream processes."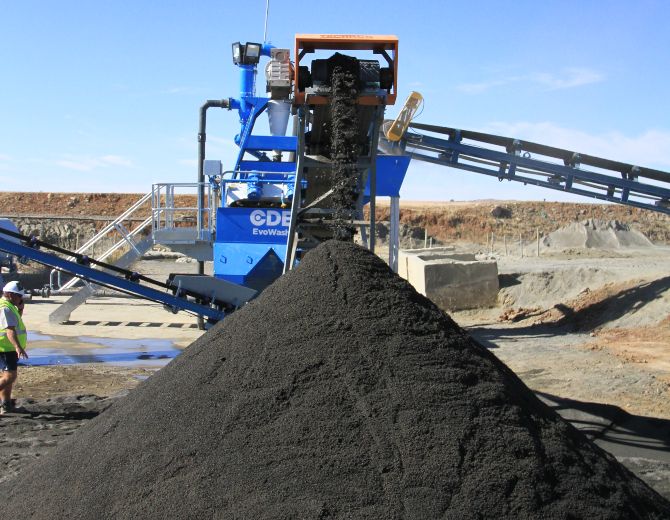 THE RESULTS
With the support of CDE cyclone technology, Danoher is now producing two grades of sand – fine (0 – 1.5mm) and coarse (0 – 5mm) – compared to only the one grade of sand its bucket wheel was capable of producing.
"Our production is up by 30% and water usage down by 15%," says Van Niekerk. "This has opened up a new revenue stream for us and the superior products are attracting new customers, too."
He says the quality of the sand produced by the EvoWash is equal to that of natural sand. "We recently secured an order for 600 tons a month of washed super sand from one customer whose sand was previously dredged from riverbeds," says Van Niekerk. "This is a testament to the quality of the sand being produced by the EvoWash."
According to another of Danoher's largest customers, its sand product is now the "most consistent washed crusher sand in the market" in Bloemfontein.
You May Be Interested in These Projects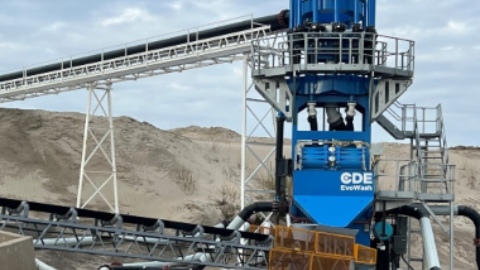 James Dick
Canada
Material Ultra Fines Recovery
Ontario construction materials firm, James Dick, maximizes material recovery with 45tph sand wash plant.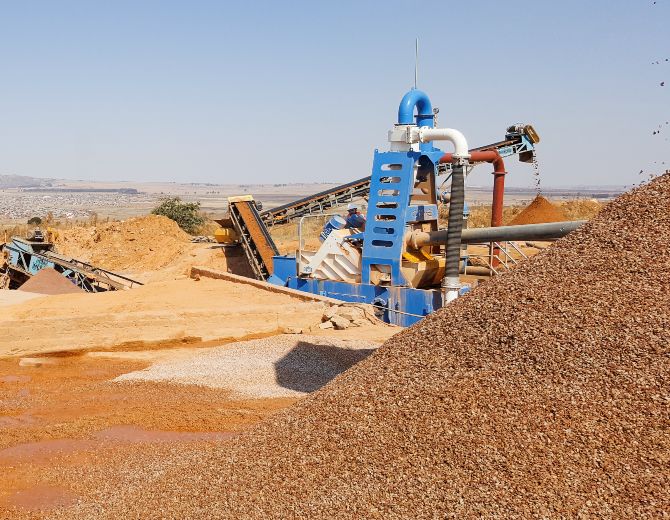 Multi Crete Bricks
South Africa
Material Claybound Aggregates, Sand & Gravel, Crushed Rock
Output 0-2mm and 0-6mm Washed Sand
End Use
Plaster Sand,
Brick & Block Production
Brakpan-based Multi Crete Bricks saw demand soar after replacing sand screw classifier with CDE EvoWash system.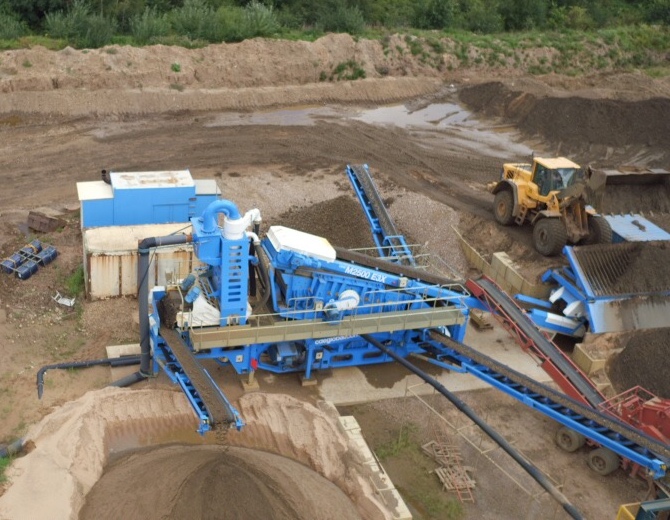 John Holt & Sons

England

Output Washed Sand & Aggregates

End Use

Construction Products,

Concrete Production

Sand and aggregate producer John Holt & Sons increase sand production by 125% by upgrading from a bucket wheel and tracked rinsing screen to a CDE washing plant.

; ;