Downer Group and CDE - paving the way to sustainability. Downer Group aims for 95% landfill diversion with CDE technology.
Material
C&D Waste, Contaminated Soils, Hydro Excavation Waste, Non Hazardous Soils, Road Sweepings & Gully Waste, Waste Glass Washing
Output
0-0.3mm & 0-4mm Recycled Sand | 5-20mm, 20-40mm & 40-80mm Recycled Aggregates
Downer Group install 50tph waste recycling wash plant in Brisbane
The Opportunity
"Pulling products, not pushing waste." It's a mantra that Nathan Arousi is determined to champion as Manager for Downer Group's new Reconomy division in Queensland.
Nathan says Reconomy's sole intent is to innovate and use leading practice to actively divert waste from landfill and process it into repurposed materials.
Downer Group is already recognised as a leader in using recycled materials and environmentally sustainable methods to produce asphalt, including Reconophalt, an asphalt product containing soft plastics, toner and other materials considered to be waste.
Following the success of its flagship facility in Rosehill, New South Wales, the company has again partnered with CDE to build a wet processing solution for road sweeping and other construction waste materials in Brendale, Queensland. It strategically combines several Downer Group divisions in one place, with a focus on closing the loop for its asphalt products.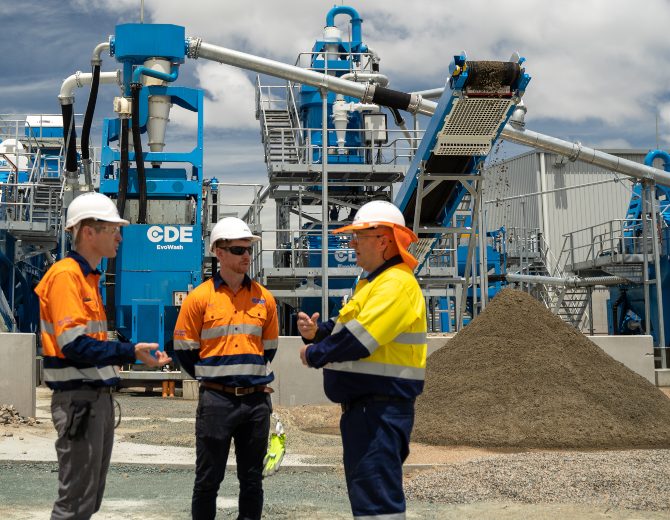 THE CHALLENGE
The Downer Group Brendale Sustainable Road Resource Centre comprises an asphalt plant, a recycled asphalt processing (RAP) facility and a CDE separation and processing plant to repurpose waste as a replacement for virgin materials.
"Being all located on the same site, the recycled materials can all be easily fed back through the asphalt manufacturing process," Nathan says. "It's a real commitment to a circular economy."
Commenting on the project, Daniel Webber, CDE's Regional Manager for Australasia says: "We are delighted to work alongside Downer Group on another recycling project, this time in Queensland".
C.D,E &I materials are typically used for lower state uses, but this CDE plant demonstrates how we can separate and beneficiate previously considered waste into higher-grade products which offer real value."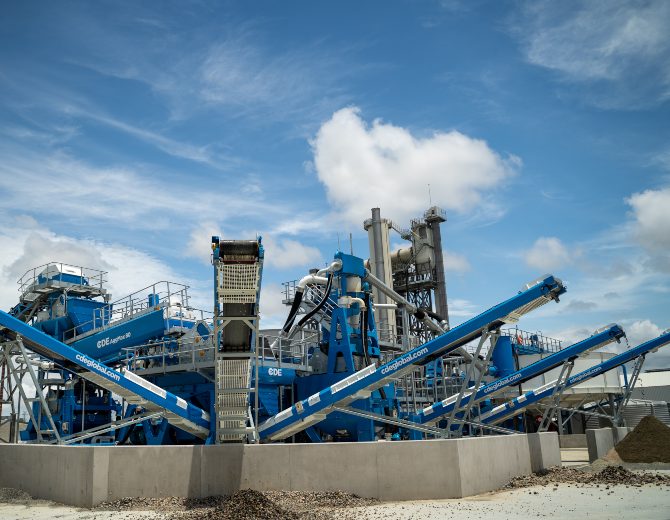 THE SOLUTION
The Downer Group Queensland CDE plant has so far been commissioned for about 1000 tonnes of waste and has thus far achieved a 100 per cent diversion rate. The plant can wash and process 50 tonnes of waste an hour. Nathan is aiming for at least 95 per cent diversion of all waste from landfill once it's fully operational.
The CDE plant can divert sand, aggregate, organics and metals from a mix of waste streams including clean or contaminated street sweepings, gully pit waste, non-destructive digging, fine glass and construction inert fill.
While the Sydney plant mainly focuses on street sweepings, Downer Group is in the process of testing waste products to determine the outputs for the Queensland plant.
Nathan says it's important to be selective so that the process has a positive social, economic and environmental impact.
"We're selective about the waste products we want to divert from landfill to ensure once they are processed, the output is suitable for reuse in established markets," he says.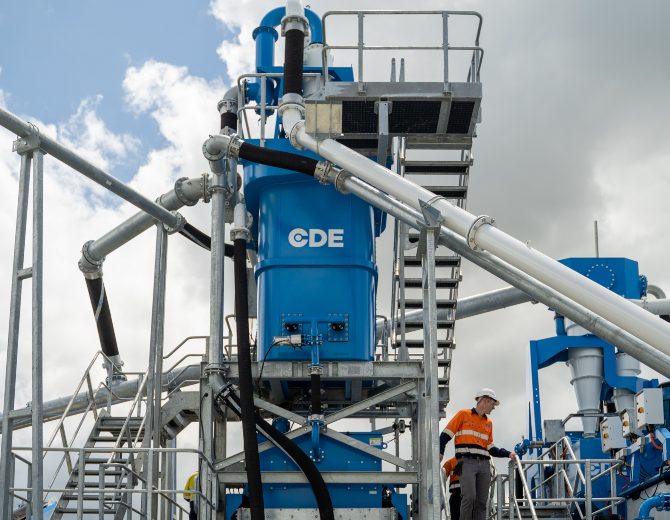 LATEST AND GREATEST
Daniel says that the Brendale plant was designed to process a broader range of waste streams than previous projects.
"This solution incorporates the latest and greatest from our CDE product range, including a Counter Flow Classification Unit (CFCU) and ShearClean attrition cells which, paired together, enable Downer Group to scrub and wash even dirtier sands than ever before," he says.
"In addition, we made further provisions to reject lightweight contaminants such as leaf litter and plastics to not only process feed at a higher throughput, but to guarantee superior end-product quality.
"You can't wash without water – and this system can process up to 97 per cent of water used. From rainwater harvesting to the latest in sludge decanter technology, we are seizing every opportunity to retain water in the system. Through the wet waste pit, there are even times the system will be water positive, that is importing more water than required, so the AquaCycle clarifier works to ensure water going to trade-waste is cleaned and free of suspended solids."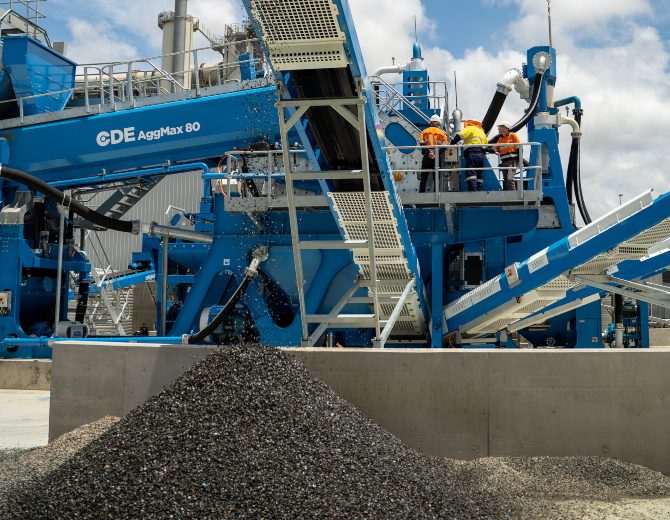 THE RESULTS
While the facility is the first of its kind in Queensland, Nathan says Downer Group has learnings and intel from both the Sydney and Melbourne projects, and a trusted solution provider such as CDE, that position it nicely for sustained success.
"Other divisions of Downer Group, such as the asphalt contracting business, have existing clients who have a need to dispose of material that we can partner with. Hopefully, they too see the benefits of what landfill diversion and repurposed products can have on our communities," he says. "We're also working hard to make sure we inform the local government authorities and TMR that there is now an effective, sustainable solution for their waste materials too."
Nathan says Downer Group has invested heavily in its Reconomy division, encouraged by what its clients need and want in order to help them achieve sustainable outcomes.
He says State Government funding to help establish the Brendale plant, on the back of the introduction of a waste levy in Queensland, is an indication of a commitment by the state to divert waste from landfill.
"With the waste levy in place, we're now providing a lower cost solution for clients while supporting their sustainability needs. They can dispose of their waste to us for better value than it is to take it to landfill. Furthermore, they're contributing positively to waste product stewardship and the circular economy.
"The Queensland construction industry is thriving, and we need to make sure that everyone takes responsibility for the life cycle of waste products. As with all new initiatives it will likely take time to implement and change previous habits, but it's something Downer Group, and certainly I, am committed to."
TAKE A TOUR OF THE DOWNER GROUP WASH PLANT
Other Waste Recycling Projects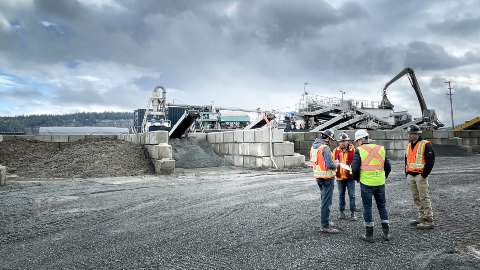 GRT Resource Regeneration Facility
Canada
Material Contaminated Soils, Dredged Sands, Hydro Excavation Waste, Non Hazardous Soils, Road Sweepings & Gully Waste
Output 4" minus rock | Oversize rock | Pea gravel | Sand | Clay for capping
GRT and CDE enhance resource regeneration in Vancouver Island.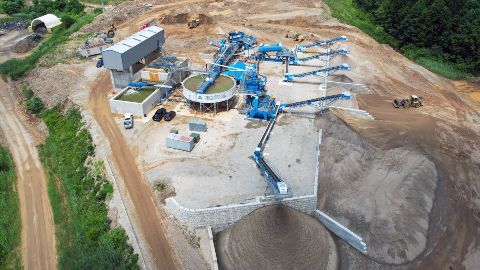 Repurpose Aggregates
Maryland, USA
Material C&D Waste, Claybound Aggregates, Dredged Sands, Excavation Waste, Road Sweepings & Gully Waste, Water Recycling
Output C33 Concrete Sand | #3, #8 & #57 Stone
End Use
Asphalt Production,
Concrete Production,
Construction Products
Repurpose Aggregates to transform Maryland construction industry with innovative CDE technology.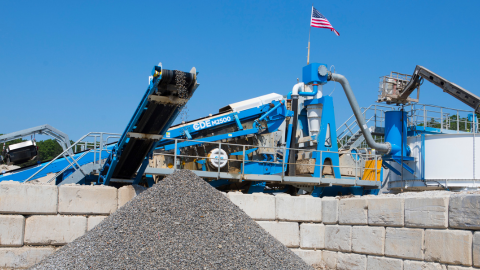 Our Recycling Corp.

United States

Output #4 minus sand, 3/8"-1" aggregate & 4 – 3/8" aggregates

CDE commissioned a 250tph waste recycling plant to process C&D waste and concrete washout and transform them into valuable construction materials.

;