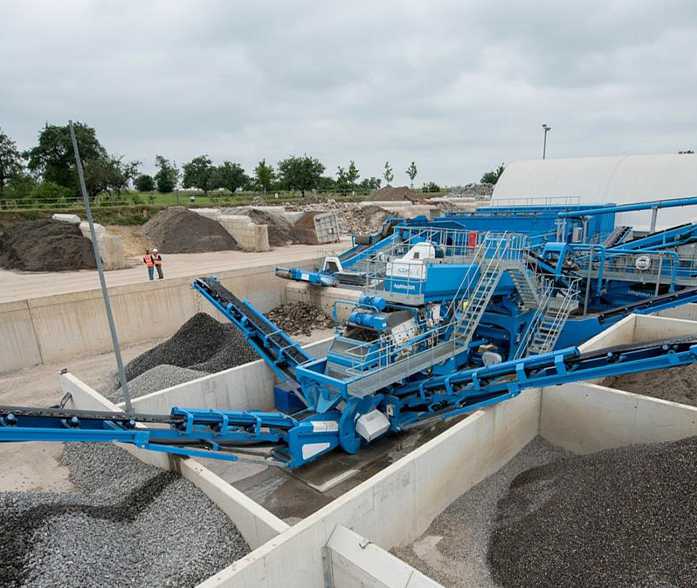 New markets created for Lindsey Aggregates thanks to the installation of a new CDE custom sand washing system.
Output
C-33 spec | Mason sand | Chip products
500tph Custom Sand Wash Plant Opens New Markets for Lindsey Aggregates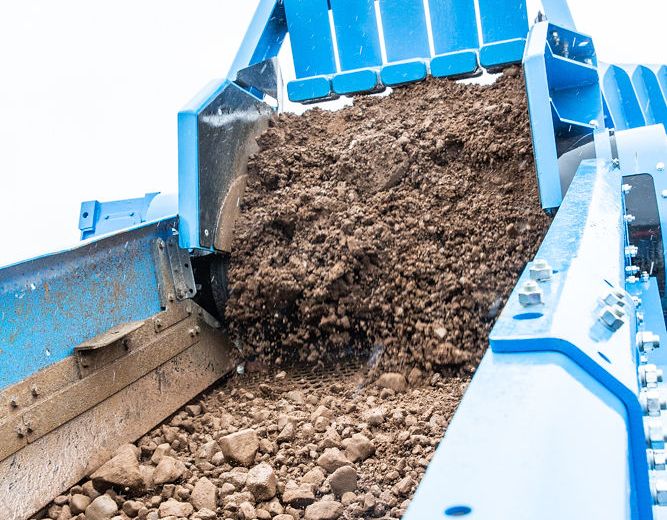 THE CHALLENGE
Lindsey Aggregates, based in New York state, is a family-owned and operated company. Originally focused on the crushing business, Lindsey Aggregates has recently invested and expanded its operations with the introduction of a multi-million-dollar customized sand washing system, designed and installed by wet processing experts CDE.
Warren & Ginny Vandish, owners of Lindsey Aggregates, are supported in the daily running of the busy site by CEO Alan Levine, and their children, Jeff, the Plant Manager who takes control of site operations, and Lindsey & Emily, who support Ginny with the administration side of the business. Together, with the help of CDE, they have brought the company to a new line of business, as well as further maximizing existing outputs.
Requirement One
Lindsey Aggregates ran a dry crushing and screening operation but knew there was increased value potential to be achieved by washing their products. This was a new sphere into which Lindsey Aggregates was entering and therefore not only was wet processing unchartered territory for the business but identifying the correct equipment that would integrate with existing screeners and crushers on-site, and align with company objectives, was something to be carefully considered.
Requirement Two
With a significant commitment for investment in infrastructure by New York State, some $150 billion over a five-year period, Lindsey Aggregates sought a system that would help them consistently achieve New York Department of Transport (NYDOT) approved concrete grade C-33 spec sand, in order to introduce them to new markets with a sellable product and maximize their resources. The team did not want the traditional washing approach or an off-the-shelf option. Lindsey Aggregates sought a solution that was customized and flexible enough to meet their needs and market demands, modular in approach to follow the material in years to come, and highly efficient as they did not want to lose valuable sand product to their lagoons.
CDE, therefore, met with Warren and the team to explore further and better understand the company's ambitions, their feed material and their intentions for integration with existing machinery. This was how CDE ensured the plant they delivered was fully customized to the needs of Lindsey Aggregates and the site on which it would operate.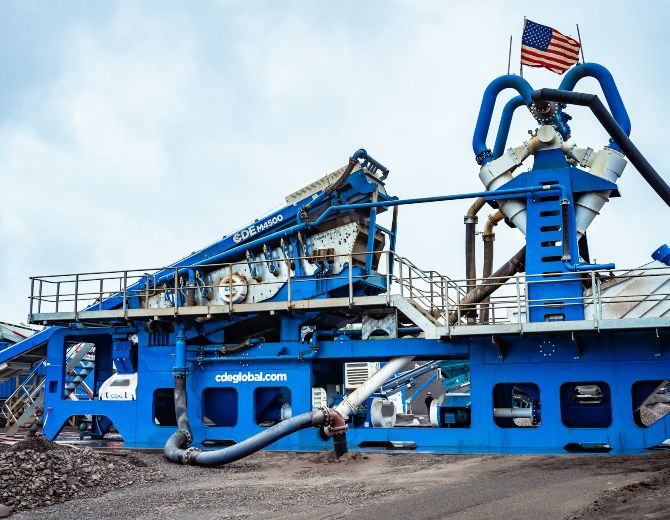 THE SOLUTION
Darren Eastwood, Regional Director of CDE, explained, "We fully appreciated that the Lindsey Aggregates team needed a partner who could work to understand their feed materials and specific needs to deliver the right solution, quickly. They needed an expert that could not only provide industry-leading technology, but that could be of assistance as they ventured into new territory. We started the process by bringing the team to another of our successful sites to see our technology in operation and to highlight how we could make wet processing work for them."
CDE's modular technology solution guaranteed to meet their expanding needs, through the provision of performance warranties, and maximize productivity, while improving the quality and quantity of production and ensuring a sized, sellable result.
Collaboration and Preparation
Eastwood explains, "By working to gain a deeper understanding of the raw feed challenges and their plant requirements at the outset, we were able to create a solution that delivered maximum plant performance from the outset and has continued to do so throughout its lifetime.
"Our engineers worked hand-in-hand with the team to deliver, install and commission Lindsey Aggregates' first modular wash plant that led them into a new area of business."
Integrated Wet Processing Excellence
Custom-built for Lindsey Aggregates, the Red School House electric-powered plant includes the R2500 wet screening module; a primary scalping screening unit capable of processing over 500 tons per hour. The plant includes a number of patented features including the unique weld-free galvanized Infinity Screen™ for increased durability. The R2500 scalping station separates oversized material, which is fed to the primary crusher, whilst 0-1" is conveyed to the M4500 modular sand washing plant, in order to wash out the natural sand.
Revolutionary Technology
Upon its launch, more than ten years ago, the M-Series was hailed as the first modular feeding and screening system. The M4500 was the first machine in the industry to combine feeding, screening, sand-washing and stockpiling onto one compact chassis. This approach enabled Lindsey Aggregates to dramatically increase the capacity of its operations by constructing a 500tph wet plant in conjunction with its existing mobile crushing fleet and without being restricted by the limitations of a fixed traditional plant setup. The M4500 produces more than 250tph of in-spec sands as well as variable natural and crushed aggregates to DOT specification.
In addition to the M4500, the plant features the M2500 modular sand & aggregate washing systems, both of which work in parallel to handle natural and crushed aggregate flows within the washing and crushing circuit.
Ready-to-sell Products
Integrated to the M4500 is the EvoWash™ sand washing plant. Featuring hydrocyclone technology, the EvoWash™ guarantees removal of the minus 200 mesh fraction while retaining all quality fines in the final sand product. It also maximizes dewatering to 12-15%, resulting in the 'ready-to-sell' nature of the product straight off the belt.
Combined, the technology is ensuring operations at Lindsey Aggregates are fully optimized, bringing new business opportunities and attracting new customers to the company through its expansion into new, thriving markets.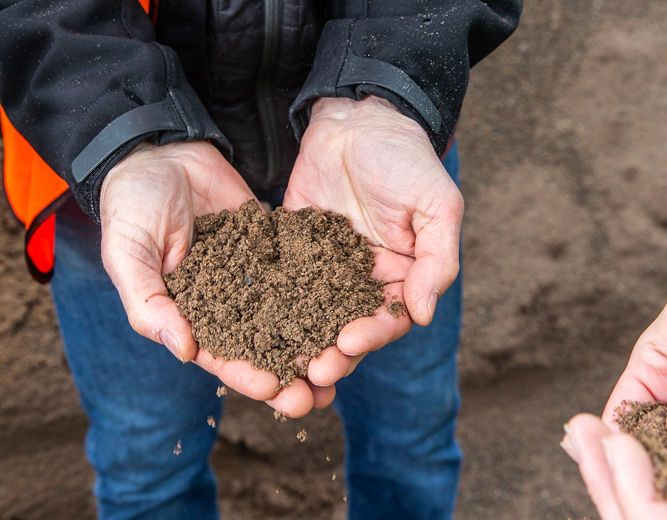 THE RESULTS
As a result of the collaborative approach from design through to after-sales service, a smarter, integrated solution has been installed that meets all objectives. The C-33 sand has also received required approval NYDOT.
In total, Lindsey Aggregates is now producing four new products. In addition to its three original crushed products, it's now producing the high friction C-33 spec, mason sand, and a number of chip products for use in black top and concrete. The C-33 spec sand is used in paving and concrete and is considered the mainstay of all construction works. While exploring and fulfilling many different applications for mason sand, the company is primarily using it for the cost-effective filling of sandbags due to the current urgent issue of lake-front flooding in upstate New York.
Warren Vandish said, "It's very exciting to officially launch our expansion into this new line of business. Wet processing was new to us and CDE was with us every step of the way. The CDE USA team of expert engineers invested significant time and energy into understanding our operations, materials, challenges, and ambitions. Their focus on innovation has helped us, in turn, to innovate as a business, ensuring a sustainable operation for the future, and we remain partners in this process.
"The new plant is truly a game-changer. The quality sand and aggregates from our now expanded product portfolio are ready for market straight from our belts – the efficiency is remarkable."
Eastwood added, "Together with our customers, CDE is unlocking a New World of Resource and driving alternatives for sand production. Lindsey Aggregates is now producing manufactured sands to supplement finite natural sand resources. We recognize the increasing importance of expanding and developing sustainable business models and are proud to have created that in cooperation with the team at Lindsey."
You May Be Interested in These Projects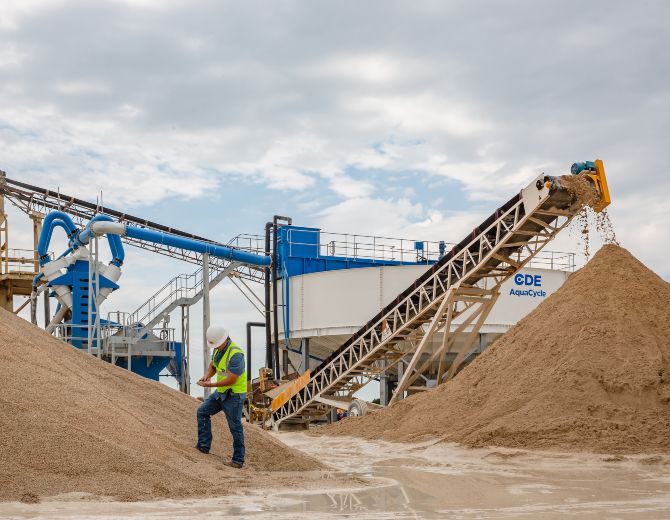 Collier Materials
Texas, USA
Material Claybound Aggregates, Sand & Gravel, Limestone, Crushed Rock
CDE sand washing technology increases the production of C-33 spec sand for Collier Materials by 50%, improving product quality and reducing plant footprint in the process.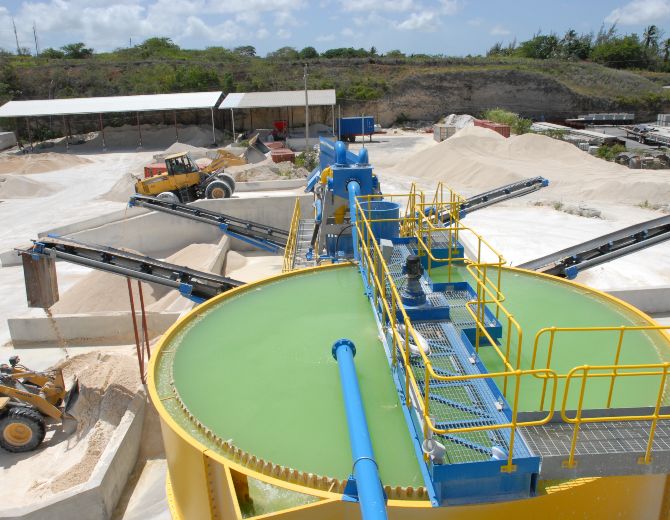 CO Williams
Barbados, Latin America
Material Sand & Gravel, Claybound Aggregates, Limestone, Crushed Rock, Quarry Waste
Output 2.4mm to 6mm | concrete sand | 63 micron to 2.4mm sand product | 63 micron to 1.2mm washed sand
End Use
Concrete Production,
Asphalt,
Masonry,
Plaster Sand
Concrete production, asphalt production and masonry processes for block work and plastering.
Resolve Aggregates

Texas, USA

Material Claybound Aggregates, Sports Sands, Sand & Gravel

Output C33 concrete sand | #8 pea gravel | #57 gravel | ASTM 144 masonry sand | asphalt sand

End Use

Construction Products,

Asphalt Production,

Golf Sands

Resolve Aggregates – in partnership with CDE since 2015.

;