CDE area sales manager James Murphy talks to Trenchless Australasia about two dewatering systems that are changing the industry.

CDE is the world's number one wet processing equipment company for sand and aggregates. A key figure in the waste repurposing and natural processing sectors, the company's mission is to help customers maximise natural resources while promoting greater efficiency and minimising waste.
Sand is the third most used natural resource after air and water. As sand is both a depleting resource and one of the most sought-after commodities, CDE believes that recovering and recycling sand and aggregates from construction, demolition and excavation (CD&E) waste is part of the solution to this finite supply. CD&E waste typically ends up in landfill or is used in low-grade applications, but CDE is supporting material receivers and processors to realise the value of their material.
A global OEM with a regional base in Ormeau south of Brisbane, CDE delivers turnkey solutions to contractors, end-users and truck operators. James Murphy is the area sales manager at CDE Australasia with more than ten years' commercial experience in the quarrying and recycling industries within Australia and New Zealand. He talks to Trenchless Australia to introduce two innovative solutions, CDE's G:MAX and HYDRO:TIP for solid/liquid waste streams that are transforming waste into opportunity.
"The number of vac trucks in the marketplace is growing, and they're being utilised across a broader range of applications," says Murphy. This, in turn, has driven the need for more sophisticated dewatering and waste management systems.
"Both the HYDRO:TIP and the G:MAX are designed specifically to handle wet waste from vac trucks and street sweepers, with material also coming from hydro-excavation, NDD, drilling muds, street sweepings, gully pit waste, and many different types of applications."
"The G:MAX requires the trucks to discharge their load to an in-ground tank or receiving pit, the material is then dug out with an excavator and fed into the machine via its receiving hopper. The HYDRO:TIP is an improvement on that design allowing the vac truck to tip directly into the machine, thus removing the requirement for double-handling by the excavator."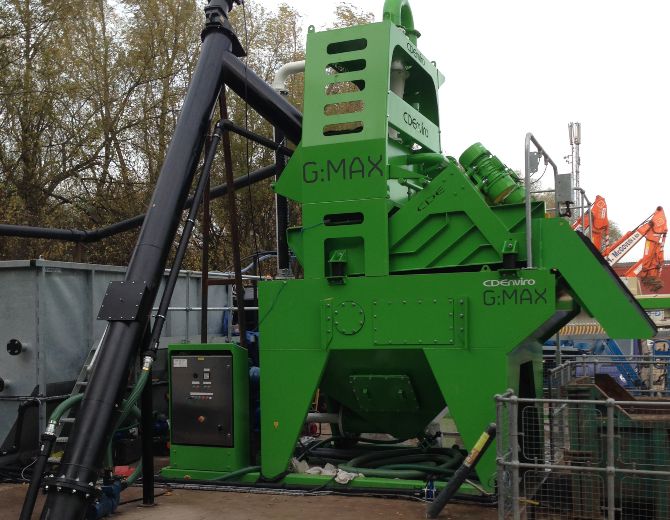 The CDE G:MAX
The G:MAX is a dual-stage wet recycling system for either solid or liquid waste streams that require classification or dewatering. This system can be tailored to the requirements of the waste treatment processes for different applications.
A few years ago, civil contractors and their operators would be tasked with excavating trenches and such using digger buckets with GET, straight into the ground alongside electric and telecommunication cables, sewerage and other infrastructure. Even with 'dial-before-you-dig' they were running the risk of causing damage," says Murphy.
Due to demand from both industry bodies and contractors for safer work practices, and from the local government or vendor in protecting their in-ground assets, there has been a very obvious shift towards non-destructive digging. With a vac truck you're using a vacuum to suck up the dirt, not penetrating the earth or running the risk of impacting some of those infrastructure services."
"As the regulations in the industry have become more stringent, contractors have needed to find a more sustainable approach with what they do with the material. Sawdust is widely used as an alternative to these new CDE technologies. The dry sawdust absorbs moisture from the incoming material to reduce the overall moisture content to a level accepted at landfills. However, this increases the bulk volume of material, resulting in higher disposal costs for contractors."
Processing hydro-excavation material, the G:MAX dewaters the material and eliminates the need for sawdust. Maximum dewatering of the grit fraction ensures ease of product handling and reduces both disposal costs and environmental footprint.
"Once separated, the excess water is processed through a water management system - CDE also supplies equipment in that space," says Murphy. "By separating the solids using the G:MAX or the HYDRO:TIP, the additional water can be processed through the CDE AquaCycle Thickener. Any sub-75 micron particles from the process water are thickened to a concentrated sludge and can be further mechanically dewatered to a spadeable state with a centrifuge. Depending on the local authority, the remaining clarified water can, in some instances, be trade discharged."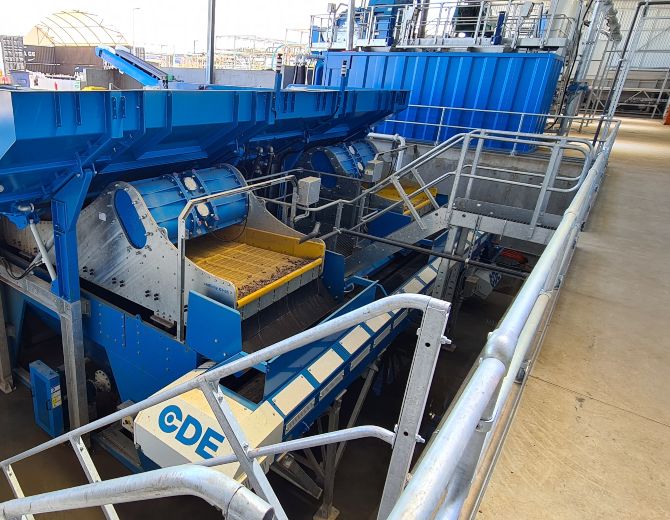 The CDE HYDRO:TIP
The HYDRO:TIP is a dedicated reception station for tipped solid and liquid waste. Its 'direct tip' action allows tankers to discharge directly into the hopper and is designed for quick and easy discharge of material and minimal downtime for truck operators.

The patented technology provides maximum dewatering and separation of slurried waste materials to generate clean reusable sand, aggregates and water products. Material that enters the system is screened, rinsed and separated. The recovered large solids can be stockpiled directly or refined further to produce additional fractions of saleable aggregate. The fine fraction can be dewatered from a slurry into saleable sand.

"The recovered materials can be sold as bedding or drainage sand, recycled stone and drainage aggregate, saving the operator on disposal fees. However, even diverting it from landfill will increase the profitability of your operations." Murphy explains.

Increasing the volume of recovered material is not only economically sensible, but it also minimises waste destined for landfill. G:MAX and HYDRO:TIP provide an efficient and safe dedicated system for processing vacuum tanker muds and other liquid wastes.

Such is the positive economic and environmental impact of CDE technology that the firm recorded its most successful year to date in 2021. "The development of our G:MAX and HYDRO:TIP solutions demonstrates our constant strive for innovation and a commitment to finding workable solutions for the challenges facing material processors today. Our technologies are having a transformational impact and the industry is taking notice, as evidenced by the fact that last year CDE made more bookings than ever before in any calendar year."

;