CDE plant delivers 100% increased production for D'Arcy Sands in Co. Wexford, Ireland.
Material
Sports Sands, Sand & Gravel
Output
Sports Sand & Washed Gravel
End Use
Sports Sands
Golf Sands
Equestrian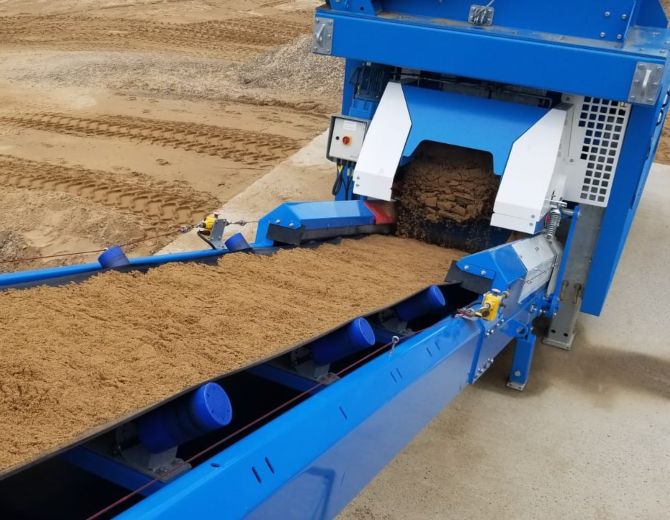 THE CHALLENGE
At its Wexford site, near the village of Blackwater, D'Arcy Sands was facing a combination of site-specific challenges, namely water supply and reliance on a traditional bucket wheel classifying system.
The company specialises in the production of quality graded sports sands for a range of sports, including outdoor, synthetic and all-weather sports pitches; sands for golf courses, including bunkers and top dressing for greens and fairways; and its silica sands are also used widely in equestrian sports for training surfaces and racetracks.
D'Arcy Sands has produced high-spec sports sands for some of the most prestigious venues and events in the UK and Ireland, supplying Dubai Duty Free Irish Open, Croke Park, Thomond Park, Curragh Racecourse, Adare Manor Hotel Resort and the Aviva Stadium.
Previously the company had been using a tracked rinser and traditional bucket wheel system for sand classification and dewatering. But an upgrade of the existing bucket wheel system was required to tackle the loss of valuable materials to ponds and reduce excess moisture in the final products.
Water availability proved to be another significant challenge at the company's Wexford site, resulting in it transporting its sports sand more than nine miles to a separate site with sufficient water supply.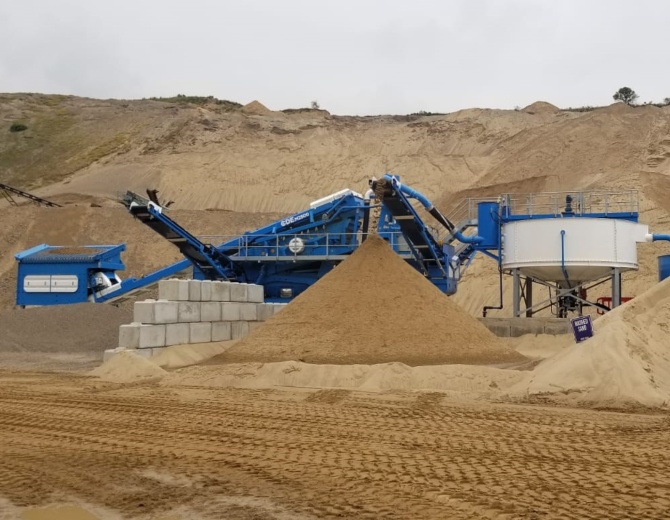 THE SOLUTION
After careful consideration of the site and customer's requirements, CDE presented a custom-built plant featuring the M2500 E4 washing plant with integrated hopper, feed conveyor and twin-deck Infinity P2-75 screen.
CDE's M2500 fully integrated modular washing plant combines feeding, screening, sand washing and stockpiling into one compact and mobile chassis. The E4 model enables D'Arcy Sands to produce up to four commercial-grade washed sand and aggregate products simultaneously. It also enabled them to remove the risk of spillages as the CDE solution is powered by an all-electric drive operation, unlike its previous plant which was a diesel hydraulic system that came with the risk of contamination and rejection or return of products.
The plant also includes an integrated water management system comprising the A200 AquaCycle™ thickener, FlocStation poly dosing plant and AquaStore water tank. Waste water from the plant is processed recovering up to 90% of the process water to be recirculated back into the washing plant. This ensures the moisture content of D'Arcy Sands' product is reduced from over 20% to an average of 10-15%, resulting in a much faster return on investment. It also means that, for the first time, the company can process material at its draw site. The entire system requires under 20m3 of water per hour to operate, an 80% reduction from the 200m3 of water required for its former plant.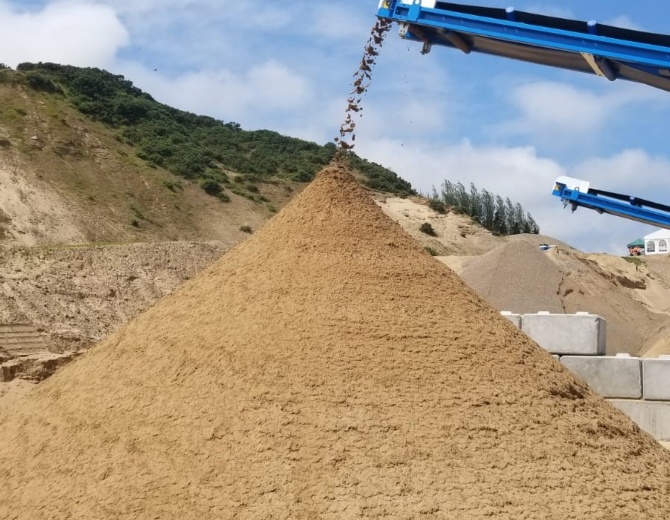 THE RESULTS
Raw feed material, primarily Wexford sports sand with a small portion of gravel, is being fed into the new plant at a rate of up to 80 tonnes per hour extracting over 40 tonnes of our quality graded sports sands. And includes greater control of fines separation using cyclone technology, which has added more value to output products and is driving significant demand.
Importantly for D'Arcy Sands, the M2500 is a maintenance-free and energy efficient all-electric drive operation, unlike its former diesel hydraulic system.
Output increased by over 100% and the system allows D'Arcy to wash material at its Blackwater site, reducing the need to transport it off site to be washed.
Confident in the quality of its commercial-grade sports sands and aggregates, and coupled with its growing demand as a result, the company has also purchased adjoining land at its Blackwater site to increase the lifespan of the operation.
You May Be Interested in These Projects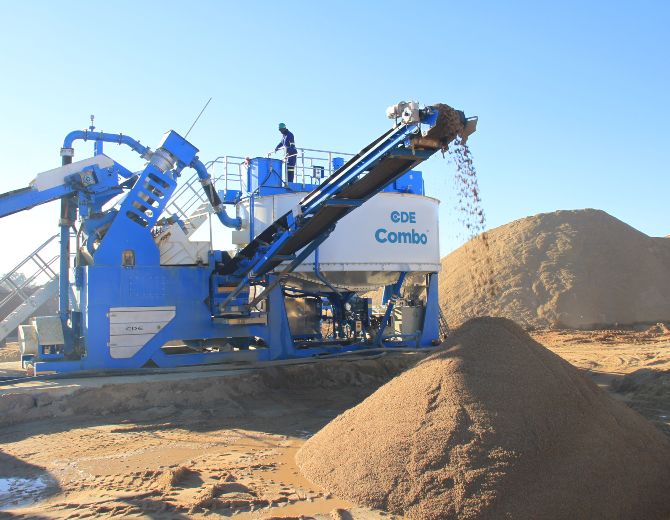 Ground Breakers
Lanseria, South Africa
Output G5, G6, G7, Top Soil, Building Sand, River Sand & Plaster Sand
Switch from bucket wheel to all-in-one sand washing technology results in cost savings and new revenue streams for Ground Breakers.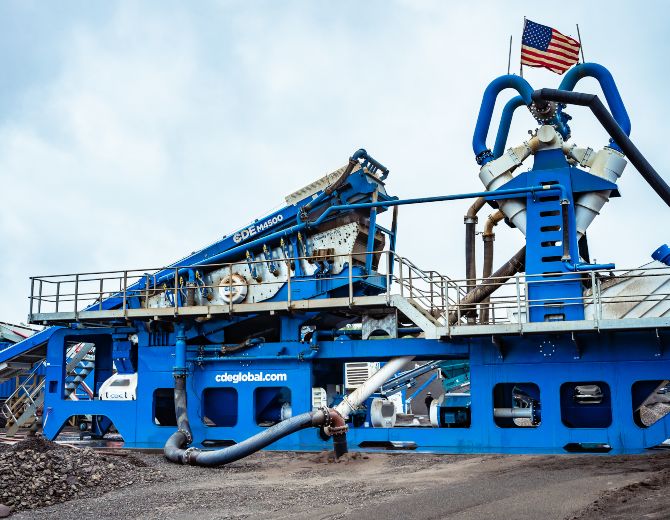 Lindsey Aggregates
New York, USA
Output C-33 spec | Mason sand | Chip products
New markets created for Lindsey Aggregates thanks to the installation of a new CDE custom sand washing system.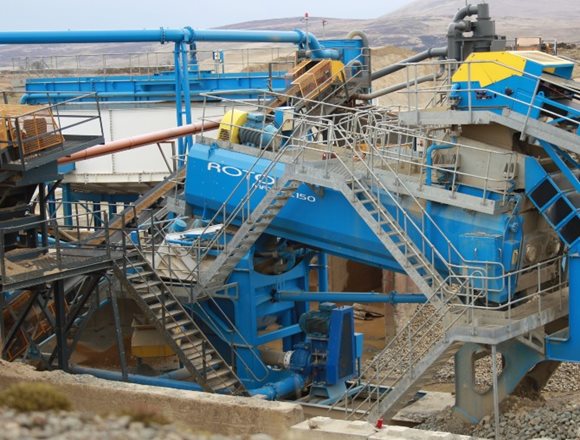 Creagh Concrete

Northern Ireland

Material Sand & Gravel, Claybound Aggregates, Limestone, Crushed Rock

Output Washed Sand & Aggregates

End Use

Concrete Blocks,

Readymix Concrete,

Construction Products

An upgrade of the existing washing plant at Draperstown Quarry has released four million tonnes of material and extended the life of the quarry by ten years.

; ;