Campbell Contracts doubles material processing ability thanks to the installation of a CDE wet processing plant.
Material
Sand & Gravel, Claybound Aggregates, Crushed Rock, Quarry Waste
Output
+50mm Oversize | 25 – 50mm Aggregate | 12-25mm Aggregate | 6-12mm Aggregate | 0-6mm Sand | 0-3mm Sand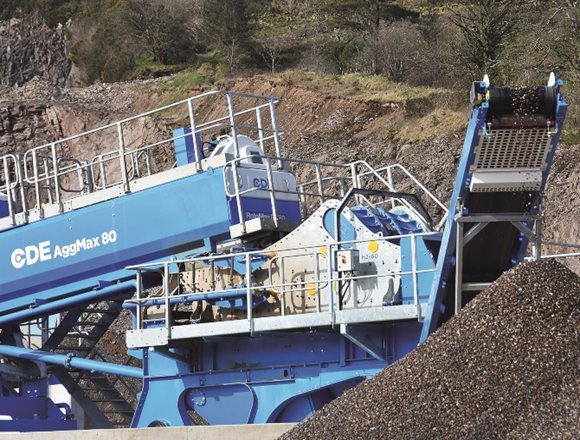 THE CHALLENGE
Campbell Contracts has operations in civil engineering, quarrying, plant hire, and haulage. It is one of Northern Ireland's leading pipeline contractors, specialising in the installation of large diameter watermains, sewers and drainage systems.
In 2019, company founder Jim Campbell was recognised for his contribution to the industry at the Plant & Civil Engineer Awards.
Operating from its Letterbailey Quarry, Campbell Contracts has been extracting sand and gravel for over three decades. In recent years it commenced controlled blasting activities and now counts sand, gravel, crushed rock, rock fill and screened topsoil among its growing product range.
The Campbell family partnered with CDE in 2019 to support them to grow the business and diversify its portfolio of high-quality quarried aggregates.
Developed using CDE's collaborative and customer-centric design process, this bespoke wet processing solution was the result of detailed tests and full-scale trials conducted on material extracted from Letterbailey Quarry. The results of these tests formed the basis for the development of a solution that is responsive to Campbell Contracts' business aims and commercial objectives.
The primary requirement was the replacement of a 30-year-old washing barrel plant to support Campbell Contracts to diversify its product portfolio with a solution capable of processing quarry waste – including overburden, scalpings and crushed rock fines, which had been traditionally backfilled into pits or stockpiled due to the inefficient existing processing technology.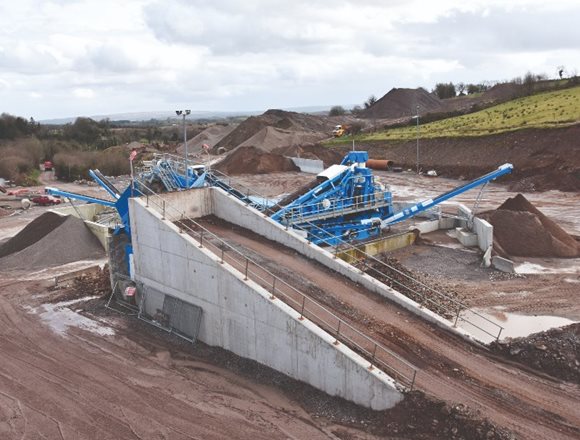 THE SOLUTION
David Kinloch, Business Development Director for CDE in the UK & Ireland, says, "CDE engineers state-of-the-art wet processing technologies that offer quarry operators the solutions to enhance the quality of products they currently produce while simultaneously supporting them to add huge commercial value to their enterprises by ensuring value is extracted from all available material, including those which are too often perceived as quarry waste by-products."
CDE completed tests at Creagh Concrete on material extracted from the Letterbailey Quarry. Material was analysed and results used to develop a bespoke wet processing system that responds to the needs of Campbell Contracts and would support the family business to stimulate growth.
"This was an important consideration for us," Brendan says. "CDE understood our operation and what we wanted to achieve with a new wet processing plant. It's very much a journey and a partnership with CDE that extends beyond the commissioning phase with first-class proactive and preventative measures to ensure the plant is operating at maximum efficiency."
The new state-of-the-art 120tph wet processing plant includes an L35 Feed Hopper, M2500 modular washing plant incorporating the twin-deck P2-75 Infinity Screen™, and EvoWash™ for separation accuracy and dewatering. It also features the AggMax™ modular logwasher for scrubbing and sizing and H2-60 Infinity Screen™.
The fully integrated, modular wash plant combines feeding, screening, washing, and stockpiling onto one compact and mobile chassis. Combined, this bespoke solution is enabling Campbell Contracts to produce high-quality in-spec sand and aggregates from material previously categorised as a waste by-product from the quarrying process.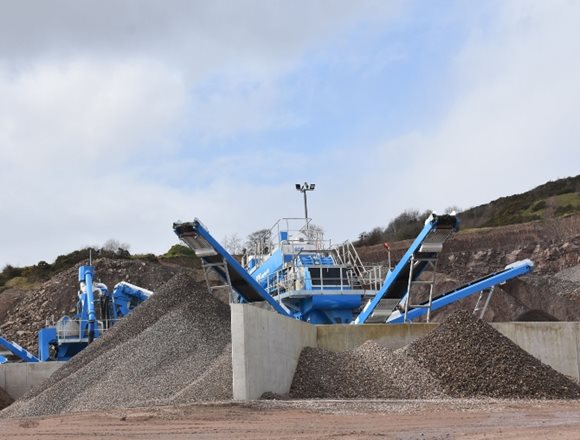 THE RESULT
With the support of its new CDE plant, Campbell Contracts is successfully processing three materials it previously categorised as waste from its quarrying operations: claybound sand and gravel, primary scalpings, and crushed rock fines.
This advanced wet processing solution provides Campbell Contracts with the flexibility to process virgin quarried sand and aggregates as well as quarry waste. With a processing capacity of up to 120tph, Campbell Contracts has doubled its materials processing capability. Facilitated by CDE's best-in-class wet processing solutions, the business is efficiently processing three materials it previously categorised as waste from its quarrying operations into valuable resource.
Virgin sand and gravel feed material is being processed at a rate of 120tph producing 0-3mm and 0-6mm sand; 6-12mm, 12-25mm and 25-50mm aggregate; and +50mm oversize aggregate for a wide range of applications in the construction industry.
David Kinloch adds, "Campbell Contracts is now processing three grades of material that it historically stockpiled or backfilled. CDE wet processing technology has demonstrated that all quarry by-products have the potential to be processed into marketable products that add significant value to a business."
You May Be Interested in These Projects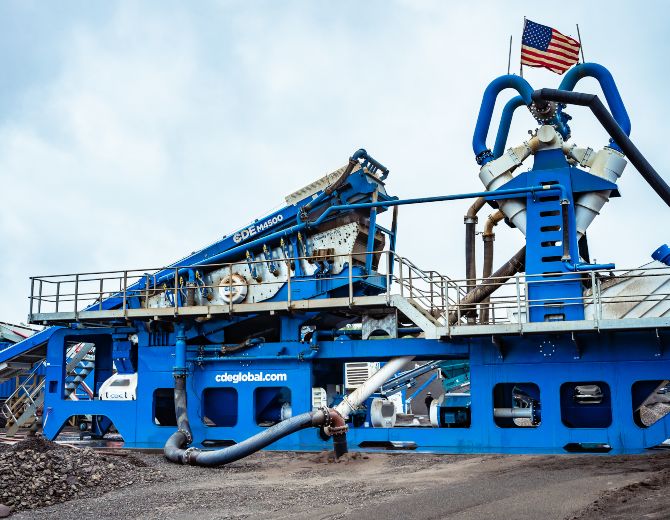 Lindsey Aggregates
New York, USA
Output C-33 spec | Mason sand | Chip products
New markets created for Lindsey Aggregates thanks to the installation of a new CDE custom sand washing system.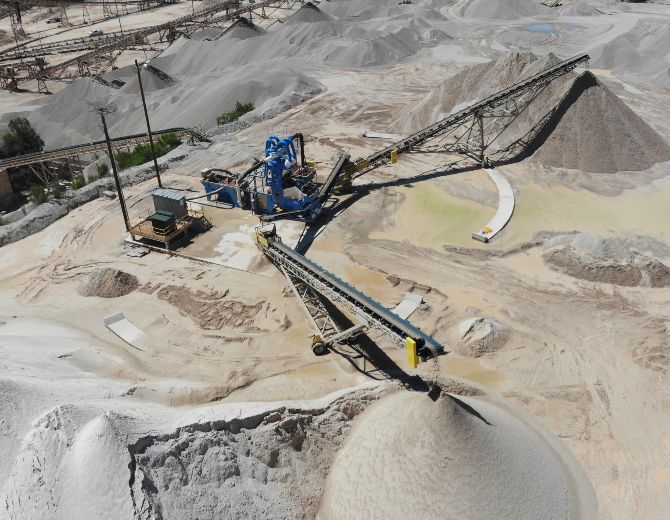 Oldcastle Materials
Texas, USA
Material Crushed Rock, Limestone, Sand & Gravel
Output C-33 Concrete Sand & Mason Sand
Texan construction materials company Oldcastle Materials upgrade to CDE technology for optimal sand washing efficiency.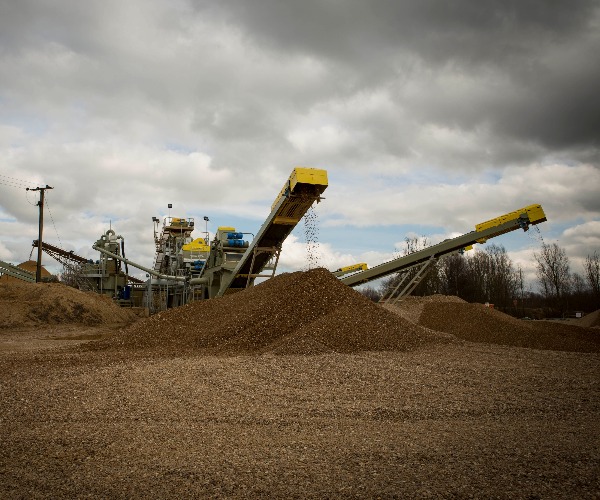 Little Paxton

England

Material Claybound Aggregates, Limestone, Crushed Rock, Sand & Gravel

Output 3 Sands | 4 Aggregates | +90mm Oversize

End Use

Concrete Production,

Decorative Stone

Little Paxton Quarry, part of Aggregates Industries has been given a new lease of life thanks to the installation of a CDE wet processing plant.

; ;